Cultural Leadership - Online 2022
Program Information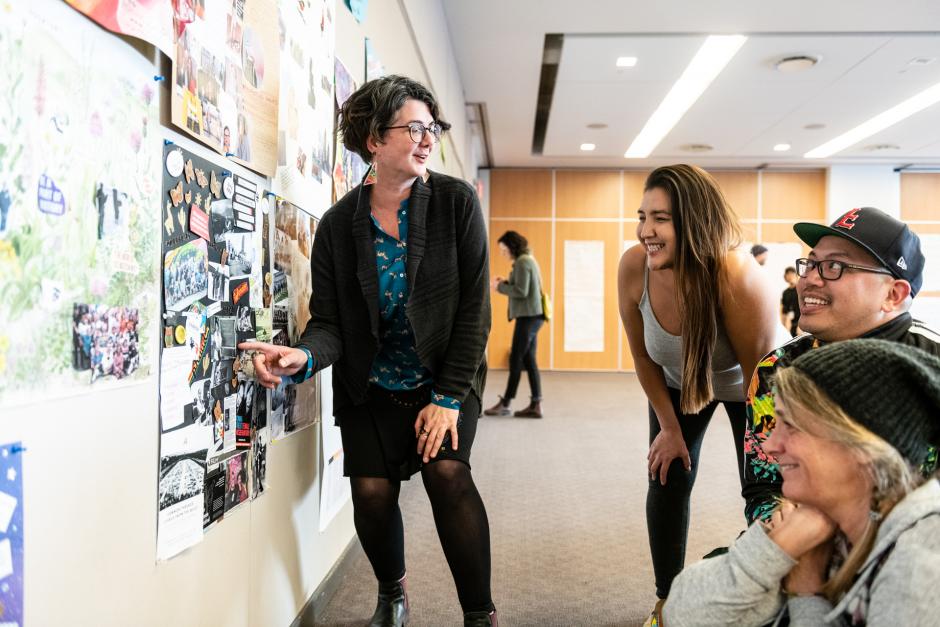 Overview
This experiential learning opportunity supports future-focused leaders as they navigate shifting contexts and undertake transformational change at the level of system, organization, and self. Grounded in the teachings of Indigenous ways of knowing, being, and doing, and the vital role of art and artists in society, Cultural Leadership - Online brings together a community of change agents and community builders that reflect a diversity and intersectionality of lived experiences and leadership practices. Through this online program and in an extended community of inquiry, practice, and care, participants will approach leadership as a collective capacity and explore how to imagine and facilitate resilient new models.
What does the program offer?
Participants in Cultural Leadership - Online will:
Engage in faculty mentoring, peer-to-peer working groups, and critical self-reflection to examine the relationship of self to system and learn to respond to an evolving cultural context
Develop deep listening skills and an appreciation of Indigenous wise practices
Design governance and business models that are equitable and sustainable
Cultivate the ability to navigate uncertainty, embrace paradox, and make wiser, more responsible decisions
Debate and challenge assumptions around the role of cultural leaders and institutions in our ecology
Learn how to form and sustain values-based partnerships and alliances
Build the capacity to articulate vision, measure the intangible, and inspire through authentic storytelling
 Explore the power of place, the digital moment, and a hybrid future for the arts
A core ensemble of facilitators (including the program director) will be with participants throughout the program as learning coaches. In addition, for each session and topic area, participants will be joined by guest lecturers and faculty, domain experts, experiential educators, and artists from across disciplines, sectors, and the world.
Who should apply?
This program is designed for those with active leadership roles in Canada's cultural sector, working nationally or internationally for Canadian institutions, entities, or independently. We welcome artists, administrators, policymakers, education and engagement specialists, creative producers, and community-based cultural workers to apply. Our Cohorts are outspoken, active, and recognized advocates within their respective artistic or cultural communities who are actively pursuing projects of increasing scale and complexity.
This program is inclusive of and welcomes applications from all gender identities, sexual orientations, race, creed, age, national origins, economic positions, and physical and mental abilities.
Our philosophy is that cultural leadership is a collective capacity. We invite more than one application from any individual organization or entity, as well as applications from teams working in co-leadership models. Applications will be adjudicated on an individual basis. If you are applying in a co-leadership structure or if more than one individual from your organization is applying, please reference this in your application. If more than three leaders from your company intend to apply, please contact LeadershipAdmissions@BanffCentre.ca
Itinerary
Cultural Leadership - Online includes three, six-day learning intensives in January, February, and March, with the following themes:
January 16-21, 2022: Advancing Leadership as a Collective Capacity: Transformational Change at the Individual and Organizational Levels
February 13-18, 2022: Reckoning with Present Harms and Collectively Imagining a More Equitable Future: Racial, Gender, Disability & Climate Justice in the Arts 
March 20-25, 2022: Worldmaking Now: Research, Experiments, Prototypes, and Pilots aimed at Fostering Necessary Institutional Disruption & Change
Synchronous sessions will value presence and stay mindful of how we virtually gather. Participants will engage deeply with key topics and learnings of the curriculum through workshops, small group projects, plenary discussions, listening circles, and case-studies. Cultural Leadership – Online also includes ongoing engagement beyond these three intensive weeks, with asynchronous readings, assignments, presentations, reflective practices, and embodied experiences. 
A sample schedule for a six-day learning intensive looks like this (subject to change):  
Day 1 Sunday: 1:30 – 3:30 p.m. MST 
Day 2 Monday: 1:30 - 3:30 p.m. MST 
Day 3 Tuesday: 12:00 - 4:00 p.m. MST 
Day 4 Wednesday:  1:30-3:30 p.m. MST 
Day 5 Thursday: 12:00 - 4:00 p.m. MST 
Day 6 Friday: 1:30 - 3:30 p.m. MST  
As you apply, please consider the time, energy and focus that you can dedicate to this reciprocal community of inquiry, practice, and care. ​
What's Included
Join in group seminars/workshops.
Fees & Financial Assistance
Application fee: $65 ($35 for applicants who identify as Indigenous)
*Participants will receive 100% scholarship to cover the tuition fees. 
If you would like to be considered, please complete the Financial Aid section when uploading your supporting materials to SlideRoom.
Banff Centre will issue official tax receipts for eligible tuition fees and financial assistance and awards as required by the Income Tax Act. You will receive a T2202 (Tuition and Enrolment Certificate) for eligible tuition fees paid and a T4A (Statement of Pension, Retirement, Annuity, and Other Income) for applicable financial assistance and awards.
How to Apply
Adjudication
Participants will be adjudicated by Core Faculty Ensemble, Program Producers and representative Alumni on the basis of submitted material. Consideration will be given to the likelihood that the individual is at a point in their career where they will be able to benefit from the program.
This program is inclusive of and welcomes applications from all gender identities, sexual orientations, race, creed, age, national origins, economic positions, and physical and mental abilities.  
Participants are selected by impartial adjudicators on the basis of their submitted material. In addition to merit, consideration will be given to the likelihood that the participant's work will benefit from the program.
All programs, faculty, dates, fees, and offers of financial assistance are subject to change. Program fee is subject to applicable taxes. Non-refundable fees and deposits will be retained upon cancellation. Any other fees are refunded at the discretion of the Banff Centre. The application deadline is 11:59 p.m. Mountain Standard Time.