Learn more about Banff Centre's COVID-19 Vaccination Requirements and on-campus measures here.
Please subscribe to our mailing list to keep informed on upcoming programs.
An Andrea Brussa Master Artists Program
Program Information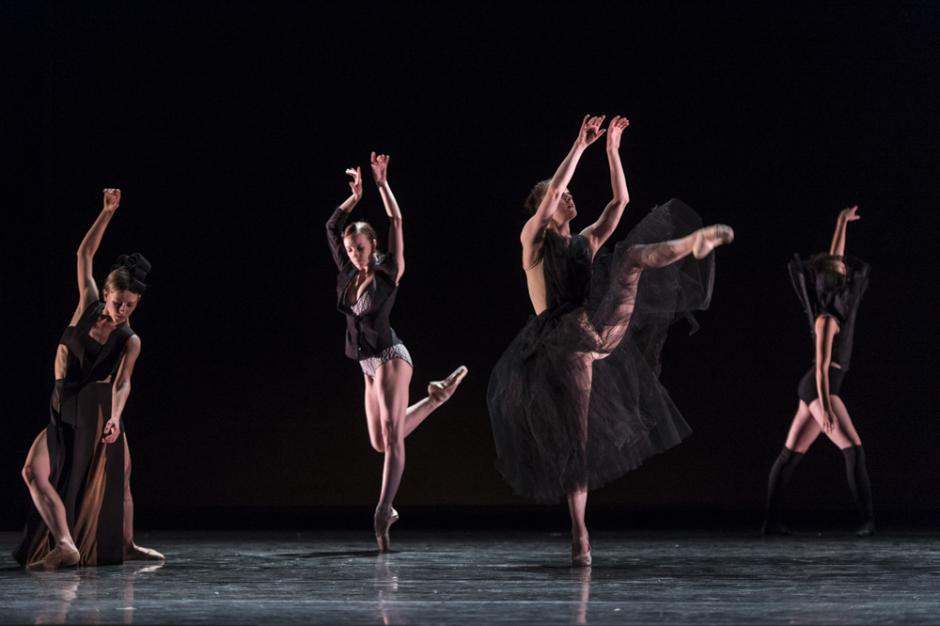 Overview
Artists like Picasso, Henri Matisse, and fashion designer Coco Chanel were used to create costumes for the Ballets Russes. Choreographers also choose to work with fashion designers and other visual artists to create costumes, like choreographer Damien Jalet's collaboration with Marina Abramovic. The New York City Ballet has used a number of fashion designers from Stella McCartney to Iris Van Herpen, for several fashion based ballet creations over the years.
This program will introduce costume designers, but also artists of all disciplines to the fundamentals of designing costumes for dance. Costume design for dance is a discipline on its own - how to design for the body in movement, spanning from classical ballet to the art of circus. Participants will utilize their own artistic ideas and concepts to explore and learn how to realize their ideas considering the dancers physic, their movement, and the choreography as a whole.
What does the program offer?
The program will be led by the Andrea Brussa Master Artists, international costume designer Stine Sjøgren, and acclaimed polish costume designer Katarzyna Lewinska. Participants will work with the summer dance faculty, including choreographers, costume and wardrobe designers, and technical specialists of the craft of costume fabrication to realize and prototype their design ideas on dancers.
The program days will be filled with hands on challenges, discussions and absorption of information and visual impressions. Using the ongoing creation process as an inspiration, participants will work on thematically designed tasks, as well as continuously interact with the dancers of Andrea Peña & Artists. Participants will explore their design starting with drawings/sketches, and then by using fabric on the form, creating, and prototyping on dancers bodies as a final project.
Who should apply?
We welcome post-graduate students in costume design, fashion design, and visual arts who are interested in expanding their understanding and developing skills in costume design for dance, for a two weeks really intensive workshop with explorations into the world of dance and movement. 
The program is designed for artists who have significant experience or formal training in visual art, fashion design, or theatre. 
Applicants from other disciplines who are skilled in visual expression are also invited to apply. Please mention any skills or techniques that you may have that would be of interest to dance choreographers in your application.
This program is generously supported by Andrea Brussa
Itinerary
Most of the days from nine to six will be spent in the fully equipped costume shop, sometimes later in order to finish or get ahead on assignments.
This is not a drawing class, so there will not be much time spent on sketching or drawing but rather hands on experimentation using existing costumes and/or fabrics. 
You will be informed on daily a basis what that day and the next day schedule will be, as there is fluidity in the schedule, prepare to expect the unexpected.
Introduction to designing costumes, and the philosophy/mentality mandatory to be receptive to the needs of the client.
Observing rehearsals
Participation in a dance class
Analyzing methods to achieve design with fabrics/existing costumes
Working on the form and on the human body
Building prototypes, fittings on dancers
Working with costumes in theatre space with lighting designer
Developing and working on costumes with seamstresses 
Finishing costumes and preparing costume for a viewed presentation and feedback
Final showing in front of audience and sharing of the process by each of the participants 
 
What's Included
Your program fee includes a single bedroom on the Banff Centre campus for the duration of your program.
Get connected with other artists on campus and focus on your projects in a creative environment while we take care of the day-to-day essentials.
Using a credit-based system to dine on campus, our flexible meal plans allow you to select meals according to your own needs during your stay.
The Full Flex meal plan includes $41 credit per day, equivalent to breakfast, lunch, and dinner in Vistas Dining Room.
Enjoy special artist rates for ticketed performances or complimentary access to events.
Enrich your experience and get to know other artists on campus by taking advantage of the activities and support provided by our Participant Resources team.
Fees & Financial Assistance
Application fee: $65
*Participants accepted to the program will receive 100% scholarship to cover the Program Fee.
The program fee includes a Single Room and the Full Flex Meal Plan at Banff Centre. Travel to and from Banff Centre is the responsibility of participants.
If you would like to be considered, please complete the Financial Aid section when uploading your supporting materials to SlideRoom.
How to Apply
Adjudication
Participants are selected by impartial adjudicators on the basis of their submitted material. In addition to artistic merit, consideration will be given to the likelihood that the artist's work will benefit from the program. 
Applicants will be notified of their status as soon as adjudication is complete.
All programs, faculty, dates, fees, and offers of financial assistance are subject to change. Program fee is subject to applicable taxes. Non-refundable fees and deposits will be retained upon cancellation. Any other fees are refunded at the discretion of the Banff Centre. The application deadline is 11:59 p.m. Mountain Standard Time.