On-Campus Programs between January and March 2021 will be either canceled or shifted online. Participants who applied to in-person programs will be contacted directly. Programming that had been planned for online delivery will continue as anticipated.
---
To hear about upcoming online programs, subscribe to our mailing list.  We are pleased to roll out our new student system and application experience. If you have any questions or feedback, please contact admissions@banffcentre.ca.
Program Information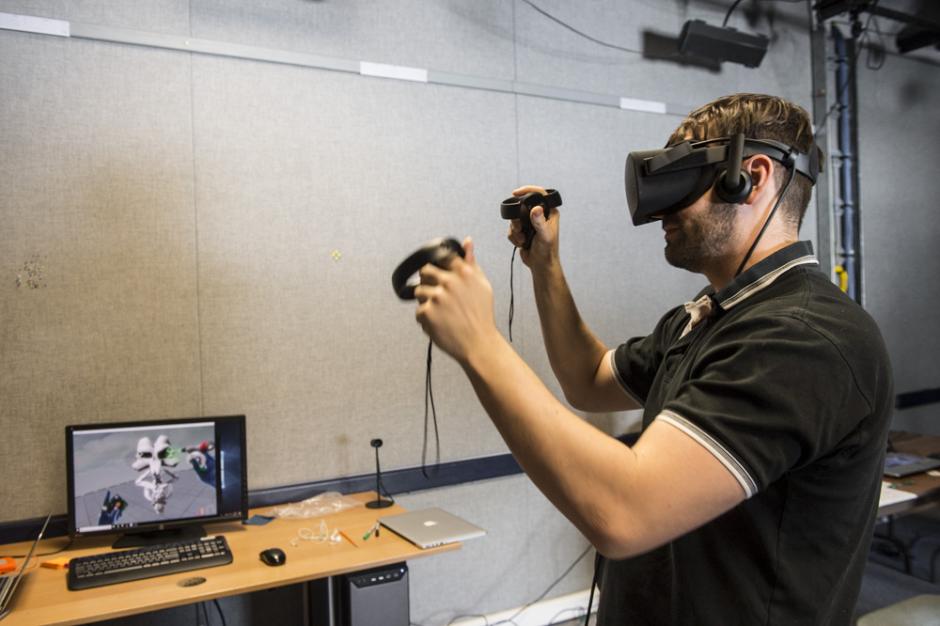 Overview
The Digital Media Practicum program expands and enhances participants' technical and conceptual skills, and increases knowledge in the mediums supported by Banff Centre's Visual Arts and Media + Production areas.
Practicum participants will pursue professional development and artistic projects, and will receive mentorship and feedback from staff in support of these projects.  
Participants will also assist staff in the delivery of programs and events, learn maintenance and safe operation of relevant facilities, and provide assistance to artists-in-residence working in Visual Arts and Media + Production.
The program will be delivered in English.
What does the program offer? 
The Digital Media Practicum program offers practical experience in the areas of video production and post-production, audio, animation and graphics, interactive media, computational media, and digital fabrication for use in artistic practice.
The program is intended as a continuing education experience for artists and media professionals with mature artistic insight and advanced practical skill, including significant professional experience or a high level of professional training. Learning opportunities are primarily practical, hands-on experiences arising from participants' support of artistic residency programs. 
Practicum participants will have dedicated time and facilitator support to realize their individual learning objectives and projects. Participants will also have the opportunity to attend relevant Banff Centre talks and events to expand their knowledge and personal artistic networks. 
Who should apply?
Enrolment in this program is limited to French citizens or applicants residing in France for at least five years. Successful applicants should be fluent in English. Applications may be submitted in French or English.
This program is ideal for recent graduates of media arts and production programs who wish to gain professional experience within an institutional context, and with a focus on pushing their own professional and artistic work.
Applicants must possess a solid foundation in digital media with intermediate experience in digital imaging, digital audio, video editing, animation and motion graphics, and general computing, as well as knowledge of game engines and VR.
The ability to adapt to the requirements of a project and work as a team while adhering to workflow best practices is required. Enthusiasm to raise the bar of visual design of Media + Production programs and events is highly valued.
Application Requirements
1. Cover Letter: A one-page letter of intent explaining why you are interested in the practicum program.
2. Resume: Include artistic activities and achievements, as well as education, volunteer, and employment history.
3. References: Contact details for two referees, including email and telephone numbers. Applicants should include one artistic/academic reference and one from a previous employer.
4. List of Technical Skills: Identify each skill as:
Beginner = little to no experience, 
Intermediate = have completed an introductory course in this medium, 
Advanced = have worked with this medium in a significant capacity and produced a body of work demonstrated in my portfolio submissions.
5. Personal Statement: Outline what you would like to achieve during your program. 
6. Portfolio: Upload 3 samples of your artistic work. Please include description of work, title, date created, mediums, and size.
How to Apply
Apply online through our application portal, here. 
For assistance with the application process, please see contact details for the Office of the Registrar below. The application fee has been generously subsidized by the French Embassy in Canada.
Adjudication
Participants are selected by impartial adjudicators on the basis of their submitted material. In addition to artistic merit, consideration will be given to the likelihood that the artist's work will benefit from the program. 
Applicants will be notified of their status as soon as adjudication is complete, approximately eight to 10 weeks following the application deadline.
Eligibility
Successful candidates should be fluent in English. Applications may be submitted in French or English. The program will be delivered in English. Enrolment in this program is limited to French citizens or applicants residing in France for at least five years.
Note: All programs, faculty, dates, fees, and offers of financial assistance are subject to change. Program fee is subject to applicable taxes. Non-refundable fees and deposits will be retained upon cancellation. Any other fees are refunded at the discretion of the Banff Centre.
What's Included
You are eligible for Banff Centre housing (based on availability). You are responsible for your own room and board costs. Current rates for Banff Centre accommodation are $8.06 / day (shared) or $16.12 / day (single) and will be deducted from your living allowance. 
As space is extremely limited, Banff Centre housing is available for practicum participants only. 
You will receive a living allowance of $61 per day.
Note that financial assistance and stipend awards are considered taxable income for Revenue Canada.  
Enjoy special artist rates for ticketed performances or complimentary access to events.
Enrich your experience and get to know other artists on campus by taking advantage of the activities and support provided by our Participant Resources team.
Travel costs to and from Banff are covered.
Fees & Financial Assistance
*Tuition for this program is covered through a partnership between Banff Centre for Arts and Creativity, The French Embassy of Canada, and L'Institut Français.
You will also receive a daily living allowance while part of the program (see What's Included for more information).