ELM: The Essential Leadership Model to Span Worlds
A Banff Centre Leadership Residency
Program Information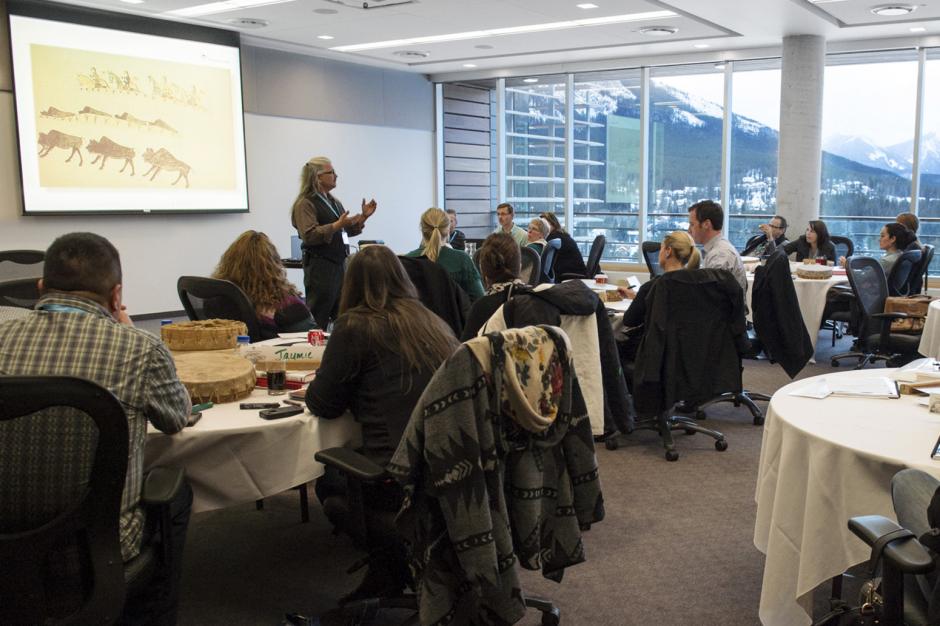 Overview
"Never doubt that a small group of thoughtful, committed citizens can change the world; indeed, it's the only thing that ever has."—Margaret Mead
The Essential Leadership Model™ (ELM™) is for leaders who are ready, willing, and able to affect real change across disciplines and cultures. "Walking in two worlds" refers to two distinct perspectives present when Indigenous leaders engage with Western communities and vice-versa. In ELM, spanning worlds relates to more than Indigenous/Non-Indigenous relations. By embracing all cultures, ELM recognizes divergence and embraces the distinct knowledge, values, and tools that each world brings to leadership, management, and problem solving. 
The ELM program is about creating a cohort of leaders (i.e. seedsters) who look across and beyond cultures for seeds of innovation. ELM aims to create a culturally blind—yet attuned—space to focus on establishing new models and linkages at the highest levels of their respective organizations.  ELM is a process, framework, platform, and enabler. Drawing from both Indigenous and Western cultural knowledge, ELM brings together like-minded individuals to create a network of success that will nurture and enhance multi-world leadership talents. ELM is both a new theory and a new practical approach to engaging Indigenous and Non-Indigenous leaders in evolving ways of thinking and exploration.  
 
What does the program offer?
Participants will be immersed in a rich cross-cultural experience, ceremony, in-person lectures, hands-on application of theory, engaging dialogue, awe-inspiring mountain panoramas, outdoor and creative practices, individual and group reflection, and networking opportunities.
The program will explore two-world leadership and beyond; looking at why it is critical to flourishing organizations. Participants will dissect the Essential Leadership Model and participate in frank, action-focused dialogue aimed at creating immediately productive linkages and relationships. The program will provide an opportunity to absorb and create new knowledge, skills, and talents, and will venture into various culture perspectives with questions such as: 
What can we learn from each other? 
What principles bond us? 
What assets can we share?
What drivers make us want to succeed together?  
Is there a new place we need to get to from this program?
Who should register?
This program will benefit senior leaders and system-influencers across industries and sectors who are seeking new ways to engage with Indigenous and Non-Indigenous people and communities. 
The program is an ideal fit for those searching for exposure to new models and thought processes and seeking connection with like-minded leaders—or seedsters—with the goal of working collaboratively around a new two-world model to drive results. ELM doesn't simply provide answers; it enables participants to create their own.
About Banff Centre Leadership Programs
Banff Centre Leadership programs integrate the power of the arts, the wisdom of Indigenous practice, and the extraordinary beauty of Banff National Park to prepare and empower the next generation of leaders.
Programs help participants bring creative and reflective approaches to a rapidly changing world, and connect leaders with others who share their commitment to positive change in Indigenous communities, businesses, non-profit organizations, cultural institutions, and government.
What's Included
All Leadership participants are provided private rooms with ensuite washrooms in one of our two onsite hotels, the Professional Development Centre or Lloyd Hall. Room upgrades may be available upon request at an additional cost.
All of your meals from the start to the end of your program are included; most of your meals will be at Vistas Dining Room, but there may be some special dining events scheduled as well. Please also feel free to visit the Maclab Bistro, Le Café, Three Ravens Restaurant and Wine Bar, but note that these outlets are not included in your meal plan, and thus will be at additional cost.
The Sally Borden Fitness and Recreation Centre is located in the lower floor of the Sally Borden Building, and provides all guests with access to our swimming pool, hot tub, steam room, climbing gym, fitness centre, spin studio, and gymnasium. Massage and physiotherapy appointments may also be booked ahead of time.
Enjoy free parking, WiFi, and access to the Walter Phillips Gallery while you are a guest at Banff Centre. Our Participant Resources team is also available to assist you with medical support or event information. See our Events Calendar to learn more about what's going on at Banff Centre while you're onsite.
Fees & Financial Assistance
Applications for the program will be received and reviewed on a rolling basis until the application deadline of January 22, 2019. Our intention in the application review process is to assess fit for the program and to ensure a balanced cohort. If this program is a fit for you, we encourage you to submit your application as early as possible to secure your spot. Funding is limited and will be allocated on a first-come, first-served by eligibility basis. To request financial assistance please see additional information in the How to Apply section, below.
How to Apply
Application Form
Please provide responses to the following: 
Briefly describe your experience and level in leadership and system-influencer roles.
Briefly describe the two-world initiatives, projects, relationships, etc. that you are currently engaged in or being drawn into.
Briefly describe the scope of your engagements (i.e. in terms of reach and impact).
Briefly describe relevant or unique expertise you bring (e.g. as an innovator, thought-leader, communicator, entrepreneur, community champion). 
Briefly describe what kind of leadership contributions you would like to make, or talents you would like to mature.
Funding Application for ELM
Through the generous support of various donors, Banff Centre for Arts and Creativity is pleased to offer a limited number of full and partial funding grants for Indigenous, not-for-profit organization, and small business/social enterprise leader participation in the Banff Centre Leadership Residency "ELM – The Essential Leadership Model to Span Worlds".
To request financial support, please complete the Funding Application section, which encompasses the following: 
Part A – Confirmation of Eligibility  
Please confirm your eligibility for funding support in one of three categories: 
Category 1. Indigenous Leader: Eligible applicants are Indigenous Canadians who are employees or members of Indigenous nations, councils, enterprises, or institutions within Canada. Also eligible are Indigenous persons not affiliated with an Indigenous organization who provide supporting documentation that confirms Indigenous identity. 
To confirm eligibility in this category, please submit a document indicating Indigenous identity (e.g., Status card, Métis membership, Inuit membership, band membership, etc.). 
 
Category 2. Not-for-profit Leader: Eligible applicants are employees or officers of a not-for-profit organization. 
To confirm eligibility in this category, please submit confirmation of employment on your organization's letterhead, signed by a supervisor or board member. 
 
Category  3. Small Business/Social Enterprise/Self-employed Leader: Eligible applicants are working full-time in a small or social enterprise or self-employment venture. 
To confirm eligibility in this category, please submit a verifiable statement that the stated eligibility requirements are met.  
 
Part B – Request Details
Please submit a one-page letter of application that includes the following required information:
Your organization's history, mission, and activities, and your role and responsibilities and length of service with the organization. Provide charitable registration number, if applicable. 
The reasons why assistance is required (e.g., limits in your organization's training budget and the number of employees covered by that amount, lack of comparable learning opportunities in your local area, etc.).
The anticipated benefits you and your organization will derive from your participation in this program.
A description of how you anticipate sharing the learning from the program with your team, your organization, and throughout your sector.
Name of your Supervisor or Board Chair.
Your financial contribution to attendance of a program, plus that of your organization.
The names of other agencies to whom you have applied for funding for this program and the amounts requested.
The minimum amount of funding required from Banff Centre.
Verification that you have read and agree to the Term and Conditions (listed below). 
You signature and that of your supervisor or a member of your organization's governing body. 
In order to review and assess your application for financial support, we require all of the information outlined above. Please ensure your one-page funding application meets all of the requirements listed or we cannot consider your request for funding.
 
Terms and Conditions
The grant is awarded to the organization sending the individual – payment is applied to the account.
The participant must complete the full course.
Cancellations (less than two weeks prior to course start) and no-shows to the course selected will result in your organization being ineligible for further grants for the next two years. Regular cancellation penalties will also apply; please inquire for details.
Participants must provide a donor thank-you letter and may be asked to meet with their donor during the program to share their experience.
Participants receiving this funding must complete the required evaluation process at the end of the course and will be asked to reflect on the expected benefits and processes, to share their learning, and report on the impact of the course on their leadership and organization. 
All programs, faculty, dates, fees, and offers of financial assistance are subject to change. Program fee is subject to applicable taxes. Non-refundable fees and deposits will be retained upon cancellation. Any other fees are refunded at the discretion of the Banff Centre.
Contact the Registrar

For questions on preparing your application, please contact the Office of the Registrar: