Emerging Atlantic Artist Residency
Program Information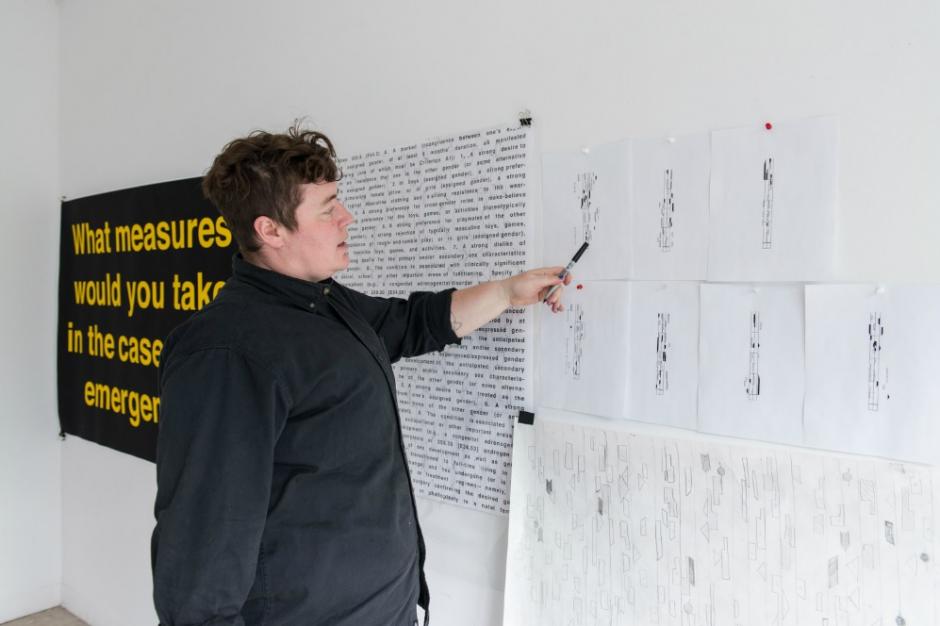 To apply for this program, please submit an application through our online portal, SlideRoom. 
Overview
The Emerging Atlantic Artist Residency provides one emerging visual artist from Atlantic Canada the opportunity to create new work within the inspiring surrounds of Banff Centre over a period of eight weeks. Exact dates to be negotiated between the artist and the Banff Centre during the months of June to August 2018.
The vision of this residency program is to strengthen cultural connections between eastern and western Canada, and to assist in building the skills necessary for emerging Atlantic artists to be successful in their careers. The program is a partnership with the Hnatyshyn Foundation and funded through the support of the Harrison McCain Foundation.
What does the program offer?
The residency provides opportunities for professional and artistic development through access to facilities to create new work, technical expertise, mentorship, studio visits, and opportunities to engage with artists-in-residence, visiting artists, faculty, curators, and speaking engagements at Banff Centre and at two additional partner organizations.
Tuition fees, accommodation, meal plan, and travel to and from Banff Centre to the participant's residence in Canada are covered. As well, the successful artist will receive a production allowance for material costs, production assistance and expertise, and project related incidentals incurred while at Banff Centre.
Who should apply?
This program targets exceptionally talented emerging Canadian artists under the age of 35 who demonstrate the potential to make a significant contribution to the legacy of the arts in Canada.
Eligibility
To be eligible for consideration, applicants must: 
Be a Canadian citizen or permanent resident
Be under the age of 35 at the time of application
Demonstrate a strong personal and artistic connection to the east coast provinces of Canada (New Brunswick, Nova Scotia, Prince Edward Island, Newfoundland and Labrador)
Have completed formal training in visual arts
Demonstrate commitment to the career of a professional visual artist by having practiced professionally in their field for a minimum of two years, produced an independent body of work, and held at least two public exhibitions in a professional context
Demonstrate they are able to work independently
Be able to communicate effectively in English (the working language at Banff Centre is English)
Application Requirements
Cover letter (500 words): Describe your connection to Atlantic Canada and how this region influences you and your work. Describe your career goals, plans for future development and learning, why you wish to be considered for this program, and what impact it could have on your artistic practice.
Artist statement (500 words): Describe the conceptual basis of your artistic practice and frame your work within a larger context. 
Bio/project summary (100 words each): On a single page, provide a brief biography and a summary of your proposed project. These summaries will be used as a narrative for administrative and public use.
Detailed project proposal and timeline (500 words): Outline your execution plan for the proposed project including a week to week timeline, description of medium(s) used, explanation of your specialized field of knowledge of these mediums, any specific processes, equipment and assistance required.
Resource requests: List all requests for equipment, software, facilities, or technical support related to your project execution/completion in the Resource Request Form section of the online application.
Portfolio: Upload five samples of your artistic work. Please include description of work, title, date created, mediums, and size. Size and format requirements available in the online application.
Resumé: Please outline your education and related experience
References: Please provide the name, occupation/title, and contact information of two references who will each submit a letter of support on your behalf should you be shortlisted for the program.
How to apply
The application fee for this program is generously subsidized by the Harrison McCain Foundation.
Apply online through our application portal, SlideRoom, here. For assistance with the application process, please contact the Office of the Registrar.  
Jury
The jury for this award are listed below in the "Faculty" section.
Note: All programs, faculty, dates, fees, and offers of financial assistance are subject to change. Program fee is subject to applicable taxes. Non-refundable fees and deposits will be retained upon cancellation. Any other fees are refunded at the discretion of the Banff Centre.