Learn more about Banff Centre's COVID-19 Vaccination Requirements and on-campus measures here.
Please subscribe to our mailing list to keep informed on upcoming programs.
Entertainment Electrics Workshop
Program Information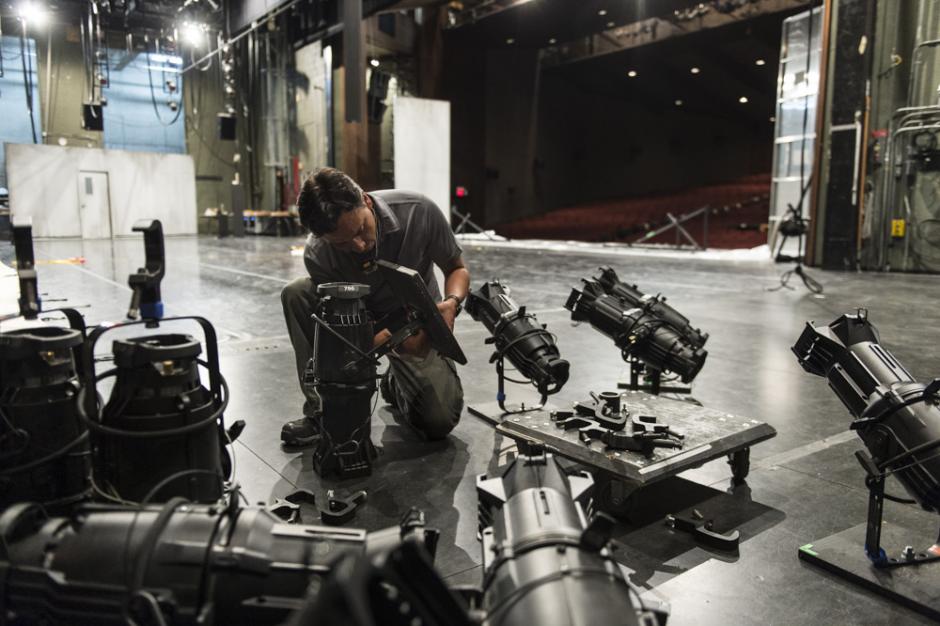 Overview
Gain the essential skills required by entertainment electricians in concert/touring shows, theatre, television/film, corporate events, and more. Learn how to work more safely, efficiently, and confidently. This fun and engaging learning and discovery workshop is taught by ETCP-recognized trainer, author, and leading consultant Richard Cadena.
This program covers the essentials of power distribution and control systems for live event production, including the safe application of electricity in the entertainment industry. You'll explore the basic circuits in three-phase power hookups as well as how power factor, harmonics, and other elements can affect systems.
This program counts toward renewal credits for ETCP-certified electricians.
What does the program offer?
Theory meets practical application in this hands-on workshop. Bring your Category III or IV volt/ohm meter and amp meter, gloves, work shoes, and a calculator because you're going to need them! 
You'll learn theory and then test it by setting up a rig, taking measurements, and comparing the real-world values against your calculations. Come prepared to learn, have fun, and build a solid foundation of understanding that will serve your entire career. The workshop covers topics listed in the content outline for the ETCP Entertainment Electrician Certification Exam.
Topics covered: essentials of electricity, electrical safety, and control systems, circuits, terminology, equipment, OHM's law, power calculations, portable power generators, wire gauges, colour codes, types of loads, cabling, connector types, measurement, safety practices, monitoring, three-phase power, use of GFCIS, grounding, DMX, RDM, ethernet, art-net, SACN, wireless DMX
Practical applications: calculating voltage drop, inrush current, electrical safety, four-wire plus ground systems, portable power generators, feeder transformer connections, setting up portable power distribution systems, ground fault protection, resolving ground loops, networking, troubleshooting.
Who should apply? 
This program is an ideal fit for entertainment electricians working in the concert/touring, theatre, television/film, and corporate events fields.
Testimonials
"This is an excellent class for anyone who wishes to be current with best practices in the industry. I highly recommend it, whether you are considering ETCP certification or not."
"Many elements that were a complete mystery to me have now had light shed on them. What I learned in this class will provide an excellent foundation for my continued study."
 
What's Included
When applying, choose between staying in a single or a shared bedroom on the Banff Centre campus for the duration of your program.
Get connected with other artists on campus and focus on your projects in a creative environment while we take care of the day-to-day essentials.
Using a credit-based system to dine on campus, our flexible meal plans allow you to select meals according to your own needs during your stay.
Packages include the Full Flex meal plan, which includes $40 credit per day, equivalent to breakfast, lunch, and dinner in Vistas Dining Room.
Enjoy special artist rates for ticketed performances or complimentary access to events.
Enrich your experience and get to know other artists on campus by taking advantage of the activities and support provided by our Participant Resources team.
Fees & Financial Assistance
A non-refundable registration fee of $135 will be charged upon registration.
Room choices are subject to availability. Banff Centre reserves the right to cancel a program up to seven days prior to program start date if there is insufficient enrolment. If the program is cancelled, all registrants will receive a full refund of any program fees paid. Banff Centre is not liable for any personal/travel expenses incurred. 
How to Apply
All programs, faculty, dates, fees, and offers of financial assistance are subject to change. Program fee is subject to applicable taxes. Non-refundable fees and deposits will be retained upon cancellation. Any other fees are refunded at the discretion of the Banff Centre. The application deadline is 11:59 p.m. Mountain Standard Time.