Classical Music Summer 2020
Program Information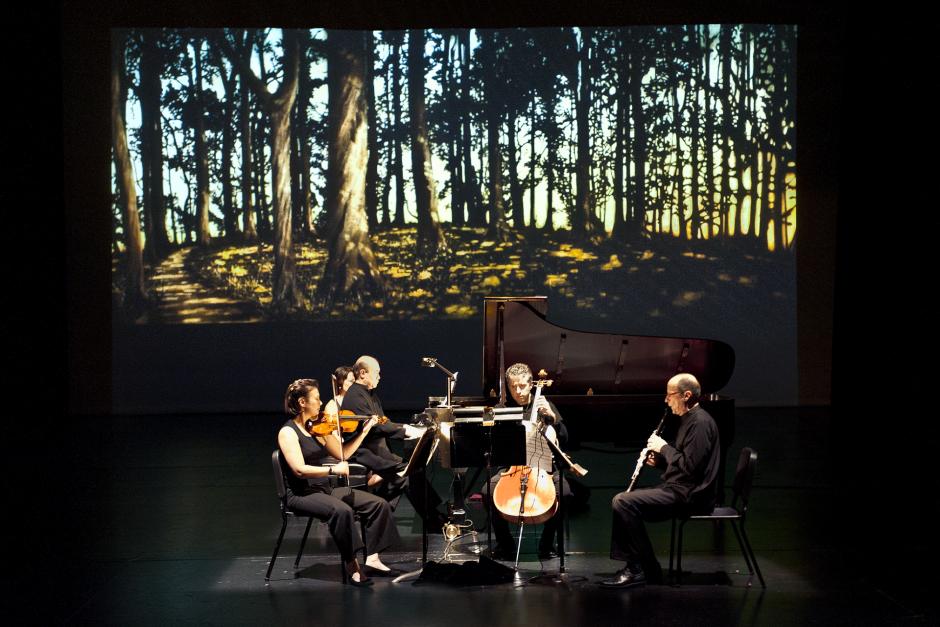 Overview
Evolution: Classical is a three-week career development program for classically trained instrumentalists and vocalists. The residency's mentor group will be led by the Gryphon Trio and will include an inspiring group of internationally recognized performing artists, artists from other creative and performing arts disciplines, career advisors, arts managers, and presenters. 
Applicants will be required to conceive and submit a unique 45- to 60-minute minute musical program with their application. This musical program will serve as the focal point of the participant's Evolution: Classical experience and must be ready for performance at the start of the program. Submitted programs must be original musical curations (like a live music set list) that can/will be performed by the applicant throughout the residency.
Programs should convey an artistic point of view, theme, and aesthetic arc. They should also include a creatively combined selection of some or all of the following: movements of longer works, short pieces, art song, popular song, arrangements, new creations, improvisations, and vocal recitations.
Applicants with an established genre focus – early music, core classical, contemporary, classical/jazz/improv/global hybrid – are encouraged to include selections that reflect their current areas of genre and stylistic preference and strength. Applicants are encouraged to take risks when combining these selections with music that offers emotional and intellectual contrast and continuity, and that stretches the applicant beyond their inherent or learned/adopted curatorial restrictions and barriers.
What does the program offer?
Evolution: Classical is intended to  supplement previous university and/or conservatory training with workshops, coaching, lessons, lectures, and public performances. The program will support, challenge, and empower participants through daily group discussions and interactions that will help to define artistic point of view and hone interpretive and communication skills. Presentations, consultations, and experiential learning opportunities will offer insights into the fundamental issues that underlie successful career development, programming, and marketing strategies.
In addition to offering public performance opportunities throughout the three-week residency, Evolution: Classical will also offer unique participant/mentor collaboration opportunities with artists from other disciplines that will result in the creation and performance of engaging and impactful concert experiences at the end of the session.  
During the first week of Evolution: Classical, participants will present segments of their curations and receive mentor/peer feedback in a group setting. Participants will receive feedback on interpretation and musicianship, technical proficiency, program curation, and stage presence. Lectures and workshops offered this week will help remove creativity barriers and explore the cultivation of an authentic artistic point of view.
In the second week, ensembles, collectives, and individuals will work with a professional mentor artist from another discipline to explore the opportunities and challenges tied to various forms of collaboration. Some of these collaborations may involve additional repertoire assigned by the Gryphon Trio or mentors. Week two and three will also offer mentor concerts and presentations, individual lessons, coaching, career mentoring sessions, and performance opportunities. 
Week three will focus on the continued development curations and collaborations, and will culminate with a three-day mini festival showcasing this work. 
Who should apply?
Evolution: Classical is ideally suited for classically trained emerging/early career instrumentalists (strings, piano, winds, brass, percussion) and vocalists who are interested in expanding their capacity to forge an inspiring and sustainable career in music and the arts.
Chamber ensembles and unique collectives (pre-existing or formed for participation in this residency) of any instrumental and/or vocal combination and size, collectives combining classical and non-classical instrumental and vocal traditions, and soloists are welcome to apply.
Applicants will be required to submit audio and video materials demonstrating a very high level of musicianship and technical proficiency, an artistic rationale supporting their proposed 45- to- 60-minute musical program, and will be required to express what outcomes they hope to take away from the Evolution: Classical experience. 
 
What's Included
When applying, choose between staying in a single or a shared bedroom on the Banff Centre campus for the duration of your program.
Get connected with other artists on campus and focus on your projects in a creative environment while we take care of the day-to-day essentials.
Using a credit-based system to dine on campus, our flexible meal plans allow you to select meals according to your own needs during your stay.
The Full Flex meal plan includes $41 credit per day, equivalent to breakfast, lunch, and dinner in Vistas Dining Room.
Demo recordings: you'll have the option to record up to 30 minutes of music at a reduced rate as part of your program. These recordings are intended to be used for auditions or personal promotion, not for commercial purposes.
Studio recordings: commercial recordings can also be integrated into a music residency at normal rates.
This program offers opportunities to showcase your work-in-progress in one of our performance venues.
Enjoy special artist rates for ticketed performances or complimentary access to events.
Enrich your experience and get to know other artists on campus by taking advantage of the activities and support provided by our Participant Resources team.
Fees & Financial Assistance
Application fee: $65 
*Financial Aid up to 100% is available to cover tuition (meal plans and accommodations are not eligible).
If you would like to be considered, please complete the Financial Aid section when uploading your supporting materials.
Help fund your experience at Banff Centre! View a compiled list of national and international opportunities here.
How to Apply
Collectives: If you are applying as a group, the group leader must complete both the online application form (including $65 processing fee) and a SlideRoom application. Please submit only one SlideRoom application per group.
There will be an additional $35 registration fee of each group member upon acceptance to the program.
Adjudication
Participants are selected by impartial adjudicators on the basis of their submitted material. In addition to artistic merit, consideration will be given to the likelihood that the artist's work will benefit from the program. 
Applicants will be notified of their status as soon as adjudication is complete.
All programs, faculty, dates, fees, and offers of financial assistance are subject to change. Program fee is subject to applicable taxes. Non-refundable fees and deposits will be retained upon cancellation. Any other fees are refunded at the discretion of the Banff Centre. The application deadline is 11:59 p.m. Mountain Standard Time.