Learn more about Banff Centre's COVID-19 Vaccination Requirements and on-campus measures here.
Please subscribe to our mailing list to keep informed on upcoming programs.
Evolution Quartet - Online 2021
Program Information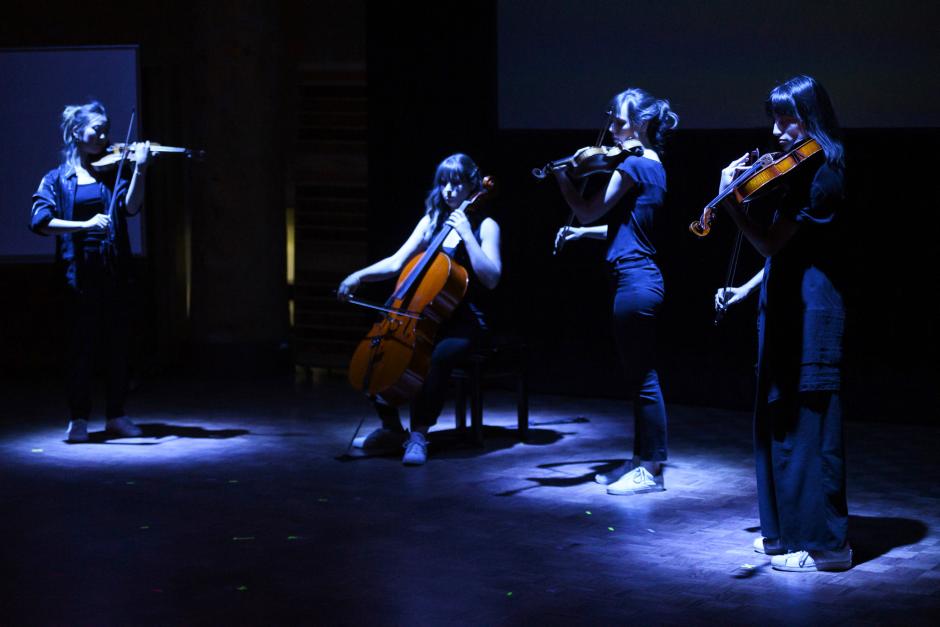 Overview
Evolution: Quartet offers early-career quartets and composers the opportunity to explore the lineage of the string quartet, both as a historical genre and as a new and invigorated practice in the early 21st century - from Haydn, to new music created by the program's faculty and participant composers. Led by the internationally celebrated Eybler, Parker, and JACK string quartets, the Evolution: Quartet mentor group is further reinforced by an extraordinary cohort of scholars, composers, and instrumentalists, including the Gryphon Trio, Directors of Banff Centre Classical Music Summer Programming.
Participants will explore the early string quartet, with sessions on intonation, harmony, and structure, as well as in-depth discussions on style and rhetoric. Quartets from the traditional canon will be studied and performed alongside works by mentor composers Marc Sabat, Natacha Diels, and Jaehyuck Choi. Participant composers' works will be premiered by participant string quartets, and faculty quartets will premier Banff Centre commissioned works created by guest composers.
 
What does the program offer?
Evolution: Quartet provides a highly engaged, specialized, and integrated approach to performance, theory, and composition for string quartets. Participants will gain exposure to period performance of classical, romantic, and new music through online coaching. The programme offers online concerts, lectures, informal discussions, and seven new compositions over a three-week period. From live streamed public events, to participant-driven "throw downs", thise residency will allow participants to explore and consider the virtual online stage as a component of a long-term audience engagement strategy. 
Daily presentations and faculty-led discussions will focus on intonation, quartet dynamics, affect and rhetoric, advanced rhythm, performing editions, structural analysis, introduction to neo-Riemannian theory, in-depth exploration of faculty composers' work and process, collaboration, right relations, and diversity/equity/inclusion. Performance and composition faculty will also offer coaching and private lessons.
In addition, four composers will join mentor composer Suzanne Farrin in a program that supports their full creation process from inception to premiere of a new work for string quartet.  An inaugural meeting in April will launch this process many weeks in advance of the June 21 - July 10 session, allowing composers to meet each other, introduce their work and ideas, and discuss the full scope of their imagined projects. Having established their individual creative departure points composers will engage in an intensive and impactful process that allows them to learn from, and deeply invest in one another's creative development. Composer group meetings will continue throughout May and June, and composer/quartet rehearsals will commence with the launch of the collective program on June 21. The projects will be premiered in the context of an end-of-session livestream performance presented by each participant quartet with production support from the Banff Centre.
Evolution: Quartet 2021 online edition is being limited to four pre-formed string quartets and four composers. Although the 2021 core participant group will be determined by invitation, selected daily group meetings and presentations will be open to auditors. 
What's Included
Group Seminars/ Workshops
Projects will be premiered in an end-of-session livestream performance 
Stipend of $750 will be available to accepted participants
Fees & Financial Assistance
Application fee: $25.00
*Scholarship of 100% will be awarded to cover tuition costs. 

*Stipend of $750.00 will also be awarded to invited participants.