We will begin to announce Fall and Winter Programs as details for each program are confirmed.
Want to find out more about upcoming programs? Please subscribe to our mailing list.
Learn more about Banff Centre's COVID-19 on-campus measures here.
Program Information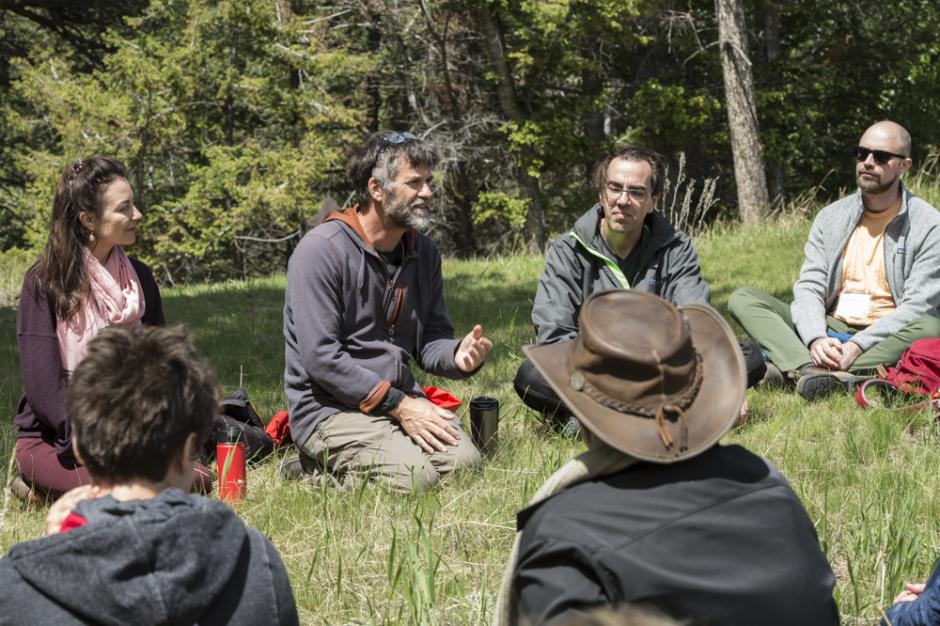 Overview
"Now and again, it is necessary to seclude yourself among deep mountains and hidden valleys to restore your link to the source of life."  –Morehei Ueshiba (Founder, Aikido)
Every leader – no matter how competent and outwardly successful – reaches a challenging point where they must pause and take stock of what matters most in life. Some may realize their external life has come with a steep inner price – perhaps the loss of connection to something vital. Some may feel stuck in a story too small for the person they sense they can become. Others face complex leadership challenges that require the cultivation of their own deeper capacities. 
Foundations of Purpose supports participants to explore and navigate this critical leadership threshold. It is a deep, personal dive into what poet David Whyte calls, "your own truth at the centre of the image you were born with." Participants will tap into their own creative intelligence and explore profound personal questions to clarify the next steps on their journey. Past participants tell us that this process brings a renewed sense of meaning, energy, and purpose to their work of leading and making change in these turbulent times.
What does the program offer?
Learn and practice the arts of deep listening, expanded awareness, and skillful inquiry
Engage imagination and exploration of the natural world to track the threads of the story that calls you to the next phase of your leadership journey
Explore real world applications of models of human development and the emerging science of human potential
Generate new insight and possibilities using techniques drawn from the creative, expressive, and somatic arts
Develop sustaining practices to align your actions and decisions with your purpose and internal commitments; quickly connect with and move from your most centered and skillful presence; and cultivate your own wholeness
 
Who should register?
Foundations of Purpose is designed for those who yearn to bring their deepest and most creative potential to their work, and who aspire to make a unique contribution to the world. The program will have a particular relevance for seasoned leaders and influencers who find themselves in transition, holding profound questions, or perhaps standing at a critical crossroads or developmental threshold. 
Those who find themselves at the 'edge' of the stories that have sustained, defined, and empowered them will feel at home here. The program is not a good fit – and may be profoundly destabilizing – for those who want everything in their life and work to stay just the way it is.
What do participants say?
"The most inspiring, deep, and transformative learning opportunity I have experienced in my 31 years of professional and personal development."
–Darlene Nuqingaq, The Iqaluit Music Society
"This course should be a prerequisite for living in our current world. It allows for full exploration of our lives and gives us real tools to make an impact."
–Claire Hefferon Payne, National Program Director, Business for the Arts
About Banff Centre Leadership Programs
Banff Centre Leadership programs integrate the power of the arts, the wisdom of Indigenous practice, and the extraordinary beauty of Banff National Park to prepare and empower the next generation of leaders.
Programs help participants bring creative and reflective approaches to a rapidly changing world, and connect leaders with others who share their commitment to positive change in Indigenous communities, businesses, non-profit organizations, cultural institutions, and government.
What's Included
All Leadership participants who choose the Accommodation and Meal Package are provided private rooms with ensuite washrooms in one of our two onsite hotels, the Professional Development Centre or Lloyd Hall. Room upgrades may be available upon request at an additional cost.
All of your meals from the start to the end of your program are included; most of your meals will be at Vistas Dining Room, but there may be some special dining events scheduled as well. Please also feel free to visit the Maclab Bistro, Le Café, Three Ravens Restaurant and Wine Bar, but note that these outlets are not included in your meal plan, and thus will be at additional cost.
The Sally Borden Fitness and Recreation Centre is located in the lower floor of the Sally Borden Building, and provides all guests with access to our swimming pool, hot tub, steam room, climbing gym, fitness centre, spin studio, and gymnasium. Massage and physiotherapy appointments may also be booked ahead of time.
Enjoy free parking, wifi, and access to the Walter Phillips Gallery while you are a guest at Banff Centre. Our Participant Resources team is also available to assist you with medical support or event information. See our Events Calendar to learn more about what's going on at Banff Centre while you're onsite.
Fees & Financial Assistance
Additional nights' accommodation may be available; please contact us for details.
The above fees do not include applicable taxes, such as GST, the Alberta Tourism Levy, and the Tourism Improvement Fee as needed.
Group Savings
Enroll four members of your organization or community in a program and your fifth member will receive a free tuition. Special restrictions may apply.
Financial Assistance
Financial Assistance may be available to subsidize some of the costs to attend your program. We encourage you to apply for funding if your attendance is dependent on financial support. Over two thirds of our program participants receive funding. Canada Council Travel Grants and Canada-Alberta Job Grants (or provincial job grants) are also an option to apply for to support your attendance.
Call our toll-free number for more details at 1.888.255.6327
How to Apply
All programs, faculty, dates, fees, and offers of financial assistance are subject to change. Program fee is subject to applicable taxes. Non-refundable fees and deposits will be retained upon cancellation. Any other fees are refunded at the discretion of the Banff Centre.
Banff Centre reserves the right to cancel a program up to seven days prior to program start date if there is insufficient enrolment. All fees will be refunded. Please note that Banff Centre is not liable for any personal/travel expenses incurred.
Please note, our programs are filled on a first come, first served basis. Please register early to secure a confirmation on your spot. 
Contact us

For more information please contact: