Fusing the Future of Indigenous Textiles
Banff Centre's Indigenous Arts department has had to postpone this program in order to review ways to better support the two-part program led by D'Arcy Moses; From Hides to Canadian Couture and Fusing the Future.
Program Information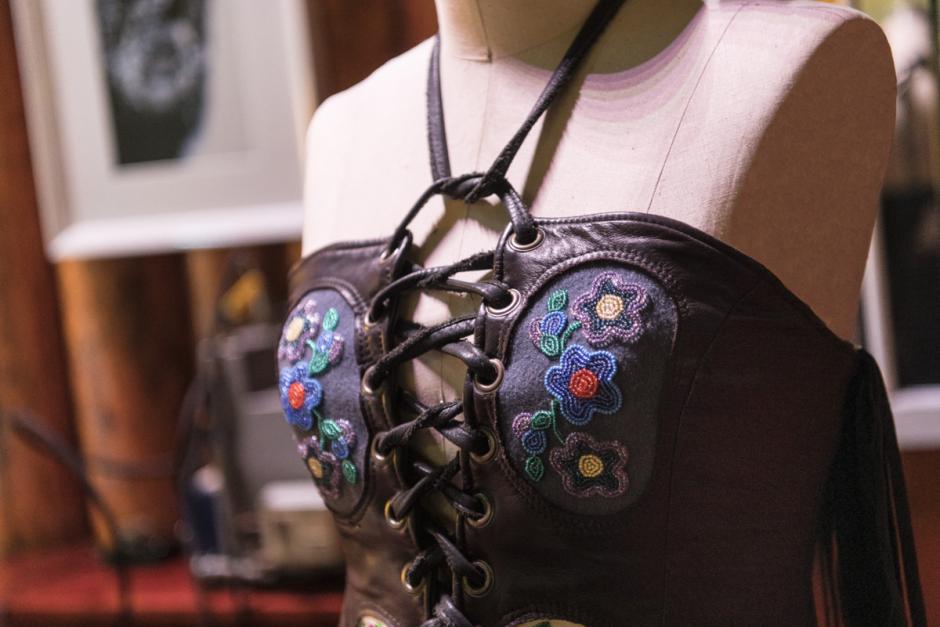 Overview
In Fusing the Future of Indigenous Textiles, learn from master Indigenous artisans including weavers, beaders, carvers, porcupine quill workers, jewellery makers, and cultural provocateurs. 
During this residency led by D'Arcy Moses, participants will fully realize their high fashion garments completed the month prior with a fashion show to celebrate all the pieces created. This six-week program will overlap various artistic practices throughout with faculty and participants interweaving spaces.
What does the program offer?
In this program, participants will complete their path of development and creation alongside D'Arcy Moses and the Indigenous collaborative team, with an All Indigenous Canadian High Fashion (Haute Couture) Collection of women's and men's wearable art. 
The collection will feature Indigenous and Eurocentric and design techniques. Hybrid concepts such as traditional First Nations embellishment techniques (beadwork, embroidery, geometric porcupine quillwork, and use of traditional First Nation fur harvester embellishments) will also be showcased. 
Participants will also have the opportunity to experience a First Nations digital media element in this collection through the use of newly developed digital beadwork and visuals during the runway showing. This six-week program will finalize the From Hides to Canadian Couture Residency.
Who should apply?
This program is an ideal fit for skilled Indigenous textile artists who would like to enhance and diversify their already trained skill sets.
Applicants should not be afraid of hard work, and should show an openness and willingness to work many hours by hand when it comes to adorning garments and accessories. Applicants should have an appreciation of environmental issues and be interested in exploring and utilizing recycled materials in the collection.
The ability to work well with others as a team is a necessity. Applicants should also be open to new ideas and techniques, and be able to take direction well.
Fees & Financial Assistance
Application fee: $35
*Indigenous artists accepted to the program will be eligible for up to 100% scholarship to cover the program fee.
The program fee includes tuition, a shared room, and the Full Flex Meal Plan at Banff Centre. Travel to and from Banff Centre is the responsibility of participants. In addition to the program fee, participants are responsible for all costs associated with their stay such as shipping, materials, and supplies (including photographic materials), rental and use of audio/visual equipment, printing, and any other specific facility fees. 
Additional need-based financial aid is available. If you would like to be considered, please complete the Financial Aid section when uploading your supporting materials. 
Help fund your experience at Banff Centre. View a compiled list of national and international opportunities here.