Getting to Maybe: A Social Innovation Residency 2017
Program Information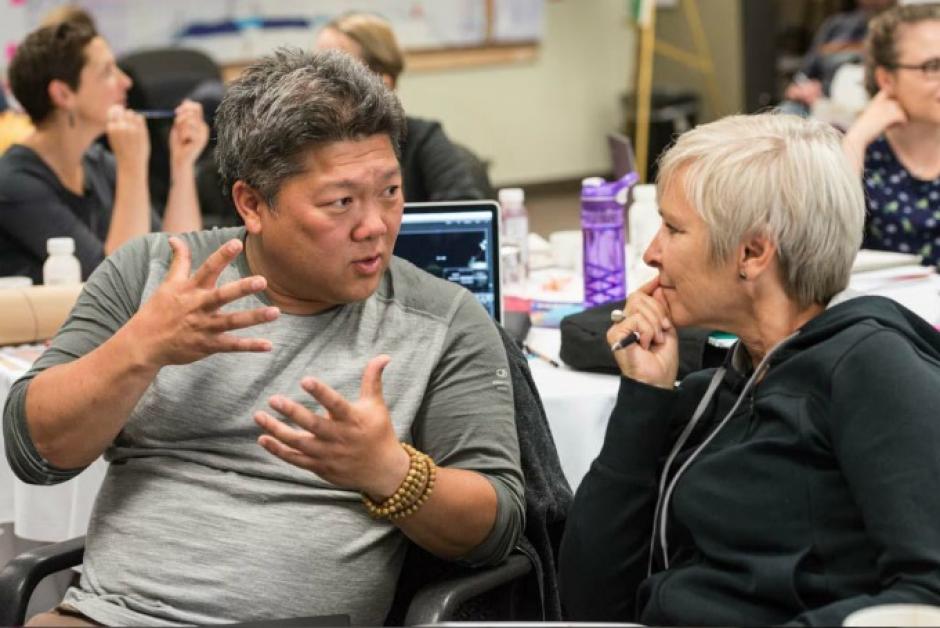 Overview

Social innovation skills are needed now more than ever to tackle the urgent challenges of our times. Complex problems confront individuals and communities in many different sectors. Whether your concerns lie with culture, climate, industry, justice or policy, creating the change we need in the world depends on gaining knowledge and finding new approaches.

Getting to Maybe: A Social Innovation Residency has been designed for change-makers with a deep readiness to fuel a personal calling to work for positive change in very complex contexts. The Residency has ambitious goals; it is simultaneously: 
A retreat – a rare opportunity to step out of the intensity of your everyday world and look at it from a new perspective
A community – a chance to build new networks while living, learning, and exploring alongside some of Canada's most extraordinary and inspiring agents of change
A course – a graduate level immersion in systems dynamics and complexity theory that provides conceptual tools to understand your work and its possibilities in exciting new ways
A deep dive – an invitation to look within, to reconnect with your own sense of inspiration and meaning, to explore personal thresholds and to listen to the 'larger' story that may be trying to get your attention
A toolkit – a very practical set of strategies, concepts, resources and whole-system 'hacks' that you can apply directly to your own work 
A crucible – a place where you bring specific challenges or projects and reimagine them to reveal new possibilities and lines of action for system change 
"This program offered a truly multi-disciplinary approach to learning and self-development. It was a beautiful reminder of how we can build or rebuild our own resiliency in order to take on great things!"
Amie Sergas, MaRS Discovery District, 2016 alumna
Who should apply?

We invite nominations of, or direct applications from, enthusiastic, self-reflective, committed individuals. If you are a leader from the private business, social benefit, government,  philanthropic sector, arts and culture and Indigenous communities with a passion and vision for change, you are invited to apply. 
This is an outstanding opportunity for change makers passionate about tackling complex problems and holding the capacity and/or the authority to catalyze groups of individuals to join those kinds of efforts. We are particularly interested in leading social innovators who may also have experience with Indigenous leadership, creative practice and/or environmental stewardship.
Through this unique, month-long residency, you will be equipped with multiple perspectives, deeper understanding, and the skills to develop new partnerships to collaborate on complex issues. In addition to a rigorous exposure to cutting edge concepts on systems, complexity and social innovation, you will also learn through artistic practices, Indigenous traditions and direct experience of the natural setting. These various 'ways of knowing' will shed light on your exploration of your calling as a change-maker, and will also be applied to your project, with ongoing support from peers, program mentors, expert faculty and guest advisors.
"This program far exceeded my expectations — which were already high! The stunning setting, the inspiring and open cohort, the phenomenal logistical support from Banff Centre staff, and the faculty who shared their knowledge, wisdom, and time with unparalleled generosity combined to make this a spectacular experience."
Jill Andres, Mount Royal University, 2016 alumna
What does the program offer?
Mentors, Individual Advisory Groups, and Expert Advisors
Mentors
Experienced, knowledgeable individuals from within the diverse delivery team, residency alumni and esteemed members of the social innovation community will act as on-site mentors throughout the four week program. 

Individual Advisory Groups
Prior to arrival, you will establish two Advisory Groups; a small group (2-4 people) of family/friends for personal support/advice on your personal development through the program; and a small group of professional colleagues (2-4 people), experienced in your project's problem area and potential partners in carrying ideas forward, post-program. Regularly connecting in with these 'off-site' advising groups, through virtual means, will be expected and monitored to ensure that each participant is receiving real-time feedback, is sharing key aspects of their learning and development, and develops a sense of support from, and accountability to, these important external connections. Approximately weekly, you will share new learnings, emerging questions, ideas, experiences with your advisory groups to help surface personal and professional insights.

Expert Advisors
Expert advisors, external to the program, will be invited to join us as part of this residency in order to advise and inspire. They will be deeply experienced individuals with a 'big picture' sensibility, related to complex problems; their thought leadership, significant experience, and networked relationships will be invaluable resources.
Themes

Seeing Systems
In a world that is by definition unpredictable and uncontrollable, those seeking to transform or build adaptive capacity in complex problem domains need to anticipate emergence, facilitate innovation, catalyze scaling and evaluate progress. Understanding resilience theory and resilience thinking provides useful frameworks and tools for understanding how to engage complexity in the interests of social innovation. System entrepreneurs must develop particular personal and professional capacities in order to effectively see, make sense of, and navigate within complexity.

Designing Systems
In order to ensure that social innovations are widely accepted, there is a need to see a change in the way broad resources flow, the cultural understandings and definitions of the problem and a shift in the laws and policies that govern the problem domain. The role of a system entrepreneur requires particular lenses and skills in order to influence value systems, resource allocations and policy development. 

Self in System
Systems entrepreneurship has both "inner" and "outer" dimensions. A social innovator's awareness of their innermost selves is proven to be a critical variable in their capacity to effectively foster change within complex systems. The 'outer' work of trying to change a system will often amplify our own 'inner' tensions and assumptions, blind spots and paradoxes; our capacity to engage generatively with such personal material profoundly shapes the nature of our subsequent impact in the world. There is much the social innovator can gain from practices that cultivate deep awareness, self-knowledge, personal growth and connection to the source of their most creative intelligence.

Encounters with the Natural Environment
The natural environment can act as both a mirror and a window to teach about our own sense of calling and purpose and about the complex adaptive systems that we seek to engage. Encounters with nature illustrate the deep connections between environmental and social systems, and can teach the social innovator about key skills such as attending, following, pattern recognition. It also illuminates the concepts of complex adaptive systems, cross scale interactions and skillful system intervention. 

Creative Practice
The practice of creative arts has much to teach the social innovator, particularly about the tension between design and emergence. All artists deal with striving to realize an ideal through the limitations of their own skill and the medium in which they want to work. The idea of practice, repetition, assistance, performance have a great deal to do with the work of social innovation, as do the notions of play, risk, and ensemble. The notion of self as an essential vehicle or starting point for an act of creation or transformation is key to both the creative arts and to social innovation.

Indigenous Knowledge
Indigenous ways of knowing focus upon both a sense of history and place. Over the arc of the program, traditional Indigenous culture and ideas will be presented to stress the interconnection and continuity of all things, even as part of change processes. This provides insights about complexity and resilience that are of central importance in understanding the dynamics and key practices of social innovation. Further, Indigenous arts, such as drumming and visual art, emphasize the power of creativity, resonance, and transformation, while traditional story telling practice helps participants to recognize the role of narrative in understanding their own leadership identity and in empowering social innovation. 

Social Innovation Project
These projects should be specific ideas, platforms, programs, products, processes that you are already working to formulate, develop, experiment with, or scale within identifiable systems. Projects will be focused on complex problems that require a systems approach to catalyzing social innovation. Once accepted, you should be prepared to set aside your project idea for a time, as you enter into the first part of the program which focuses on "letting go" to delve into new thinking and awareness.

Webinar

Join us for a free, one hour live informational webinar and Q&A period on Tuesday, November 29 at 10:30 a.m. MT.
To register for this webinar, please email: leadership@banffcentre.ca
Residency Partnership
Getting to Maybe: A Social Innovation Residency is a collaboration between Banff Centre for Arts and Creativity and the faculty and staff affiliated with the Waterloo Institute for Social Innovation and Resilience at the University of Waterloo with the generous support of Suncor Energy Foundation.
Itinerary
Residency Delivery
This is a full residency program where you will live and learn together at Banff Centre for 28 consecutive days in the incredible natural setting of the Banff National Park. We will launch the program with an opening dinner and evening welcome activities. The rhythm for each of the following four weeks will be as follows: 4.5 weekdays with half day off (one afternoon per week), 2 days off (weekends) with an assignment to complete before the next week begins.
Participants are required to live on site and attend all sessions of the program. Due to the nature of the program, part-time or flexible hours are not feasible.
Optional programming will be offered some evenings and weekends for those interested; possibilities include: explorations of creative process, Indigenous culture, wilderness experiences.
Learning Activities and Outcomes
Applied Learning
In addition to classroom and personal engagement work, you will apply learning in multiple ways, including:
Through experiences in and with nature, the arts and traditional cultural activities
Journal writing and small group reflections
Weekly written assignments to integrate and apply learning
One-on-one learning sessions with faculty
Facilitated application of learning to the development of your project idea
Final presentation on the change in yourself and your project during the program
Regular virtual connection with external, individual advisory groups
Academic Learning
Shared insights into the pressing issues that currently challenge individuals, organizations and society as a whole
Mapping complex systems to identify the real opportunities for change
New theories on innovation, systems thinking and complexity
Introduction to design thinking and implications for strategy and actions that break through barriers
Moving from theory to practical application in life and work; new ways to explain how change happens
Begin to develop innovation strategies with the potential for durable, broad impact
Exploring the key leadership qualities required of a system entrepreneur; learning to play this system leadership role effectively
Guest speakers
Excursions
Individual Reflective Learning
Enhanced capacity to 'stand still', to be reflective, in order to make meaning of complexity within both the internal and external
Deeper sense of empathy across usual barriers of difference and power
Capacities to attend, to pay attention, to deeply listen to yourself as well as systems
Insights into your own biases and limited perceptions
Increased understanding of concepts related to complex adaptive systems, resilience and social innovation
Enhanced skills to identify cross-scale opportunities, recognize relevant patterns and act purposefully to help create conditions for system change
New levels of comfort with uncertainty and risk
Renewed energy and affirmation of your abilities for the ongoing work of social innovation
Engage with the larger artistic and thought leadership community of The Banff Centre and attend performances and events as part of the Banff Summer Arts Festival
What's Included
All Leadership participants who choose the Accommodation and Meal Package are provided private rooms with ensuite washrooms in one of our two onsite hotels, the Professional Development Centre or Lloyd Hall. Room upgrades may be available upon request at an additional cost.
If you choose the Accommodation and Meal Package, all of your meals from the start to the end of your program are included; most of your meals will be at Vistas Dining Room, but there may be some special dining events scheduled as well. Please also feel free to visit the Maclab Bistro, Le Café, Three Ravens Restaurant and Wine Bar, but note that these outlets are not included in your meal plan, and thus will be at additional cost.
Enrich your experience and get to know other artists on campus by taking advantage of the activities and support provided by our Participant Resources team.
The Sally Borden Fitness and Recreation Centre is located in the lower floor of the Sally Borden Building, and provides all guests with access to our swimming pool, hot tub, steam room, climbing gym, fitness centre, spin studio, and gymnasium. Massage and physiotherapy appointments may also be booked ahead of time.
Fees & Financial Assistance

The Suncor Energy Foundation has provided financial support to cover all costs associated with tuition and food and accommodation for this program. This is a generous and significant monetary gift and it is offered with the goal of reducing financial barriers for leaders who are committed to meaningful self-discovery and dedicated to the development of creative ideas that might catalyze social innovation in very complex problem domains. It is the Foundation's hope that this support will result in a number of long-term, positive outcomes for the individuals who are the beneficiaries, as well as for durable, positive change on some of our communities' most pressing problems.

Travel to and from Banff Centre in Banff, Alberta is the responsibility of each participant. A limited number of travel bursaries will be made available to applicants who demonstrate genuine financial need. Accommodation Support for this residency includes accommodation and meal plan at The Banff Centre for the duration of the program. 

Support for Organizations 
If your absence from an organization for the program's four weeks would be a significant hardship, you may be eligible for financial support for offsetting some of the required human resources to take on organizational responsibilities; this support element is particularly relevant for very small organizations with limited staff.

Support for Families 
If you have significant family responsibilities for care of young children, the elderly or other dependent family members, you may be eligible for accommodation support for family members to you at The Banff Centre. A limited number of family rooms will be made available so that those who meet certain requirements can bring dependent family members with them for the duration of the residency; this support element is particularly relevant for parents of very young children who cannot be easily separated/substituted for an entire month. Please carefully consider the pros and cons of bringing dependent children with you while immersing yourself in a very intensive learning and self-development program.
How to Apply
In order to submit your support materials, signup or login to an existing account in our online portal hosted in SlideRoom. All programs available for SlideRoom online applications are listed on the online portal. Please be sure of your exact program title so that you upload your support materials to the program to which you are applying.
SlideRoom allows you to login and edit your submission as often as required. However, once your application materials have been submitted, no further changes will be allowed. Once you select submit, you will be notified that your fee is free and has been paid (this fee has been covered by Banff Centre).
Please note that SlideRoom is a third party site and you will be subject to the terms and conditions of that vendor. Contact support@slideroom.com for any technical assistance. You can also access the SlideRoom help desk.
Letter of Intent
Please refer to the following questions to guide the writing of your letter of intent:
What is your current involvement in a social innovation? What attracted you to your current project? How does it relate to who you are? What are your concerns, hesitations, and/or doubts about this project? What are your short and long term goals/ambitions regarding this project?

Identify the system(s) that you are hoping to change and your capacity for and/or experience with working at a systems level.
Tell us why you think this program is right for you - describe your sense of how this program would be relevant, timely, and useful both personally and professionally.
Describe your comfort or familiarity with practices to cultivate self-awareness and personal development - especially as it relates to your calling as a social innovator. Include a statement on your openness to reassessing your personal relationship to this issue area. (This program requires some personal work, exploration and self-analysis around why you feel called to work in this area.)
Describe your comfort or familiarity with exploring theoretical concepts through an academic lens for applied practice. (This program requires engagement with academic theories and concepts)
Please include an example of one of your current "big" questions about the system(s) that you operate within and/or the change that you hope to catalyze. 
Limited to three pages double spaced
Nomination process

Would you like to nominate an outstanding candidate? We are accepting nominations on an ongoing basis. Once a nomination is submitted, you and the candidate will receive a confirmation email, and the candidate will be invited to submit a resume and letter of intent (see above); candidates who meet initial criteria in the First Stage, will then be provided with the full application package in the Second Stage. The candidate is responsible for submitting all required application documents.
Nomination letters should describe how candidates meet the following selection criteria, and should be no longer than 3 pages in length:
The potential for the candidate's capacity for learning, strategic leadership experience, and, overall, her or his creative, intellectual and professional promise
Please share your thoughts on the relevance of this program to her or his career and life
How would the Program's focus on complex problems, systems thinking and innovation strategies be relevant and useful in terms of the goals and objectives of the candidate's work?
The nomination letter must also clearly indicate the name, email address and organization of the candidate that you are nominating  
Letters of nomination can be sent to leadership@banffcentre.ca and should be in PDF format.
Adjudication
Application for this residency is adjudicated as follows:
First stage of application – Signal your interest by completing the Online Information Form and uploading a current resume and letter of intent (see details below) by December 16, 2016
Wait! The Selection Committee will review all First Stage submissions and you will be contacted before January 20, 2017 If you meet the criteria to move to the second stage
Second stage of application – Provide additional information and upload additional materials upon invitation.
Contact the Registrar

For questions on preparing your application, please contact the Office of the Registrar: