Applications are now open for Spring/Summer 2024 programs. For Fall 2024 progams onwards you can sign up to the Newsletter to receive an alert when applications open.
Questions please contact the Admissions Office or call 403 762 6180.
Getting to Maybe
A Systems Leadership Residency
Program Information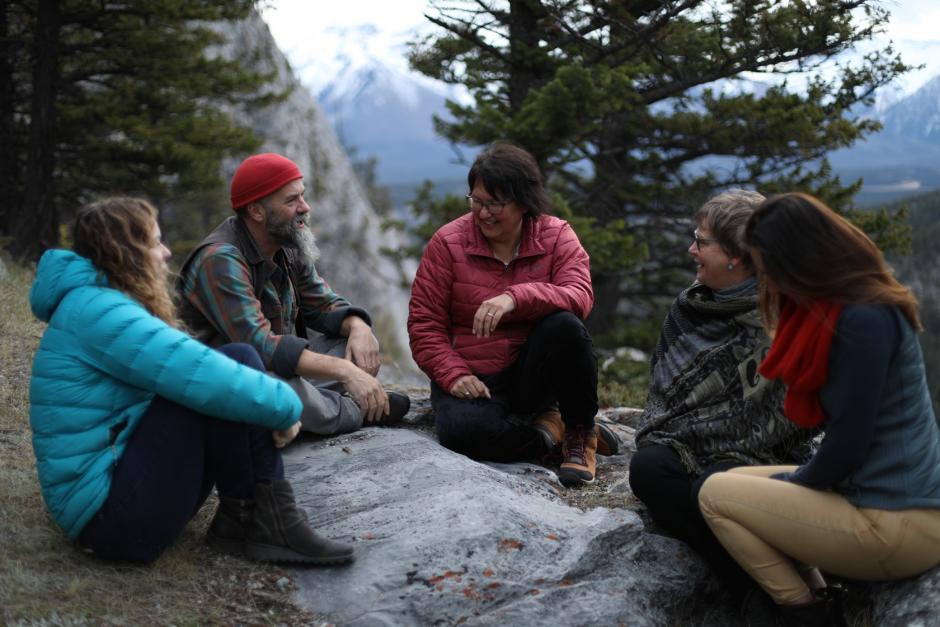 Overview
 "If the insights from systems thinking and practice will be of help in the transition to a viable future for all...they need to become part of the social fabric that informs our cultures: the narrative that gives purpose and meaning to who we are, why we are here, and where we are going."   -  Kathia Laszlo
What ways of being, knowing, and acting are required to risk moving towards a radically different future?
In response to the social and environmental urgency of our times, Getting to Maybe: A Systems Leadership Residency is a unique invitation for anyone working to bring about systemic change in service of a better future for humans and for all of our relations. 
This intensive program supports participants to learn more about themselves and how they might positively impact systemic challenges. Getting to Maybe is simultaneously a retreat, an ongoing community, a deep dive, a set of unique tools, and a circle of learning – a place where you can explore your own potential, enhance your leadership capacity, and learn practical strategies to make real and lasting change in the world. 
This Getting to Maybe residency is a renewed offering, one that builds off of the success of the month-long program offered from 2015 to 2018, but one that also intends to reimagine this programming for the future.
A radically different future must reflect radical inclusion; to that end, we particularly welcome applications from those trusted by and innovating within and across diverse contexts, especially within BIPOC (Black, Indigenous, and People of Colour) communities and others that are working towards an inclusive future.
What does the program offer?
As a participant, you will explore diverse ways of learning so that you can come to know:
Renewed self-awareness
A deeper understanding of the systems in which you live and work
The value of developing new skills to work towards complex systems change
You will explore concepts on systems, complexity, and social innovation through many lenses that include Indigenous worldviews, artistic practices, and direct experience in the natural world. These various 'ways of knowing' will shed light on your calling as a change-maker, and help to clarify the next steps on your personal path of service.
Who should register?
This program will best serve individuals from any sector who have experience working for positive change on complex, systemic problems. We welcome applications from a diverse group of individuals, organizations, and communities who are working passionately for positive change, including BIPOC innovators, non-binary innovators, and innovators with disabilities experience.
Applicants should demonstrate a courageous openness to this program's emphasis on personal development for the purpose of engaging more fully in systems change work. Facilitation of this inward journey is foundational to the program; we are working from a trauma-informed position and we welcome you to these practices with intention and support. 
If you want to see significant change happen in the world, and if you sense that to go 'forward' you may have reached the point where you need to go 'deeper', we invite you to apply. 
Program Partnerships
Getting to Maybe: A Systems Leadership Residency has been developed with the support and guidance of an inspiring community of educators and practitioners. The original concept was created in collaboration with the Waterloo Institute for Social Innovation and Resilience (WISIR). This new evolution has been shaped by the generous contributions of many past participants, as well as both long-standing and new partners. 
Indigenous Leadership at Banff Centre has provided foundational support through its ongoing work, particularly through its Truth and Reconciliation Through Right Relations programming. In addition, this residency features an emerging partnership with Turtle Island Institute, an Indigenous-led 'think and do tank' and teaching lodge which works to integrate Gikendaasowin (ancestral ways of knowing) with social innovation and systems thinking, theory, and concepts. 
Getting to Maybe is made possible with generous support of all kinds from the Suncor Energy Foundation.
Banff Centre Leadership programs are developed with support from the Peter Lougheed Leadership Initiative.
What's Included
All Leadership participants are provided private rooms with ensuite washrooms in one of our two onsite hotels, the Professional Development Centre or Lloyd Hall. Room upgrades may be available upon request at an additional cost.
All of your meals from the start to the end of your program are included; most of your meals will be at Vistas Dining Room, but there may be some special dining events scheduled as well. Please also feel free to visit the Maclab Bistro, Le Café, and Three Ravens Restaurant and Wine Bar, but note that these outlets are not included in your meal plan, and thus will be at additional cost.
Enjoy free parking, WiFi, and access to the Walter Phillips Gallery while you are a guest at Banff Centre. Our Participant Resources team is also available to assist you with medical support or event information. See our Events Calendar to learn more about what's going on at Banff Centre while you're onsite.
The Sally Borden Fitness and Recreation Centre is located in the lower floor of the Sally Borden Building, and provides all guests with access to our swimming pool, hot tub, steam room, climbing gym, fitness centre, spin studio, and gymnasium. Massage and physiotherapy appointments may also be booked ahead of time.
Fees & Financial Assistance
Through the vision and support of the Suncor Energy Foundation, participants selected for this program will receive a full scholarship that covers 100% of the fees related to tuition, accommodation, meals, and applicable taxes. 
This generous gift is offered with the goal of reducing financial barriers for those who are committed to meaningful self discovery and dedicated to the development of creative ideas that might catalyze social innovation in complex problem domains.
In offering this experience without a program fee to participants for this particular iteration, we are exploring and will be learning about opportunities to sustainably deliver and scale this program to different communities and audiences.
Travel to and from Banff Centre for Arts and Creativity in Banff, Alberta, is the individual responsibility of each participant. If you have any questions about this, please reach out to us.
How to Apply
Expression of Intent
Responses to the below items may be submitted by text (maximum of 200 words per question) or video (5 – 8 minutes in length).
Tell us a bit about yourself and your life experience.
What social and/or environmental change are you currently working towards? What does that problem look like in the community(ies) you're working in? What do you think is the root cause of the problem? 
Why are you interested in exploring your inner life, your sense of self? What is your experience, if any, with personal reflexive practices? What kinds of things push your buttons and what helps you re-centre yourself?
What understanding do you already hold about systems? How do you imagine that learning more about systems thinking and complexity will be valuable to you and those you work with? 
Tell us a story about a time when you tried to make a significant change. This could look like activism, advocacy, collaboration, awareness-raising, or a program initiative. We are particularly interested in stories about tackling a systemic problem or challenging the status quo. 
What's one big question you are holding right now about your work in the world? 
What is one thing you would be excited to share with fellow program participants? 
 
Adjudication
Participants are selected by an impartial review panel on the basis of their submitted materials. In addition to merit, consideration will be given to the likelihood that the participant's work will benefit from the program. All applicants will be notified of the status of their application immediately following the selection process.
All programs, faculty, dates, fees, and offers of financial assistance are subject to change. Program fee is subject to applicable taxes. Non-refundable fees and deposits will be retained upon cancellation. Any other fees are refunded at the discretion of the Banff Centre. The application deadline is 11:59 p.m. Mountain Standard Time.
Contact Admissions

For questions on preparing your application, please contact Admissions: