From Hides to Canadian Couture
Banff Centre's Indigenous Arts department has had to postpone this program in order to review ways to better support the two-part program led by D'Arcy Moses; From Hides to Canadian Couture and Fusing the Future.
Program Information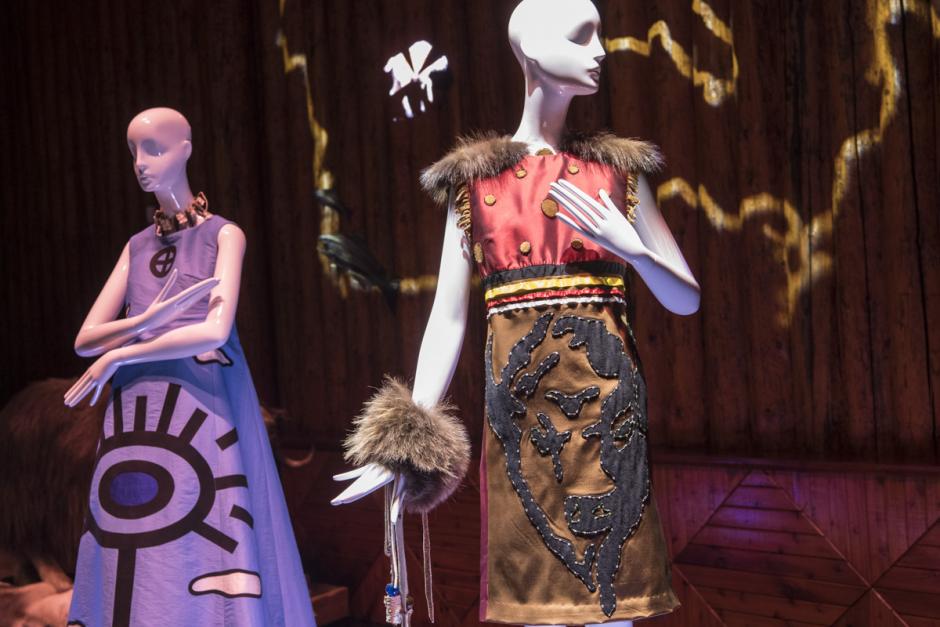 Overview
From Hides to Canadian Couture is a technique-based Indigenous fashion garment construction residency using  traditional and contemporary materials, skillsets, and methods. Participants will work with diverse textiles and digital technology to build a Collection led by acclaimed Fashion Designer, D'Arcy Moses. You will be part of elevating  already-rising Indigenous fashion into exquisite haute couture, drawing attention to global environmental challenges through an Indigenous lens.
The Indigenous High Fashion collection will focus on women's and men's wear, outerwear, bags, handbags, and accessories with its counterpoint residency, Fusing the Future. The Collection will centre on custom garments utilizing traditional Indigenous materials such as hides, blanket cloth, and traditional Indigenous adornment as embellishments. In response to our changing climate, the production process will also centre on utilizing recycled materials of cloth, leather, and fur. The production process will feature a digital technology aspect via computerized Indigenous embroidery designs, laser cuts, and 3D printing of embellishments and accessories. 
This program is broken into two blocks, the first block being the pattern construction phase and the second block being the garment production phase. Participants must indicate their preferred block, however after assessment of their specific skills they will be slotted in the best suited block. Participants can also indicate if they would like to be considered for both blocks. Please note that the patterns and designs created during the residency are to be retained by Banff Centre for Arts and Creativity under Indigenous Arts, as the intention of the program is to offer designers and textile artisans the ability to learn contemporary, hybrid Indigenous textile design.
What does the program offer?
Participants will benefit from the following experiences:  
Each participant will receive credit in their participation of the collection creation within its life span; including portfolio support materials
Deeper creative process in learning pattern making
Conversion of traditional Indigenous garment patterns into contemporary fits and styles from pre-contact and post contact influences
Related process in garment fit and construction, from the toiles to the finished garment, using traditional Indigenous hides and fur for trims as well as commercial materials used traditionally in couture garments
Embellishment of garments and accessories using traditional Indigenous adornment techniques interpreted into modern relevance. Application of all embellishments to the garment panels will occur before final construction.
A focus on environmental issues both in the overall theme and in the use of recycled materials throughout the collection where possible
 
Who should apply?
Applicants should have a background in fashion and garment industry construction. Skillsets should include pattern making as well as sewing machine operation using industrial fabric, leather, and other related machines. Skills utilizing computer technology in the construction of garments are also an asset.
Applicants should not be afraid of hard work, and should show an openness and willingness to work many hours by hand when it comes to adorning garments and accessories. Applicants should have an appreciation of environmental issues and be interested in exploring and utilizing recycled materials in the collection. The ability to work well with others as a team is a necessity. Applicants should also be open to new ideas and techniques, and be able to take direction well.
Fees & Financial Assistance
Application fee: $35
*Indigenous artists accepted to the program will be eligible for up to 100% scholarship to cover the Program Fee.
The program fee includes tuition, a single room, and the Full Flex Meal Plan at Banff Centre. Travel to and from Banff Centre is the responsibility of participants. In addition to the program fee, participants are responsible for all costs associated with their stay such as shipping, materials, and supplies (including photographic materials), rental and use of audio/visual equipment, printing, and any other specific facility fees. 
Additional need-based financial aid is available. If you would like to be considered, please complete the Financial Aid section when uploading your supporting materials. 
Help fund your experience at Banff Centre. View a compiled list of national and international opportunities here.
How to Apply
Adjudication
Participants are selected by impartial adjudicators on the basis of their submitted material. In addition to artistic merit, consideration will be given to the likelihood that the artist's work will benefit from the program.
Applicants will be notified of their status as soon as adjudication is complete.
All programs, faculty, dates, fees, and offers of financial assistance are subject to change. Program fee is subject to applicable taxes. Non-refundable fees and deposits will be retained upon cancellation. Any other fees are refunded at the discretion of the Banff Centre. The application deadline is 11:59 p.m. Mountain Standard Time.