Program Information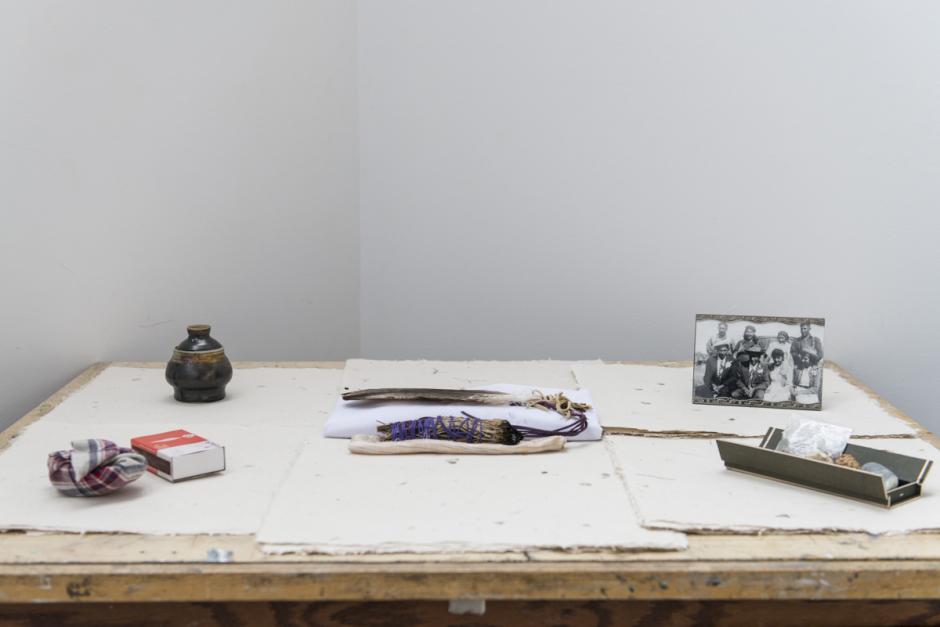 Overview
The Indigenous Art Journal program will provide a platform for emerging and experienced Indigenous art writers to contribute to the critical dialogue around global Indigenous visual arts practice.  This program endeavors to carve out space in a field whereby Indigenous artworks are often discussed external to key cultural contexts and histories imperative to their creation and understanding.  Indigenous art writers, art historians, curators and artists can explore critical art and social discourse, approaches and methodologies to writing about Indigenous art practice, and the issues and concerns that inform Indigenous artists work, lives, and communities.  Participants will bring those stories that need telling and current works in progress, share and collaborate on reviews and articles, and explore publication platforms.    
Under the guidance and mentorship of the program faculty, and drawing on the collective knowledge of the participants, we will explore topics including: sovereignty, reconciliation, colonization and decolonization, Indigenous knowledge, language, resistance and resilience, contemporary relationships to tradition and material processes, identity, and how these concerns manifest physically and aesthetically in contemporary art practice.  Together we will draft and envision the development of an Indigenous Art Journal and discuss how such a publication might manifest; whether in collaboration with existing institutions and publications, or independently. We will also explore unique modes of distribution and sharing, and the kinds of support and structures needed for a journal to flourish.
What does the program offer?
Residencies offer structured programs where artists, curators, and other arts professionals come together to create work and discuss pertinent themes. Through peer interaction, discussion groups, studio work, formal lectures, and studio visits from world-renowned visiting artists and curators, participants gain new ideas and insights that can be applied to creative exploration and professional development of their work.
Who should apply?
Indigenous curators, art writers, art historians, and cultural thinkers are welcome. Applicants should have an exhibition/publication record, training in visual arts, or equivalent experience and recognition from their peers or communities. 
Note: 
Enrollment to this program is limited to individuals of Indigenous descent (status, non-status, Métis or Inuit in Canada and Indigenous peoples from around the world).
What's Included
When applying, choose between staying in a single or a shared bedroom on the Banff Centre campus for the duration of your program.
Get connected with other artists on campus and focus on your projects in a creative environment while we take care of the day-to-day essentials.
Using a credit-based system to dine on campus, our flexible meal plans allow you to select meals according to your own needs during your stay.
The Light Flex meal plan includes $21 credit per day, equivalent to breakfast and lunch in Vistas Dining Room.
Participants will share studio/office space.
A series of outstanding guest artists and curators will give free public talks and hold informal discussions. 
This program offers opportunities to showcase your work-in-progress in informal readings and presentation formats, and an open studios event in Glyde Hall.
Enjoy special artist rates for ticketed performances or complimentary access to events.
Enrich your experience and get to know other artists on campus by taking advantage of the activities and support provided by our Participant Resources team.
Fees & Financial Assistance
Application fee: $35 
*Artists accepted to the program will be eligible for up to 100% scholarship to cover the shared room program fee (tuition, shared room, and lite flex meal plan) at the Banff Centre. Travel to and from Banff Centre will be the responsibility of participants.
In addition to the program fee, participants are responsible for all costs associated with their stay such as shipping, materials and supplies, the rental and use of audio/visual equipment, photographic materials, printing, and any specific facilities fees.
How to Apply
Collaborative Groups: a group leader must complete a single application and upload supporting materials on behalf of the whole group. Portfolio materials should be provided for the collective, individual resumes and bios should be provided for each member. 
Adjudication
Participants are selected by impartial adjudicators on the basis of their submitted material. In addition to artistic merit, consideration will be given to the likelihood that the artist's work will benefit from the program.  
Applicants will be notified of their status as soon as adjudication is complete, approximately 8-10 weeks following the application deadline
Eligibility
Enrollment to this program is limited to individuals of Indigenous descent (status, non-status, Métis or Inuit in Canada and Indigenous peoples from around the world).
Note:
All programs, faculty, dates, fees, and offers of financial assistance are subject to change. Program fee is subject to applicable taxes. Non-refundable fees and deposits will be retained upon cancellation. Any other fees are refunded at the discretion of the Banff Centre. The application deadline is 11:59 p.m. Mountain Standard Time.