Banff Centre completed an upgrade of the application system 21st September. If you notice any issues please contact the Admissions Office or call 403 762 6180.
We will be launching applications for Spring 2024 programs in November. You can sign up to the Newsletter to receive an alert when applications open.
Indigenous Classical Music Gathering
Indigenous Arts | In Person
Program Information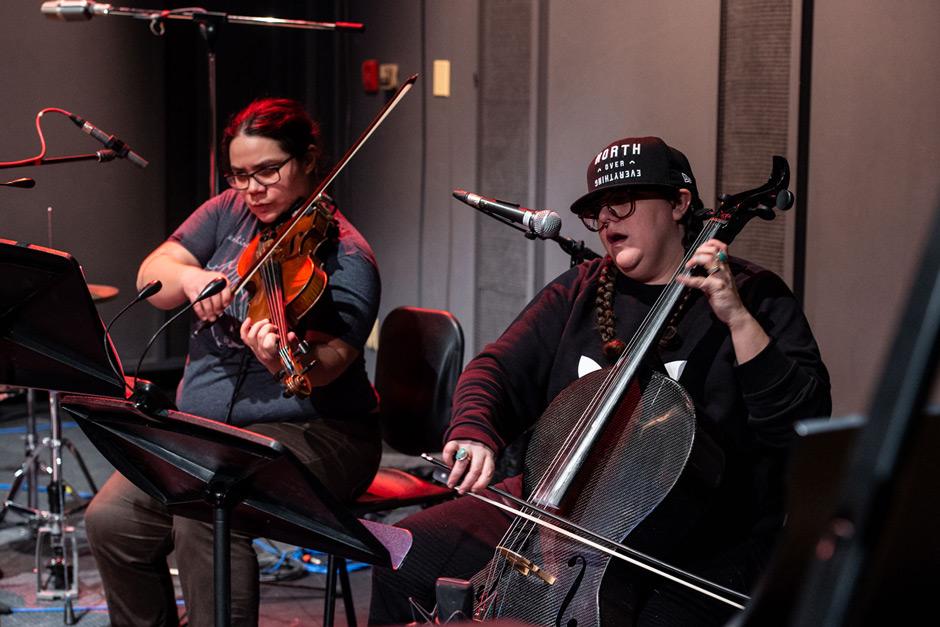 Overview
Banff Centre is excited to invite folks to the third iteration of the Indigenous Classical Music Gathering (ICMG), led by faculty members Cris Derksen and Eliot Britton. Building on the groundbreaking work previously established by the Canadian Classical Indigenous Music Gathering, Indigenous composers and performers will come together to cultivate their individual crafts through collaboration and personal development. 
Participants will spend time each day to gather and discuss current classical music issues, unpack our shared history of being Indigenous within the genre, and shine a light onto where we would like to see classical music go. 
The ICMG values the integral role relationship building plays in ensuring healthy careers for all involved in the genre. There will be a guest faculty of Indigenous and non-Indigenous professionals to assist participants on their journey. 
What Does the Program Offer
A space for Indigenous classical musicians and composers to explore experimental elements of their craft, as well as finalize productions of their work to the best of their capacity, in a fully supported environment without barriers of micro-aggression, racism, or cultural bias.
Who Should Apply
This program is geared towards regional, national, and global Indigenous music practitioners including: composers, singers, instrumentalists, scholars, students provocateurs, disrupters, advocates pushing the boundaries of their artistic practice, artists that serve their community, and artistic leaders in classical music. 
One does not need a university degree in music, however should be working or intending to work in the field.
For full details on vaccination requirements, masking, safety protocols, and COVID related policies please visit: www.banffcentre.ca/covid-19-measures
Itinerary
Program will be structured daily to include:
Self- Practice
Gathering discussions
Guest Faculty professional development sessions
Collaborative performance experience. 
 
Fees & Financial Assistance
Application fee: $65 ($35 for applicants who identify as Indigenous)
*Financial Aid of  100% of tuition fee,  meal and accommodation fee is available for this program.

Application fees are not refundable.
Help fund your experience at Banff Centre. View a compiled list of national and international opportunities here.
Banff Centre will issue official tax receipts for eligible tuition fees and financial assistance and awards as required by the Income Tax Act. You will receive a T2202 (Tuition and Enrolment Certificate) for eligible tuition fees paid and a T4A (Statement of Pension, Retirement, Annuity, and Other Income) for applicable financial assistance and awards.
How to Apply
Adjudication
Participants are selected by impartial adjudication on the basis of their submitted material. In addition to artistic merit, consideration will be given to the likelihood that the artist's work will benefit from the program. 
Please note, application fees are non-refundable and go towards supporting the review of each program application and the adjudication process. All submitted applications are reviewed by a panel of adjudicators, and due to the competitive nature of Banff Centre's programs, we do not provide feedback on applications or guarantee acceptances into programs. All applicants will be notified of their application status via email following adjudication.
All programs, faculty, dates, fees, and offers of financial assistance are subject to change. Program fee is subject to applicable taxes. Non-refundable fees and deposits will be retained upon cancellation. Any other fees are refunded at the discretion of the Banff Centre. The application deadline is 11:59 p.m. Mountain Standard Time.