On Tuesday May 11 at 4pm MST to Wednesday May 12 at 12noon MST we are performing scheduled maintenance on our student and application system .
You will not be able to start the application process or submit an application during this time, however you will be able to continue with 3 of your application process.: Upload your Materials.
The Student Portal will also be down during this time.
We thank you for your patience. If you have questions, please contact Admissions@banffcentre.ca
To hear about upcoming online programs, subscribe to our mailing list.  We are pleased to roll out our new student system and application experience. If you have any questions or feedback, please contact admissions@banffcentre.ca.
Indigenous Dance Residency
Program Information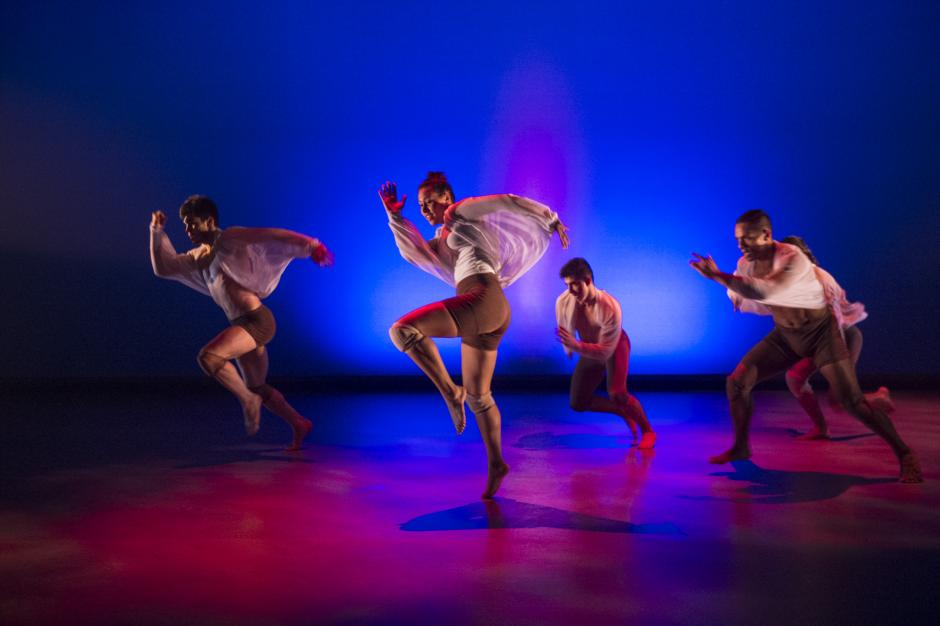 Overview

Recognized for being leading-edge and rigorous, the Indigenous Dance Residency brings together acclaimed choreographers and teachers with dancers from across Canada and around the world to share, investigate, and strengthen contemporary Indigenous dance practice.This 4-week intensive features technique, improvisation, choreographic exploration, cultural process and knowledge, health + fitness, leadership, and the creation of a new short choreographic work that is performed in-studio and on stage. The combination of high-level faculty, rigorous exploration, and power of place here in Treaty 7 territory make this program truly transformative
What does the program offer?

Dancers accepted to the program participate in an exceptional artistic process with other Indigenous artists from various nations, backgrounds, and countries.
The program provides a critical space for emerging and professional dance practitioners to exchange artistic and cultural knowledge and practice. Emerging dancers train with high-level faculty, "shadow" professional dancers in classes, and develop performance skills in-studio. Professional dancers work with acclaimed choreographers and teachers to create a new short work that is performed at The Banff Centre. For merit dancers, integrated leadership is also part of their rich experience.
IDR creates the space for research, sharing, and exploring Indigenous creative and cultural process, integrated leadership learning, and strengthens the future of contemporary Indigenous dance. Dancers have represented all provinces and territories across Canada, as well as Australia, New Zealand, Mexico, United States, Samoa, and Fiji.
Who should apply?

We welcome Canadian and international Indigenous dancers from diverse dance backgrounds to apply. Applicants must have dance training experience in one or multiple genres of dance as well as a strong work ethic. Dancers should be open to the creative process, expect to work very hard, and be professional in and out of studio. If you are a professional dancer looking to transform your technical and performance skills in a rigorous yet supportive environment, or looking to transform your skills in contemporary Indigenous dance, this program is for you. Enrollment is limited to 12 dancers.
Indigenous Arts is generously supported by:

What's Included
Your program fee includes a shared bedroom on the Banff Centre campus for the duration of your program.
Get connected with other artists on campus and focus on your projects in a creative environment while we take care of the day-to-day essentials.
Using a credit-based system to dine on campus, our flexible meal plans allow you to select meals according to your own needs during your stay.
The Regular Flex meal plan includes $29 credit per day, equivalent to lunch and dinner in Vistas Dining Room.
A full scholarship to cover accommodation at Banff Centre and meals while in the program.
This program offers opportunities to showcase your work in one of our performance venues.
Enjoy special artist rates for ticketed performances or complimentary access to events.
Enrich your experience and get to know other artists on campus by taking advantage of the activities and support provided by our Participant Resources team.
Fees & Financial Assistance
Application fee: $35
* Dancers accepted to the program will receive 100% scholarship to cover the program fee including tuition, shared room, and meal plan at Banff Centre. Travel to/from Banff Centre will be the responsibility of each dancer.
How to Apply
Adjudication
Participants are selected by impartial adjudicators on the basis of their submitted material. In addition to artistic merit, consideration will be given to an applicant's work ethic, professionalism, and ability to contribute to the program. 
Eligibility
Applicants must be of Indigenous descent and 18 years of age or older.
All international and Canadian Indigenous dancers are welcome to apply.
Applicants must have at least two years' experience in the dance world.
Note:
All programs, faculty, dates, fees, and offers of financial assistance are subject to change. Program fee is subject to applicable taxes. Non-refundable fees and deposits will be retained upon cancellation. Any other fees are refunded at the discretion of the Banff Centre.