Applications are now open for Spring/Summer 2024 programs. For Fall 2024 progams onwards you can sign up to the Newsletter to receive an alert when applications open.
The Application and Payment systems will be closed from the 20th December to 3rd January as part of the Institutional Holiday Closure. SlideRoom will remain open for portfolio submissions.
Questions please contact the Admissions Office or call 403 762 6180.
Indigenous Dramaturgies Exchange 2023
Indigenous Arts | In-Person
Program Information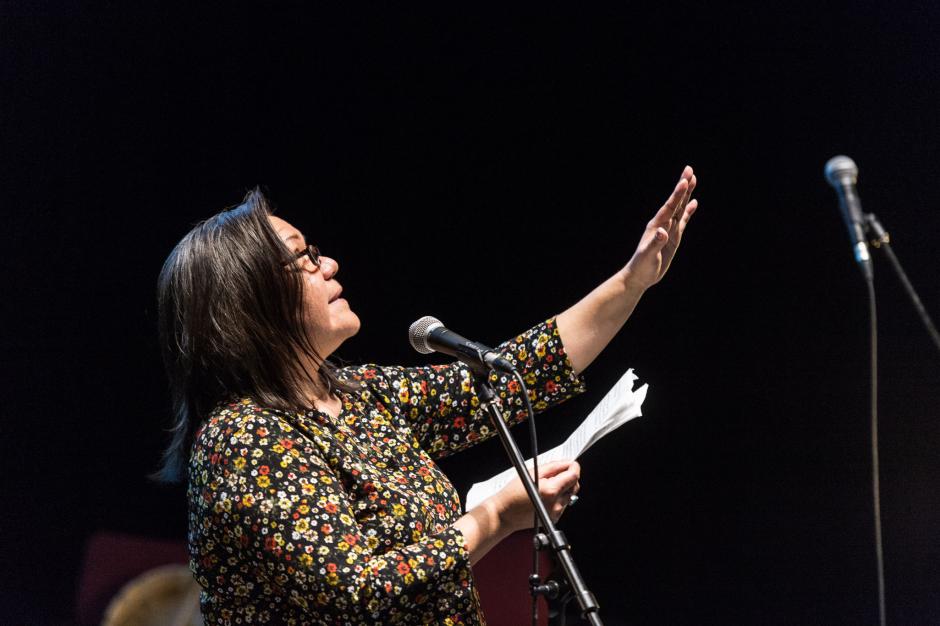 Overview
Indigenous Dramaturgies Exchange offers you professional development and space for artistic exchange on a current or upcoming dramaturgy project, with a focus on on-the-land engagement as a way of locating stories.
This program provides reciprocal mentorship and community building. You are encouraged to apply with a mentor or collaborator.
Indigenous dramaturgies; as artistic ceremony, as political resistances, and as community-building, are under studied and under supported. In this program we will discuss and explore your roles in deeper detail, with the support of faculty and with cultural facilitators for on-the-land engagement sessions.
What does the program offer?
One of the primary intentions behind the Indigenous Dramaturgies Exchange is the offer of reciprocal mentorship and community building. Each duo of participants will have access to a Laszlo Funtec studio or a music room. You will also be provided with limited access to wardrobe, props and set supplies based on availability.
You will have time and space to reflect on the ways we can approach and discuss Indigenous dramaturgical processes. We collectively acknowledge the significance in including a wide range of voices, experience, and perspectives, as well as making space to support emerging theatre and performance artists.
This program includes daily check-ins as a group to share in creative processes and showcase your work in order to look to yourselves, your cultural realities, relationships, and teachings as ways that navigate your artistic practice.  
Who should apply?
This program is geared towards Indigenous Dramaturgies and Indigenous Theatre Artists interested in or working on land-based arts practices, and/or innovative dramaturgical processes. 
This opportunity offers professional development for Indigenous artists to focus on a current or upcoming project, and you are encouraged to apply with a creative partner. 
Fees & Financial Assistance
Application fee: $65 ($35 for applicants who identify as Indigenous)
*Financial Aid of up to 100% of tuition fee, meal and accommodation fee is available for this program.
Application Fees are non-refundable.
Help fund your experience at Banff Centre. View a compiled list of national and international opportunities here.
Banff Centre will issue official tax receipts for eligible tuition fees and financial assistance and awards as required by the Income Tax Act. You will receive a T2202 (Tuition and Enrolment Certificate) for eligible tuition fees paid and a T4A (Statement of Pension, Retirement, Annuity, and Other Income) for applicable financial assistance and awards.
How to Apply
Additional Information
If you are applying as an individual, you must complete both the online application form (including $65 application fee) and a SlideRoom application.
If you are applying as an ensemble, the ensemble leader must complete both the online application form (including $65 application fee) and a SlideRoom application. Please submit only one SlideRoom application per group. There will be a $35 registration fee of each member upon acceptance to the program.
Adjudication
Adjudication is based on artistic merit, the potential impact of the program on artists' practice and careers, project feasibility and the capacity of Banff Centre to help realize the project, and the project's fit with Banff Centre's values and strategic directions as described in its strategic plan. Banff Centre respects the need for artists to plan ahead for their visit; applicants will be notified as soon as adjudication is complete.
International Applicants
Banff Centre welcomes domestic and international applicants for this program. Please note, Banff Centre programs do not meet Canadian Student Visa eligibility requirements, you must obtain a Visitor Visa to enter Canada. Accepted individuals are responsible for identifying and complying with the immigration requirements to enter Canada as a visitor from their country of origin. Current wait times to receive a visa are much longer than normal, so applicants who require a Visitor Visa should check the current expected processing times prior to applying.
All programs, faculty, dates, fees, and offers of financial assistance are subject to change. Program fee is subject to applicable taxes. Non-refundable fees and deposits will be retained upon cancellation. Any other fees are refunded at the discretion of the Banff Centre. The application deadline is 11:59 p.m. Mountain Standard Time.