Applications are now open for Spring/Summer 2024 programs. For Fall 2024 progams onwards you can sign up to the Newsletter to receive an alert when applications open.
Questions please contact the Admissions Office or call 403 762 6180.
Indigenous Evaluation Frameworks - Online
Program Information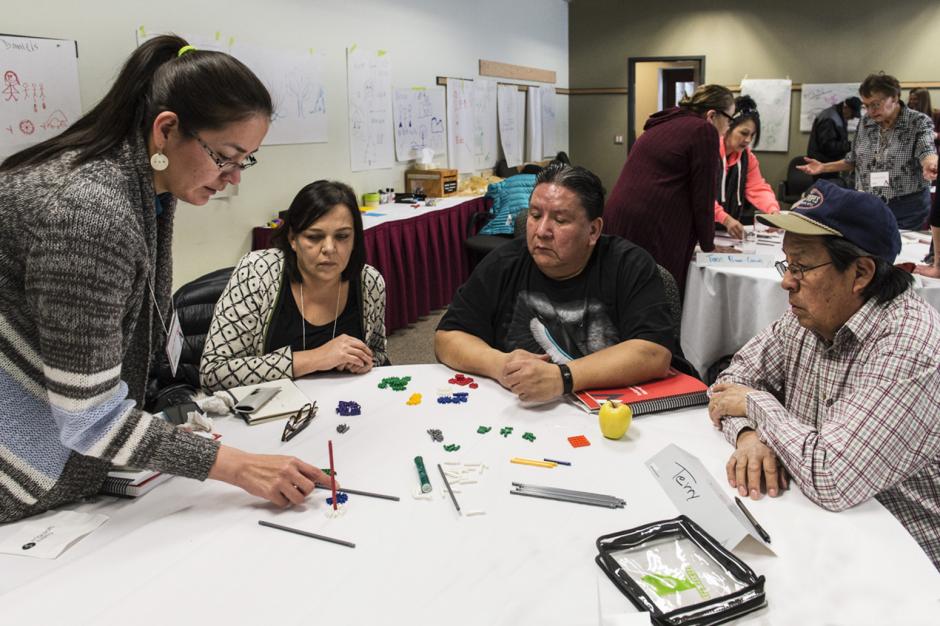 Summary
Indigenous perspectives on evaluation where we  will tap into old ways and new ways of approaching a previously colonial space.
Overview
The ability to design, direct, and benefit from evaluation practice is an inherent right. Indigenous People have been evaluating since time in memorial. Today, evaluation as a tool can support Indigenous practices and inform the design of programs and projects. Evaluation is a mechanism for amplifying the collective of Indigenous voices.  
Following Right Relations and the Wise Practices leadership and governance model, this program explores how accountable leaders act as stewards of a vision, uniting good governance and ethical practices while honoring their identity and culture. Indigenous Evaluation Frameworks will provide leaders a foundational space for thinking outside of the status quo and skills and tools to implement and assess community driven change that reflects community values and cultural practices. 
Please note, this introductory program does not count as credit towards the Certificate of Indigenous Leadership, Governance, and Management Excellence.
What does the program offer?
Indigenous Evaluation Frameworks is a comprehensive program for leaders and technicians to understand evaluation, as well as the use of evaluation tools and assessment processes designed to support community change and growth.  
Participants will uncover the roots of Indigenous evaluation practices and include these in their own processes, as well as gain an understanding of the history and context of western evaluation.  Through information sharing, lectures, and evaluation exercises, participants will learn to create an evaluation framework that reflects their community or organization, in a creative space. They will also learn to bring reflective leadership practice to their work and well-being. 
Who should register?
This is a space for Indigenous community leaders and practioners to builds a community of practice while learning and designing Indigenous Evaluation Frameworks.
Anyone interested in conducting evaluations, managing programs, and/or applying Wise Practices Leadership will benefit from this program, including: 
•    Indigenous leaders, Indigenous administrators, Indigenous senior management, and those involved in program design and delivery
•    Indigenous evaluation students
•    First Nations, Inuit, and Métis regional or tribal evaluators
•    Consultants who work closely with Indigenous nations and organizations
•    Indigenous Cultural organizations and non-profit leaders
•    Indigenous government leaders 
•    Indigenous provincial and federal policy analysts and evaluators
Please note: this program prioritizes Indigenous learners, and those working with Indigenous communities and organizations.  Note that in the event of high demand for the program, priority may be given to these learners.
Itinerary
This program requires you to attend live sessions as well as to do some work on your own outside of these session.
To maximize learning for this program students are required to dedicate approximately 22 hours per week to this program.
Read resources (approximately 2 hour prior to the week)

Participate in four live Zoom sessions




Tuesday, Wednesday, Thursday and Friday, each day from 10:00 am – 2:00pm MST (4 hrs x 4 days = 16 hours for the week)

Complete homework outside of class time (approx. 4 hrs in total)
What's Included
Use of Zoom for live sessions.
Electronic workbook for course materials
Use of Dropbox for sharing materials.
Fees & Financial Assistance
Financial assistance is available for Indigenous peoples or non-Indigenous peoples working for Indigenous organizations only. Past participants of the Indigenous Evaluations Framework program may register again, however will not be eligible for financial aid.
In order to be considered for financial assistance, please ensure that you select "Yes" to 'I would like to apply for financial assistance' during registration, and then log into your Student Portal to complete your funding application form within 48 hours of submitting your initial registration.  We strongly recommend timely submission of the funding form, in order to be considered. Note that we reserve the right to cancel registrants who select 'No' to financial assistance if payment and confirmation of attendance is not received within 7 days of  registration.  
Banff Centre will issue official tax receipts for eligible tuition fees and all financial assistance and awards as required by the Income Tax Act. You will receive a T2202 (Tuition and Enrolment Certificate) for eligible tuition fees paid and a T4A (Statement of Pension, Retirement, Annuity, and Other Income) for applicable financial assistance and awards.
How to Apply
If you have requested financial assistance,please ensure that you log in to your Student Portal within 48 hours of registration, to submit your funding request form.
If you do not require financial assistance, please ensure that you log in to your Student Portal and complete confirmation of attendance and full payment as soon as possible, but no later than 7 days from completing step 1.
Note that non-completion within the timelines stated may result in your place being offered to the waitlist.
All programs, faculty, dates, fees, and offers of financial assistance are subject to change. Program fee is subject to applicable taxes. Banff Centre reserves the right to cancel a program up to seven days prior to program start date if there is insufficient enrolment, and in this case all fees will be refunded. Please note that Banff Centre is not liable for any personal/travel expenses incurred.
Contact us

For more information please contact: