Indigenous Haute Couture Fashion Residency - Design & Pattern Development
Indigenous Arts | In Person
Program Information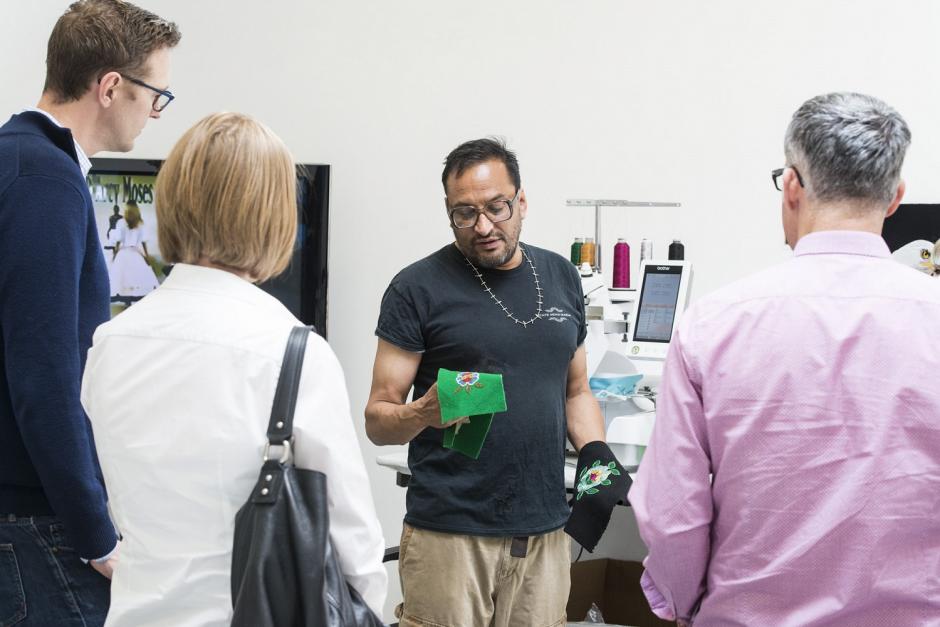 Overview
This three-week Indigenous Haute Couture Fashion Residency will offer Indigenous textile-based artists with traditional and contemporary practices the opportunity to develop their design and pattern development skills, traditional, and digital embellishments all at haute couture level.
Indigenous fashion makers and designers will explore experimental elements or accomplish finished productions of their work with an haute couture aesthetic to the best of their capacity in a fully supported environment.
What does the program offer?
This residency will have a repurpose and reuse component to the design process, exploring fashion's responsibility to address its part in the climate crisis. Throughout the program,  participants will design a couture garment inspired by their Indigeneity and based on the traditional silhouettes, lines and/or materials of their culture. Once the design illustration is finished, working drawings will be drafted and the pattern making process will begin using pattern blocks provided by the instructor and supported by Banff Centre's costume production room.
Presented discussions with invited speakers will focus on Indigenous identity in the garment business and how culture plays a role, be it recycling, repurposing materials and/or related conversations.
This program will be delivered on campus, led by faculty lead D'Arcy Moses with the support of co-faculty member Christine Gerke, and guest faculty, Suzan Marie and Lucy Anne Yakelaya, expert traditional beadwork and moose hair tufters. Program faculty will support the participant's exploration and research into Indigenous Haute Couture through their Indigenous lens. 
Who should apply?
Participants must have a background in fashion or garment design in womenswear.
Participants must have a basic knowledge of pattern making in the garment business.
Participants must have some experience in garment construction, sewing, and working with a sewing machine.
The residency invites both youth 18+ and Elders to apply. 
This program is open to regional, national and global Indigenous fashion makers, designers and design companies, Indigenous jewelry makers, Indigenous beaders, Indigenous traditional artists including hide tanners and porcupine quillers, provocateurs, disrupters, advocates pushing the boundaries of their artistic practice, Indigenous artists that serve their community, Artistic leaders in Fashion Arts and collaborators of all performing arts disciplines.
For full details on vaccination requirements, masking, safety protocols, and COVID related policies please visit: www.banffcentre.ca/covid-19-measures
What's Included
Your program fee includes a single bedroom on the Banff Centre campus for the duration of your program.
Get connected with other artists on campus and focus on your projects in a creative environment while we take care of the day-to-day essentials.
Using a credit-based system to dine on campus, our flexible meal plans allow you to select meals according to your own needs during your stay.
The Full Flex meal plan includes $54 credit per day, equivalent to breakfast, lunch and dinner at our Buffet service
Enrich your experience and get to know other artists on campus by taking advantage of the activities and support provided by our Participant Resources team.
This program offers opportunities to showcase your work-in-progress in an open studios event in Glyde Hall.
Enjoy special artist rates for ticketed performances or complimentary access to events.
Fees & Financial Assistance
*Application fee: $35
*Financial Aid of 100% is available to cover all program costs
If you would like to be considered, please complete the Financial Aid section when uploading your supporting materials. 
*Application Fees are non-refundable.
Banff Centre will issue official tax receipts for eligible tuition fees and financial assistance and awards as required by the Income Tax Act. You will receive a T2202 (Tuition and Enrolment Certificate) for eligible tuition fees paid and a T4A (Statement of Pension, Retirement, Annuity, and Other Income) for applicable financial assistance and awards.
Help fund your experience at Banff Centre. View a compiled list of national and international opportunities here.
How to Apply
Adjudication
Participants are selected by impartial adjudicators on the basis of their submitted material. In addition to artistic merit, consideration will be given to the likelihood that the artist's work will benefit from the program.  Banff Centre respects the need for artists to plan ahead for their visit; applicants will be notified as soon as adjudication is complete.
Eligibility
For full details on vaccination requirements, masking, safety protocols, and COVID related policies please visit: www.banffcentre.ca/covid-19-measures   
All programs, faculty, dates, fees, and offers of financial assistance are subject to change. Program fee is subject to applicable taxes. Non-refundable fees and deposits will be retained upon cancellation. Any other fees are refunded at the discretion of the Banff Centre. The application deadline is 11:59 p.m. Mountain Standard Time.