Note: Fall 2021 on-campus programs are restricted to those residing in Canada.  
Learn more about Banff Centre's COVID-19 on-campus measures here, and please subscribe to our mailing list to keep informed on upcoming programs. 
Negotiation Skills Training
Program Information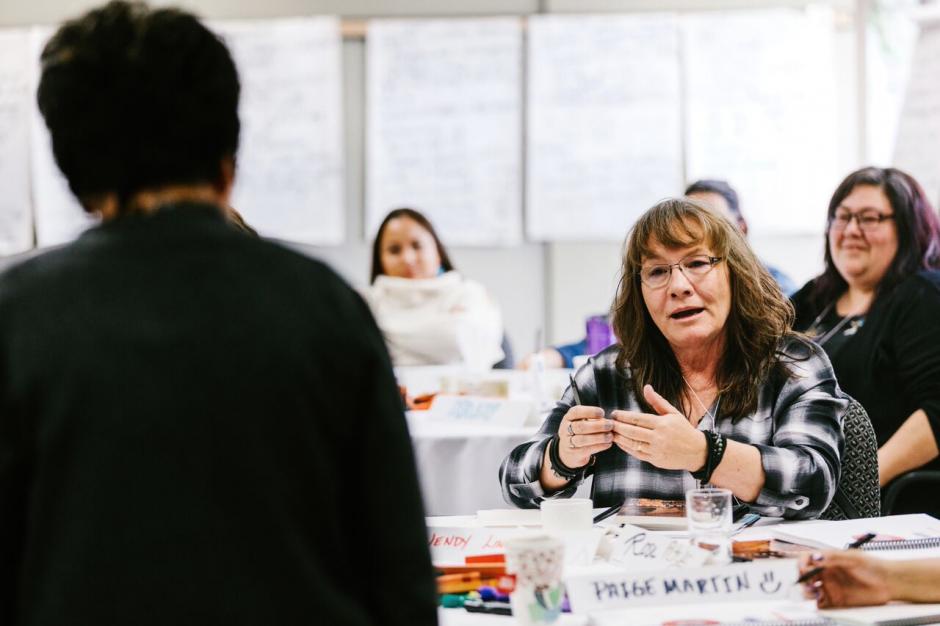 Overview
Many Indigenous communities and organizations are in negotiations, or are preparing to negotiate, on important issues such as land claims, self-governance, fiscal arrangements, natural resources, co-management agreements, and business partnerships. You will learn and practice each step in the negotiation process by using proven interest-based negotiation techniques.
What does the program offer?
Community and organizational interest clarification to determine your goals for the  negotiation outcomes
A community-based approach to participation and support in the negotiation process
Good and bad results of the negotiation outcome
How to choose your negotiation team. How to prepare thoroughly for your negotiations
Build your negotiating skills by participating in simulations, role-play, and improvisation
Get expert advice on how to be a powerful negotiator
Examine the duty to consult, the Crown as negotiator, and multi-party negotiations
Who should register?
Indigenous leaders and managers mandated to negotiate on behalf of their communities and organizations
Government negotiators and policy advisors who want to understand the Aboriginal negotiations environment and context
Private sector parties in negotiation with First Nations and the Crown
Lawyers, consultants, and advisors to First Nations, Métis, Inuit, and government
Indigenous leaders and managers involved in negotiations with funding agencie
 
Please note, our programs are filled on a first come, first served basis. Please register early to secure a confirmation of your spot.
What's Included
All Leadership participants who choose the Accommodation and Meal Package are provided private rooms with ensuite washrooms in one of our two onsite hotels, the Professional Development Centre or Lloyd Hall. Room upgrades may be available upon request at an additional cost.
If you choose the Accommodation and Meal Package, all of your meals from the start to the end of your program are included; most of your meals will be at Vistas Dining Room, but there may be some special dining events scheduled as well. Please also feel free to visit the Maclab Bistro, Le Café, Three Ravens Restaurant and Wine Bar, but note that these outlets are not included in your meal plan, and thus will be at additional cost.
Enjoy free parking, wifi, and access to the Walter Philips Gallery while you are a guest at Banff Centre. Our Participant Resources team is also available to assist you with medical support or event information. See our Events Calendar to learn more about what's going on at Banff Centre while you're onsite.
The Sally Borden Fitness and Recreation Centre is located in the lower floor of the Sally Borden Building, and provides all guests with access to our swimming pool, hot tub, steam room, climbing gym, fitness centre, spin studio, and gymnasium. Massage and physiotherapy appointments may also be booked ahead of time.
Fees & Financial Assistance
The above fees do not include applicable taxes, such as GST, the Alberta Tourism Levy, and the Tourism Improvement Fee as needed.
As of April 1st 2019, our tuition fee will increase to $2500.
Group Savings
Enrol four members of your organization or community in a program and your fifth member will receive free tuition. Special restrictions may apply. Due to high demand, we accept a maximum of five members per group; this is to ensure our programming is accessible to everyone. 

Financial Assistance
Financial Assistance may be available to subsidize some of the costs to attend your program.
Past participants of the Indigenous Negotiation Skills Training program can register again, however will not be eligible for funding assistance.
Funding opportunities Call our toll-free number for more details at 1.888.255.6327
How to Apply
All programs, faculty, dates, fees, and offers of financial assistance are subject to change. Program fee is subject to applicable taxes. Banff Centre reserves the right to cancel a program up to seven days prior to program start date if there is insufficient enrolment. All fees will be refunded. Please note that Banff Centre is not liable for any personal/travel expenses incurred.
Contact us

For more information please contact: