Learn more about Banff Centre's COVID-19 Vaccination Requirements and on-campus measures here.
Please subscribe to our mailing list to keep informed on upcoming programs.
Indigenous Playwrights Circle
Program Information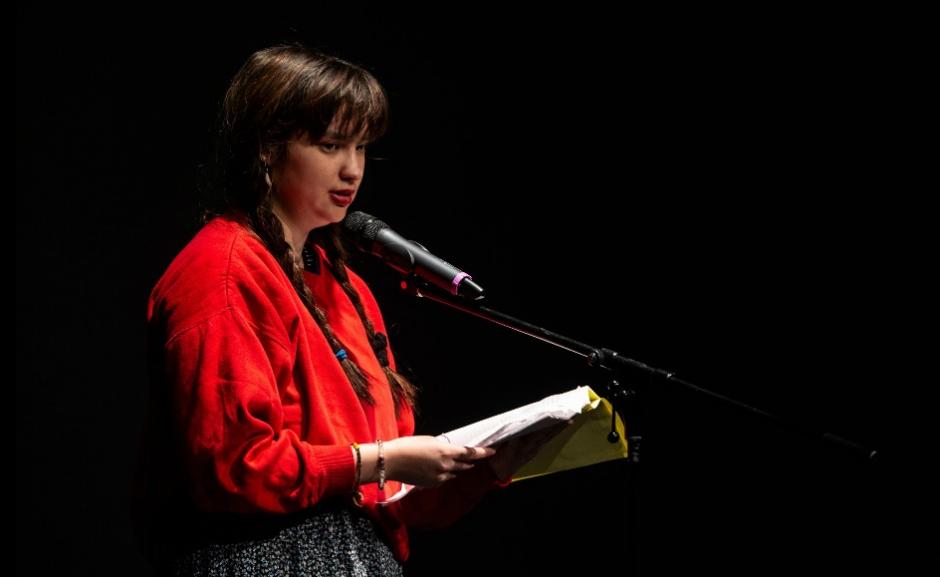 Overview
Indigenous storytellers are the true Canadian story keepers, and the Indigenous Playwrights Circle is designed to support and ignite those stories. The program offers Indigenous playwrights an inspiring, interdisciplinary environment to work on their plays, surrounded by performing artists from across the country and around the globe. 
The Indigenous Playwrights Circle provides support and space for development of new works in all stages of the dramaturgical process with a focus on revisiting textual work on plays that have had some performance life but are yet to be finalized. Similar to the Banff Playwrights Lab, each year the Indigenous Playwrights Circle will spotlight an area of focus. For 2020, we encourage Indigenous playwrights exploring Indigenous language or climate change to apply. 
What does the program offer?
Participants will have support from dramaturgical staff – comprised of the program director, dramaturg, and choreographic dramaturg – as well as a company of actors to read scripts aloud and explore text on their feet in a movement space. 
In collaboration with the Banff Playwrights Lab, international writer/dramaturg teams will also be in residence to work on new plays and provide their perspective on theatrical creation beyond Canada. This allows participants to have autonomous space for Indigenous and non-Indigenous playwrights to come together and share stories with each other. 
Who should apply?
The Indigenous Playwrights Circle welcomes Indigenous theatre makers challenging theatrical forms and exploring works from a place of knowing, asking, and defining. We value storytelling, Indigenous language, bold experimentation, and collaboration. We seek playwrights who create theatre that deeply engages their community in the way they define it.
The residency is broken into one-week blocks to maximize the artists who can participate; six Indigenous playwrights will be offered a one-week residency during dates of their choosing. Playwrights can apply as an individual or a company to work on their project. For example, if you intend to revisit an already produced play, you can apply with the theatre company your play is affiliated with. If you wish to develop a new work, you can apply on your own with the option of bringing a collaborator. The collaborator must be someone who is essential to the creation process.
We invite playwrights to consider this year's focus on Indigenous language and climate change projects when preparing their application. This is not mandatory as all applications will be considered by the adjudication committee, regardless of whether they incorporate these themes. 
 
Fees & Financial Assistance
Application fee: $35
*Indigenous artists accepted to the program will be eligible for up to 100% scholarship to cover the Program Fee.
The program fee includes tuition, a single room and the Full Flex Meal Plan at Banff Centre. Travel to and from Banff Centre is the responsibility of participants. In addition to the program fee, participants are responsible for all costs associated with their stay such as shipping, materials and supplies (including photographic materials), rental and use of audio/visual equipment, printing, and any other specific facility fees. 
Additional need-based financial aid is available. If you would like to be considered, please complete the financial aid section when uploading your supporting materials. 
Help fund your experience at Banff Centre. View a compiled list of national and international opportunities here.
How to Apply
Your artistic statement, script, and resume/bio must be submitted as a PDF document, in that order. If you are including any materials for which you are not the writer/creator, you must obtain the rights prior to applying, otherwise we cannot accept your project.
Adjudication
Participants are selected by impartial adjudicators on the basis of their submitted material. In addition to artistic merit, consideration will be given to the likelihood that the artist's work will benefit from the program. Applicants will be notified of their status as soon as adjudication is complete.
All programs, faculty, dates, fees, and offers of financial assistance are subject to change. Program fee is subject to applicable taxes. Non-refundable fees and deposits will be retained upon cancellation. Any other fees are refunded at the discretion of the Banff Centre. The application deadline is 11:59 p.m. Mountain Standard Time.