Program Information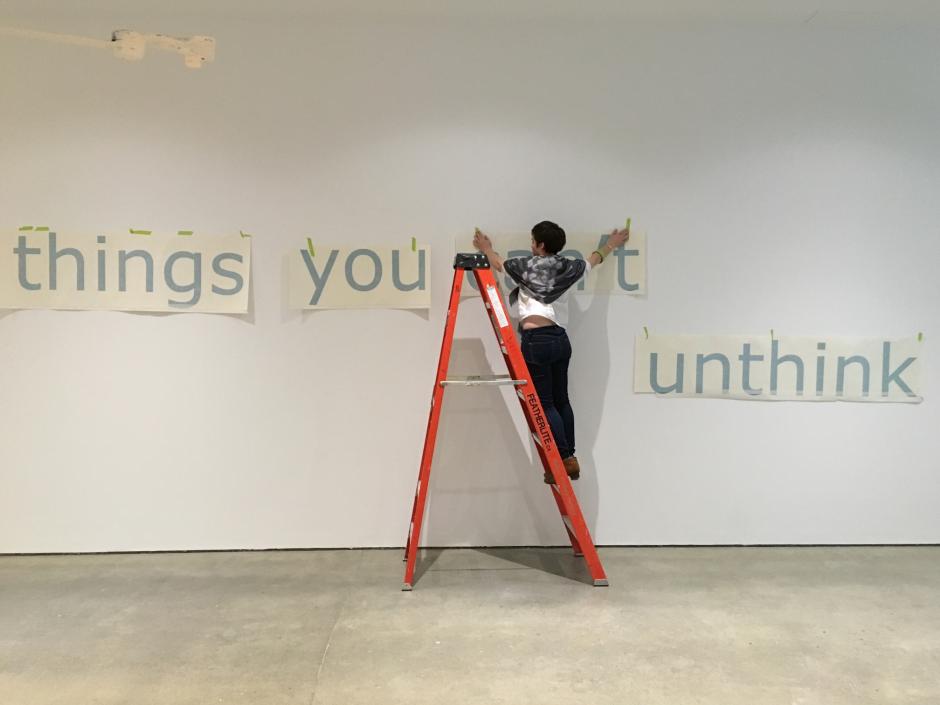 Overview
The Walter Phillips Gallery Indigenous Preparatorial Practicum program enables the participant to engage in hands-on opportunities working alongside the gallery's preparator and curator. Direct mentorship and support is provided throughout the program to develop the participant's skills in preventative conservation, art handling, installation techniques, and museum standards in environmental conditions (including appropriate humidity, temperature, and lighting levels). 
The practicum participant will also have the opportunity to develop expertise in crate building, art packing, and framing of artwork, and will assist in the storage, packing, and unpacking of artworks relating to the Walter Phillips Gallery exhibitions and permanent collection.
Learning opportunities also arise through attendance at formal and informal lectures and discussion groups. The practical experience portion will primarily focus on activities that complement the  learning objectives of the program through the various opportunities associated with the real and ongoing activities of  Walter Phillips Gallery.  
What does the program offer?
Benefits to participants include practical experience installing exhibitions within a public institution, technical problem-solving skills, enhanced communication skills, and teamwork. 
Participants will further hone their building and carpentry skills, attention to detail, and strategies in exhibition layout and design. They will also have the opportunity to work in Sketchup and Past Perfect collections management software. 
In addition to the work component of the program, outside of exhibition installation periods participants have one day each week that is dedicated to their personal research activities as outlined in their individual learning objectives. 
Who should apply?
Enrolment to this program is limited to individuals of Indigenous descent (status, non-status, Métis or Inuit). This practicum placement is appropriate for recent graduates of studio-based programs interested in pursuing a career in gallery installation to gain professional experience and expand and develop their careers and capabilities.   Candidates for the Preparatorial Practicum must possess a foundation in studio art, art history or museum studies with some previous experience working with tools and building materials.   This program requires a full-time commitment. 
What's Included
You are eligible for Banff Centre housing (based on availability). You are responsible for your own room and board costs. Current rates for Banff Centre accommodation are $8.06 / day (shared) or $16.12 / day (single) and will be deducted from the living allowance. 
You will receive a living allowance of $425 per week.
Note that financial assistance and stipend awards are considered taxable income for Revenue Canada.  
Enjoy special artist rates for ticketed performances or complimentary access to events.
Enrich your experience and get to know other artists on campus by taking advantage of the activities and support provided by our Participant Resources team.
Fees & Financial Assistance
Application fee: $35
*The weekly program fee is covered 100% by financial assistance from Banff Centre.
You will also receive a weekly living allowance while part of the program (see What's Included for more information).
How to Apply
Adjudication
Participants are selected by impartial adjudicators on the basis of their submitted material. In addition to merit, consideration will be given to the likelihood that the participant will benefit from the program.
Applicants will be notified of their status as soon as adjudication is complete, approximately eight to 10 weeks following the application deadline.
Eligibility
Enrolment to this program is limited to Canadian citizens and permanent residents of Indigenous descent (status, non-status, Métis, Inuit). 
As this program exceeds six months in length, enrolment is limited to Canadian citizens and permanent residents of Canada. This is due to changes made by the Government of Canada to international student visa regulations, effective June 1, 2014 .  
Note:
All programs, faculty, dates, fees, and offers of financial assistance are subject to change. Program fee is subject to applicable taxes. Non-refundable fees and deposits will be retained upon cancellation. Any other fees are refunded at the discretion of Banff Centre.