Program Notice
Online programs coming soon.
We will be offering 14 programs online from September to December 2020, featuring two programs per discipline in Literary Arts, Visual Arts, Music, Performing Arts, Indigenous Arts, and Indigenous Leadership. Details about these programs, including information about applications and admissions, will be available soon.
If you would like to be among the first to know about or new programs, please subscribe to our newsletter. In the meantime, you can browse a sampling of previous programs to learn more about our offerings.
Banff Centre's facilities and spaces remain closed due to the COVID-19 pandemic; we look forward to reopening as soon as it is safe to do so.  If you have any questions about specific programs, please contact registrars_office@banffcentre.ca.
Indigenous Storytellers and Spoken Word Residency
Program Information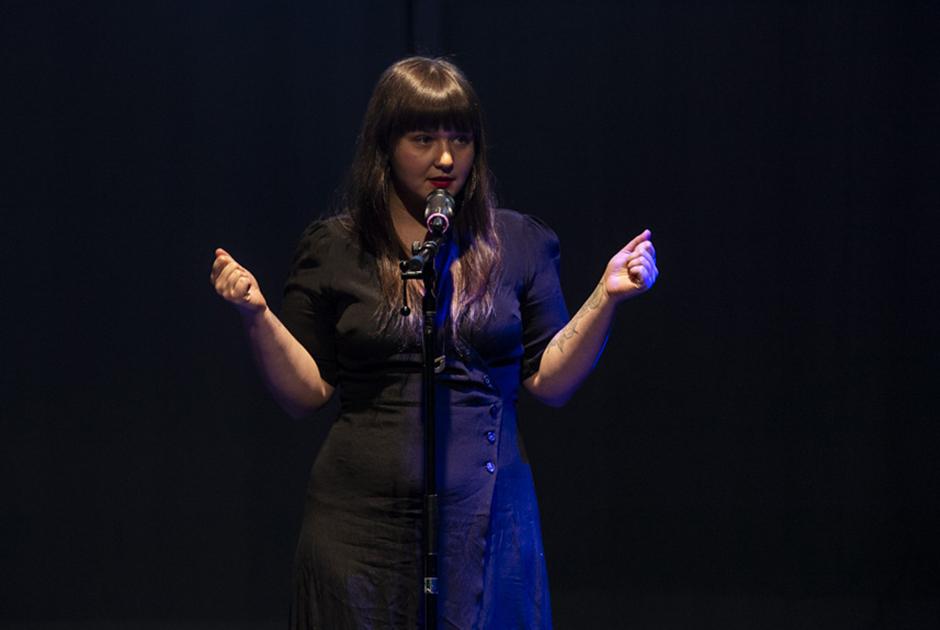 Overview
The Indigenous Storytellers and Spoken Word Residency will push the parameters of traditional storytelling, while retaining the integrity of how stories come to be. Participants will be immersed in in-depth writing practices involving visual, research, and meditative exploration, as well as elder teaching and land based outings. 
With coaching from experienced faculty, participants will collaborate with one another and as a collective to refine stories already told and create new ones to share in a professional capacity.
What does the program offer?
The Indigenous Storytellers and Spoken Word Residency offers the opportunity for Indigenous storytellers from all regions to meet and work with peers. Participants will learn new skills from Indigenous mentors in their respective fields, widen their circles of support, and learn marketing management and presentation skills.
The program will include individual writing time, morning group check-ins, and group and individual feedback. Participants will explore the art of storytelling via improvisation through sound and instrument.
Participants will have the opportunity to take part in a workshop, as well as a story lecture and mini showcase. At the end of the residency, participants will showcase their work in a public performance.
Who should apply?
Indigenous writers, storytellers, and spoken word artists are encouraged to apply. Those who work from a word based practice, traditional or contemporary non-text based storytelling, and singer/songwriters with storytelling experience are also invited.
This residency is for emerging to mid-level storytellers. A maximum of 12 participants will be accepted. Indigenous language speakers are also encouraged to apply.
Fees & Financial Assistance
Application fee: $35
*Participants accepted to the program will be eligible for up to 100% scholarship of the program fee (shared room). 

Single rooms are available for the upgrade fee at the cost of the participant. 
The program fee includes a shared room and the Full Flex Meal Plan at Banff Centre. Travel to and from Banff Centre is the responsibility of participants. 
Additional need-based financial aid is available. If you would like to be considered, please complete the Financial Aid section when uploading your supporting materials. Help fund your experience at Banff Centre. View a compiled list of national and international opportunities here.
How to Apply
Adjudication
Participants are selected by impartial adjudicators on the basis of their submitted material. In addition to artistic merit, consideration will be given to the likelihood that the artist's work will benefit from the program. Applicants will be notified of their status as soon as adjudication is complete.
All programs, faculty, dates, fees, and offers of financial assistance are subject to change. Program fee is subject to applicable taxes. Non-refundable fees and deposits will be retained upon cancellation. Any other fees are refunded at the discretion of the Banff Centre. The application deadline is 11:59 p.m. Mountain Standard Time.