Indigenous Strategic Planning - Online
Program Information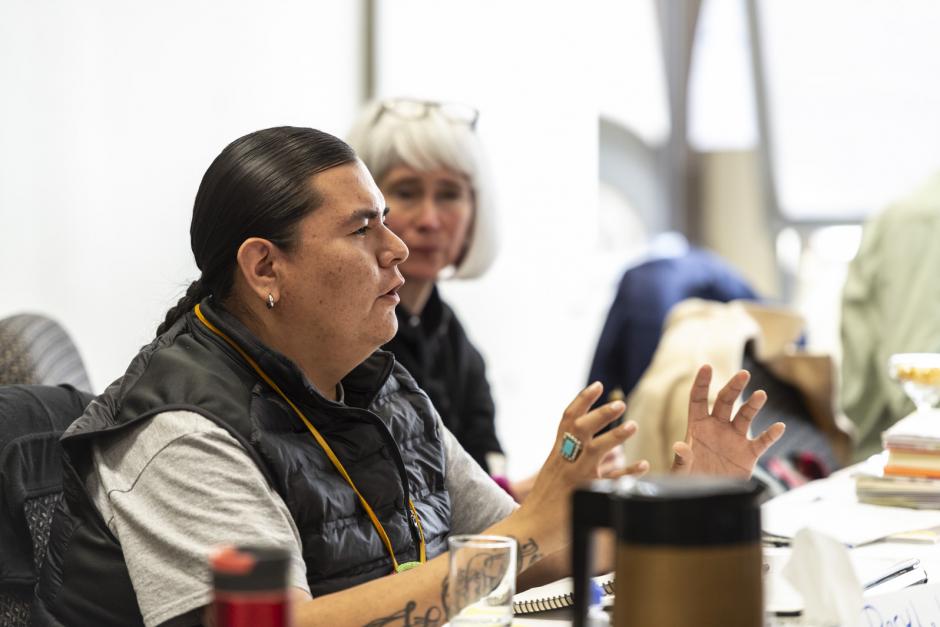 Summary
The program will prepare you to implement a community, organization, or board strategic planning process; demonstrate the interconnectedness of elements of planning and help you map-out the plan as a collective creation rooted in Indigenous ways of knowing. It will also provide an understanding of how to keep the plan alive from value setting, visioning and full-circle process evaluation.
Overview
Research and best practices indicate that successful Indigenous nations and organizations are those that set clear visions, strategic direction and long-term goals. A viable strategic plan is required to keep pace with changes in the world, reduce dependence on governments, and raise the standard of living of Indigenous citizens now and in the future. You will learn a proven model for strategic planning, based upon systems thinking and its associated processes, tasks, and activities.
The program will prepare you to implement a community, organization, or board strategic planning process and session; help you focus resources on specific strategies; and provide an understanding of how to keep the plan alive through evaluation.
Please note, this introductory program does not count as credit towards the Certificate of Indigenous Leadership, Governance, and Management Excellence.
What does the program offer?
Learn systems thinking and interconnectivity of the elements of planning

Learn to use the techniques involved in a strategic planning model

Identify the values statements, vision and mission for your community/organization/board

Learn how to determine the key factors of success

Tools to complete a current state assessment and an environmental analysis

Set strategies on which to focus resources and efforts
Who should apply?
First Nations, Métis and Inuit councils, and tribal councils

Boards of Indigenous economic and social development agencies, governing boards, commissions, and legal entities for Indigenous profit and not-for-profit organizations

Managers, administrators and team leaders

Indigenous leaders

Urban Indigenous organizations and agencies
Please note: this program prioritizes Indigenous learners, and those working with Indigenous communities and organizations.  Note that in the event of high demand for the program, priority may be given to these learners.
Itinerary
This program requires you to attend live sessions as well as to do some work on your own outside of these session.
To maximize learning for this program students are required to dedicate approximately 18 hours per week to this program.
Read resources and watch prerecorded lectures (approximately 4 hour per week)

Participate in four live Zoom sessions




Tuesday, Wednesday, Thursday and Friday, each day from 10:00 am – 2:00pm MST (3 hrs x 4 days = 12 hours for the week)

Complete homework outside of class time – individual reading , class preparation (approx. 2 hrs/week)
Your completion of this work will be reflected in receiving a certificate for the program, which counts towards the smaller certificate. This Introductory program does not provide a credit towards the Certificate of Indigenous Leadership, Governance and Management Excellence.
What's Included
Use of Zoom for live sessions.
Electronic workbook for course materials
Use of Dropbox for sharing materials.
Fees & Financial Assistance
Financial assistance is available for Indigenous peoples or non-Indigenous peoples working for Indigenous organizations only. Past participants of the Indigenous Strategic Planning program may register again, however will not be eligible for financial aid.
In order to be considered for financial assistance, please ensure that you select "Yes" to 'I would like to apply for financial assistance' during registration, and then log into your Student Portal to complete your funding application form within 48 hours of submitting your initial registration.  We strongly recommend timely submission of the funding form, in order to be considered. Note that we reserve the right to cancel registrants who select 'No' to financial assistance if payment and confirmation of attendance is not received within 7 days of  registration.  
Banff Centre will issue official tax receipts for eligible tuition fees and all financial assistance and awards as required by the Income Tax Act. You will receive a T2202 (Tuition and Enrolment Certificate) for eligible tuition fees paid and a T4A (Statement of Pension, Retirement, Annuity, and Other Income) for applicable financial assistance and awards.
How to Apply
If you have requested financial assistance,please ensure that you log in to your Student Portal within 48 hours of registration, to submit your funding request form.
If you do not require financial assistance, please ensure that you log in to your Student Portal and complete confirmation of attendance and full payment as soon as possible, but no later than 7 days from completing step 1.
Note that non-completion within the timelines stated may result in your place being offered to the waitlist.
All programs, faculty, dates, fees, and offers of financial assistance are subject to change. Program fee is subject to applicable taxes. Banff Centre reserves the right to cancel a program up to seven days prior to program start date if there is insufficient enrolment, and in this case all fees will be refunded. Please note that Banff Centre is not liable for any personal/travel expenses incurred.
Contact us

For more information please contact: