On Tuesday May 11 at 4pm MST to Wednesday May 12 at 12noon MST we are performing scheduled maintenance on our student and application system .
You will not be able to start the application process or submit an application during this time, however you will be able to continue with 3 of your application process.: Upload your Materials.
The Student Portal will also be down during this time.
We thank you for your patience. If you have questions, please contact Admissions@banffcentre.ca
To hear about upcoming online programs, subscribe to our mailing list.  We are pleased to roll out our new student system and application experience. If you have any questions or feedback, please contact admissions@banffcentre.ca.
Indigenous Visual + Digital Arts Residency 2016
Program Information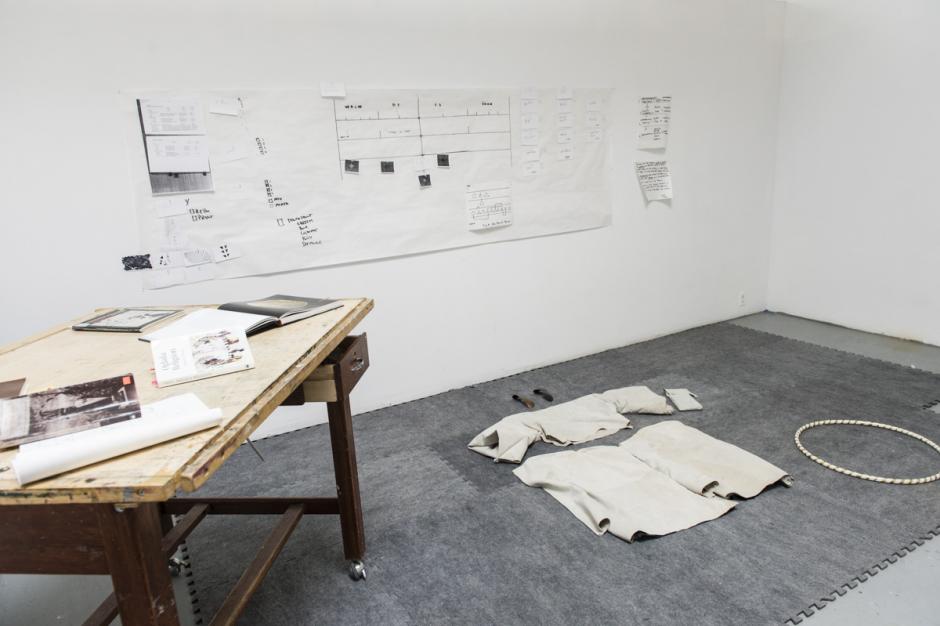 Overview
Visual + Digital Arts Indigenous Residency invites Indigenous artists, curators, and cultural practitioners from all nations around the world to come together, create new work, and discuss topics pertinent to their culture and contemporary art practice.
Located on the side of Sleeping Buffalo Mountain, the Centre's campus rests upon a historic sacred gathering place for the Blackfoot, Stoney Nakoda, and Tsuu T'ina people, who met here for trade and knowledge sharing, visions, ceremony, and celebration. Continuing in this tradition, participants in the residency will have the opportunity to meet with local Elders, engage with faculty and visiting guest artists, and tap into the community of knowledge of their peers around contemporary Indigenous art practice.  
Join guest artist Bear Witness and Nadia Myre for a self-led program centered on artistic reflection, creative exploration, knowledge sharing, and discussion.  Some of the questions to be explore may include: How are indigenous artists working across traditional genres and challenging the boundaries of what is considered art?  How has the landscape of art practice changed, and what territories and approaches still need to be explored and expressed?  How do we collectively speak about Indigenous art practice?  And, what are some of the responsibilities and expectations placed on artists? 
What does the program offer? 
During this five-week residency, focus on your work with dedicated studio time. Expand your practice with studio visits from guest faculty and through discussions with your peers. Connect with local Indigenous community leaders and Elders. Engage in meaningful conversations around global Indigenous culture and contemporary art.
Residencies offer structured programs where artists, curators, and other arts professionals are brought together to make work and discuss pertinent themes. Through peer interaction, discussion groups, studio work, formal lectures, and studio visits from world-renowned visiting artists and curators, participants gain new ideas and insights that can be applied to creative exploration and the development of their work.   
Who should apply? 
Visual artists of all disciplines, curators, researchers, designers and architects are welcome. Note: Enrollment to this program is limited to individuals of Indigenous descent (status, non-status, Métis or Inuit in Canada and Indigenous peoples from around the world). Applicants should have an exhibition/publication record, formal training in visual arts, or equivalent experience and recognition from their peers or communities.
Fees & Financial Assistance
Application fee: $35
*Artists accepted to the program will be eligible for up to 100% scholarship to cover the shared room program fee (tuition, shared room, and regular meal plan) at The Banff Centre. Travel to and from Banff Centre will be the responsibility of participants.
In addition to the program fee, participants are responsible for all costs associated with their stay such as shipping, materials and supplies, the rental and use of audio/visual equipment, photographic materials, printing, and any specific facilities fees.
How to Apply
Collaborative Groups: a group leader must complete a single application and upload supporting materials on behalf of the whole group. Visual support materials should be provided for the collective, individual resumes and bios should be provided for each member. Collaborative groups share studio space.
Adjudication
Participants are selected by impartial adjudicators on the basis of their submitted material. In addition to artistic merit, consideration will be given to the likelihood that the artist's work will benefit from the program.  
Applicants will be notified of their status as soon as adjudication is complete, approximately 8-10 weeks following the application deadline.
Eligibility
Please note: Enrollment to this program is limited to individuals of Indigenous descent (status, non-status, Métis or Inuit), including indigenous peoples from outside of Canada.
Note:
All programs, faculty, dates, fees, and offers of financial assistance are subject to change. Program fee is subject to applicable taxes. Non-refundable fees and deposits will be retained upon cancellation. Any other fees are refunded at the discretion of the Banff Centre.