On-Campus Programs between January and March 2021 will be either canceled or shifted online. Participants who applied to in-person programs will be contacted directly. Programming that had been planned for online delivery will continue as anticipated.
---
To hear about upcoming online programs, subscribe to our mailing list.  We are pleased to roll out our new student system and application experience. If you have any questions or feedback, please contact admissions@banffcentre.ca.
Indigenous Women in Leadership
Program Information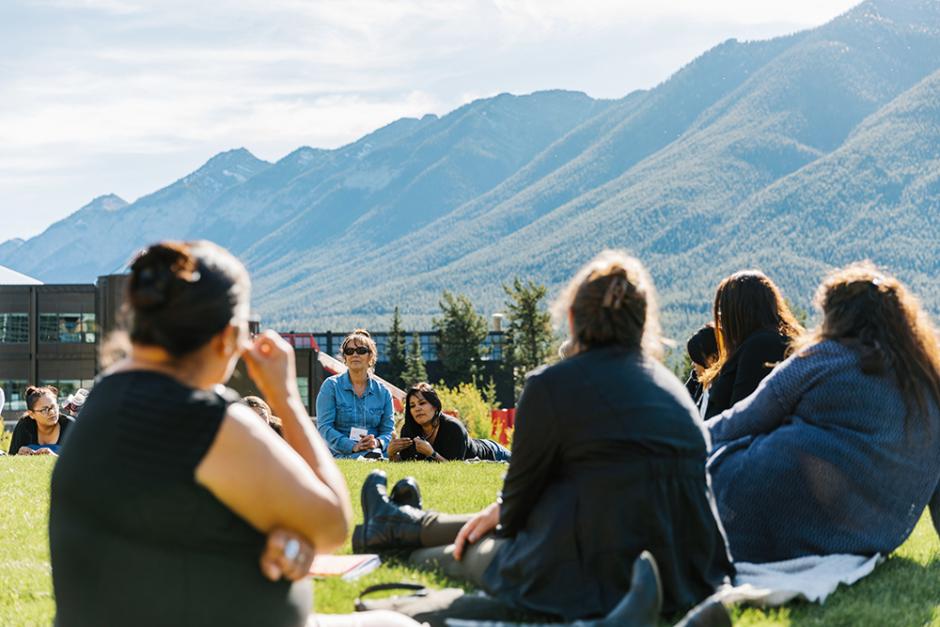 Overview
Created specifically for women leaders, the Indigenous Women in Leadership program examines the issues, challenges, and inequities that you as a woman face as you strive to fulfill the responsibilities of your job, meet the needs of your family members, and answer the demands of your community. It offers the opportunity to acquire a variety of made-to-measure tools. Newly-gained skills will serve as the foundation of a personalized action plan that you can take back to implement in your community or organization.
An important program asset is the network of colleagues you will develop and whose support you can leverage when you return home. You will leave empowered and capable of confronting the issues that await you back in the workplace.
What does the program offer?
The challenges of leadership: accountability, performance, decision-making, delegation, and mentoring
Social and economic issues, trends and implications
Change management and becoming an agent of change
Hands-on strategic planning – a model for personal, community, or business planning
Life balance: stress management, healing, personal boundaries; separating self from career, family, and community
Facilitation skills training
Resolving conflict with integrity, creating options, and managing anger
Who should register?
Indigenous women leaders and managers who are responsible for the future of communities and organizations
Please note, our programs are filled on a first come, first served basis. Please register early to secure a confirmation of your spot.
What's Included
All Leadership participants who choose the Accommodation and Meal Package are provided private rooms with ensuite washrooms in one of our two onsite hotels, the Professional Development Centre or Lloyd Hall. Room upgrades may be available upon request at an additional cost.
All of your meals from the start to the end of your program are included; most of your meals will be at Vistas Dining Room, but there may be some special dining events scheduled as well. Please also feel free to visit the Maclab Bistro, Le Café, Three Ravens Restaurant and Wine Bar, but note that these outlets are not included in your meal plan, and thus will be at additional cost.
Enjoy free parking, wifi, and access to the Walter Philips Gallery while you are a guest at Banff Centre. Our Participant Resources team is also available to assist you with medical support or event information. See our Events Calendar to learn more about what's going on at Banff Centre while you're onsite.
The Sally Borden Fitness and Recreation Centre is located in the lower floor of the Sally Borden Building, and provides all guests with access to our swimming pool, hot tub, steam room, climbing gym, fitness centre, spin studio, and gymnasium. Massage and physiotherapy appointments may also be booked ahead of time.
Fees & Financial Assistance
The above fees do not include applicable taxes, such as GST, the Alberta Tourism Levy, and the Tourism Improvement Fee as needed.
Group Savings
Enrol four members of your organization or community in a program and your fifth member will receive free tuition. Special restrictions may apply. Due to high demand, we accept a maximum of five members per group; this is to ensure our programming is accessible to everyone.
Financial Assistance
Financial Assistance may be available to subsidize some of the costs to attend your program.
Past participants of the Indigenous Women in Leadership program can register again, however will not be eligible for funding assistance.
Funding opportunities Call our toll-free number for more details at 1.888.255.6327
How to Apply
All programs, faculty, dates, fees, and offers of financial assistance are subject to change. Program fee is subject to applicable taxes. Banff Centre reserves the right to cancel a program up to seven days prior to program start date if there is insufficient enrolment. All fees will be refunded. Please note that Banff Centre is not liable for any personal/travel expenses incurred.
Contact us

For more information please contact: