Program Notice
Online programs coming soon.
We will be offering 14 programs online from September to December 2020, featuring two programs per discipline in Literary Arts, Visual Arts, Music, Performing Arts, Indigenous Arts, and Indigenous Leadership. Details about these programs, including information about applications and admissions, will be available soon.
If you would like to be among the first to know about or new programs, please subscribe to our newsletter. In the meantime, you can browse a sampling of previous programs to learn more about our offerings.
Banff Centre's facilities and spaces remain closed due to the COVID-19 pandemic; we look forward to reopening as soon as it is safe to do so.  If you have any questions about specific programs, please contact registrars_office@banffcentre.ca.
Intercultural Indigenous Choreographers Creation Lab
Program Information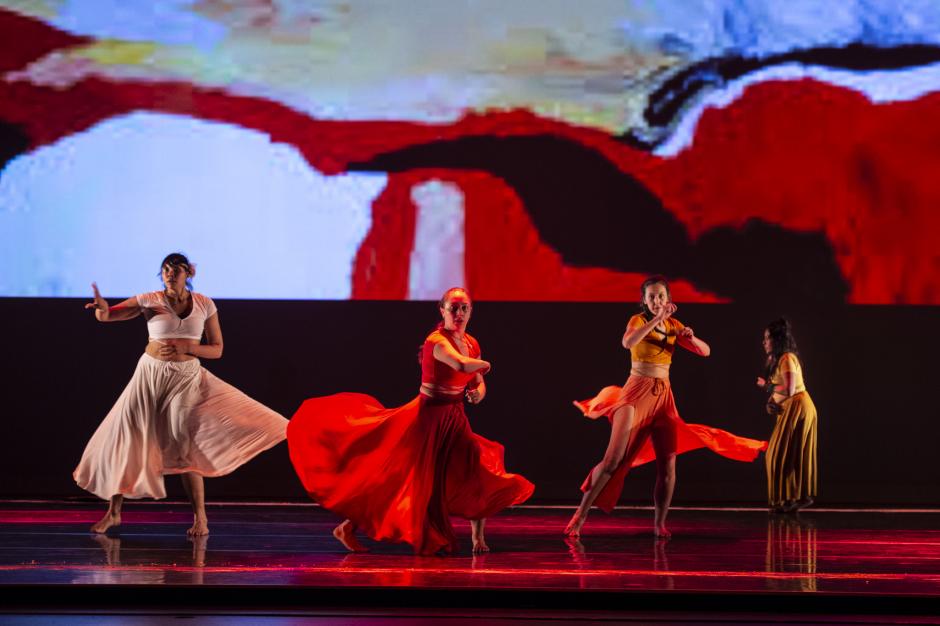 Overview
This three-week lab for intercultural Indigenous choreographers and dancers focuses on re-embodiment and Indigenous voice. Departing from the belief that the body is the site of emotional, cultural, political, and spiritual history, the lab supports the exploration and creative development of personal voice and physical vocabulary. The program will explore the intersections of identity, movement, and creation.
The IICC Lab is led by Alejandro Ronceria, a Canadian choreographer of Colombian descent and a pioneer in Indigenous dance globally. Participants for the lab will be selected from diverse Indigenous backgrounds. Three Indigenous choreographers and 12 professional Indigenous dancers will be accepted.
What does the program offer?
Choreographers will have the opportunity to challenge and develop their creative concepts, and engage in one-to-one mentorship in choreography as well as deep dramaturgical exploration. Each choreographer will collaborate with four dancers, and will have access to a composer and lighting designer to develop and workshop their concept.
Through exploration of voice and the process of re-embodiment including daily movement work, choreographers and dancers will experiment with developing and re-defining their own body histories and language. Working with Alejandro Ronceria as well as creative collaborators including a composer and lighting designer, choreographers and dancers will present a short work in progress.
The IICC lab will also provide integrated opportunities for critical feedback, and creative dialogue circles with fellow choreographers and dancers.
Who should apply?
This program is open to Indigenous Canadian and Indigenous international choreographers / dancers.
We welcome applications from emerging and mid-level choreographers interested in examining lived experience, personal narratives, and cultural histories as well as developing personal choreographic work.
Professional Indigenous dancers working in diverse forms are also encouraged to apply.
Fees & Financial Assistance
Application fee: $35
*Indigenous artists accepted to the program will be eligible for up to 100% scholarship to cover the program fee (shared room).
Single rooms are available for the upgrade fee at the cost of the participant. 
The program fee includes tuition, a shared room, and the Full Flex Meal Plan at Banff Centre. Travel to and from Banff Centre is the responsibility of participants.
If you would like to be considered, please complete the Financial Aid section when uploading your supporting materials. 
Help fund your experience at Banff Centre. View a compiled list of national and international opportunities here.
How to Apply
Adjudication
Participants are selected by impartial adjudicators on the basis of their submitted material. In addition to artistic merit, consideration will be given to the likelihood that the artist's work will benefit from the program. 
Applicants will be notified of their status as soon as adjudication is complete.
All programs, faculty, dates, fees, and offers of financial assistance are subject to change. Program fee is subject to applicable taxes. Non-refundable fees and deposits will be retained upon cancellation. Any other fees are refunded at the discretion of the Banff Centre. The application deadline is 11:59 p.m. Mountain Standard Time.