Banff Centre completed an upgrade of the application system 21st September. If you notice any issues please contact the Admissions Office or call 403 762 6180.
We will be launching applications for Spring 2024 programs in November. You can sign up to the Newsletter to receive an alert when applications open.
Intercultural Indigenous Choreographers Creation Lab
Indigenous Arts | Call for dancers
Program Information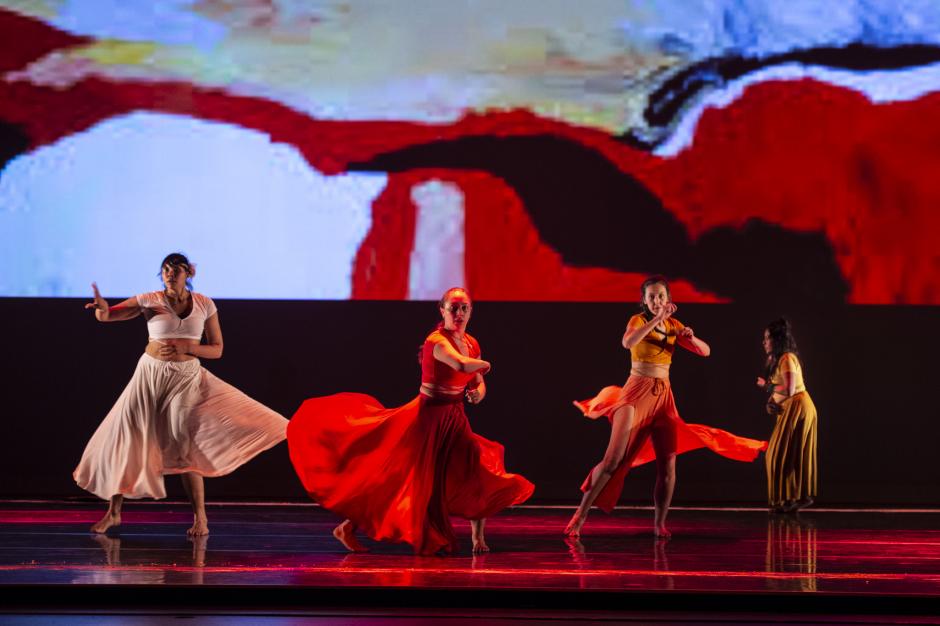 *Deadline extension: Call for dancers to apply*
Overview
This three-week lab for intercultural Indigenous choreographers and dancers focuses on re-embodiment and Indigenous voice. Departing from the belief that the body is the site of emotional, cultural, political, and spiritual history, the lab supports the exploration and creative development of personal voice and physical vocabulary. The program will explore the intersections of identity, movement, and creation.
The IICC Lab is led by esteemed faculty including Director of Dance Training, Alejandro Ronceria, a Canadian choreographer of Colombian descent and a pioneer in Indigenous dance globally. Participants for the lab will be selected from diverse Indigenous backgrounds. 
What does the program offer?
Choreographers will have the opportunity to challenge and develop their creative concepts, and engage in one-to-one mentorship in choreography as well as deep dramaturgical exploration.
Through exploration of voice and the process of re-embodiment including daily movement work, choreographers and dancers will experiment with developing and re-defining their own body histories and language.
The IICC lab will also provide integrated opportunities for critical feedback, and creative dialogue circles with fellow choreographers and dancers, leading to a public performance that will be held in the Jenny Belzberg Theatre on July 29th, 2022.
Who should apply?
This program is open to Indigenous Canadian and Indigenous international choreographers / dancers.
We welcome applications from emerging and mid-level choreographers interested in examining lived experience, personal narratives, and cultural histories as well as developing personal choreographic work.
Professional Indigenous dancers working in diverse forms are also encouraged to apply.
For full details on vaccination requirements, masking, safety protocols, and COVID related policies please visit: www.banffcentre.ca/covid-19-measures   
What's Included
Your program fee includes a single bedroom on the Banff Centre campus for the duration of your program.
Get connected with other artists on campus and focus on your projects in a creative environment while we take care of the day-to-day essentials.
Using a credit-based system to dine on campus, our flexible meal plans allow you to select meals according to your own needs during your stay. Banff Centre can respond to most dietary requests. 
The Full Flex meal plan is equivalent to $58 credit per day, equivalent to breakfast, lunch and dinner at our Buffet service.
Limited access to the Paul D. Fleck Library and Archives.
Although the doors remain temporarily closed, you can still access a wide range of books, periodicals, recordings and scores through our digital databases available on the digital resources page, and physical items through our curbside pick-up service. 
Enjoy special artist rates for ticketed performances or complimentary access to events.
Enrich your experience and get to know other artists on campus by taking advantage of the activities and support provided by our Participant Resources team.
This program offers opportunities to showcase your work-in-progress, leading to a public performance that will be held in the Jenny Belzberg Theatre on July 29th, 2022.
Fees & Financial Assistance
Application fee: $65 ($35 for applicants who identify as Indigenous).
*Financial Aid of 100% is available to cover tuition, and 50% is available to offset food and accommodation costs.
Indigenous Arts is committed to supporting Indigenous artists and encourages all to apply for the additional financial aid to receive the full 100% funds for food and accommodations costs conditional to endowment available.
Application Fees are non-refundable.
Help fund your experience at Banff Centre. View a compiled list of national and international opportunities here.
Banff Centre will issue official tax receipts for eligible tuition fees and financial assistance and awards as required by the Income Tax Act. You will receive a T2202 (Tuition and Enrolment Certificate) for eligible tuition fees paid and a T4A (Statement of Pension, Retirement, Annuity, and Other Income) for applicable financial assistance and awards.
How to Apply
Adjudication
Participants are selected by impartial adjudicators on the basis of their submitted material. In addition to artistic merit, consideration will be given to the likelihood that the artist's work will benefit from the program.  
Please note, application fees are non-refundable and go towards supporting the review of each program application and the adjudication process. All submitted applications are reviewed by a panel of adjudicators, and due to the competitive nature of Banff Centre's programs, we do not provide feedback on applications or guarantee acceptances into programs. All applicants will be notified of their application status via email following adjudication.
All programs, faculty, dates, fees, and offers of financial assistance are subject to change. Program fee is subject to applicable taxes. Non-refundable fees and deposits will be retained upon cancellation. Any other fees are refunded at the discretion of the Banff Centre. The application deadline is 11:59 p.m. Mountain Standard Time.