Program Notice
Online programs coming soon.
We will be offering 14 programs online from September to December 2020, featuring two programs per discipline in Literary Arts, Visual Arts, Music, Performing Arts, Indigenous Arts, and Indigenous Leadership. Details about these programs, including information about applications and admissions, will be available soon.
If you would like to be among the first to know about or new programs, please subscribe to our newsletter. In the meantime, you can browse a sampling of previous programs to learn more about our offerings.
Banff Centre's facilities and spaces remain closed due to the COVID-19 pandemic; we look forward to reopening as soon as it is safe to do so.  If you have any questions about specific programs, please contact registrars_office@banffcentre.ca.
Intimacy Direction Workshop
Program Information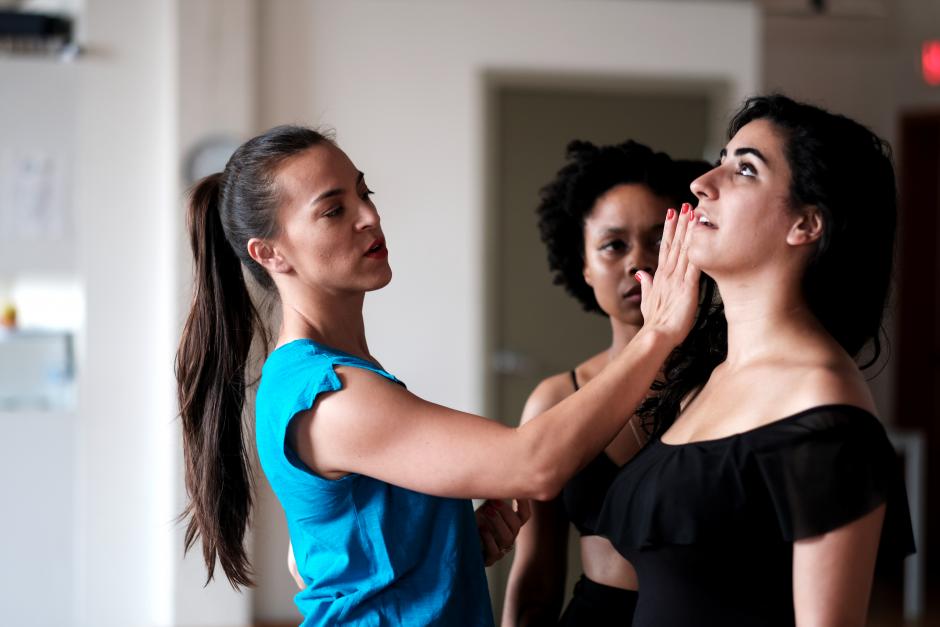 Overview
Theatre Alberta, Rosebud School for the Arts, and Banff Centre for Arts and Creativity are proud to welcome Siobhan Richardson of Intimacy Directors International (IDI) for a master class in intimacy direction.
There is a growing—and urgent—need in the theatre industry to create safer, more respectful working environments. The role of an Intimacy Director or Intimacy Choreographer is increasingly valued in the rehearsal and production process. This master class will offer experienced directors and choreographers an intensive introduction to best practices and recommended working conditions for safe on-stage intimacy through discussion and practical exercises.
 
What does the program offer?
Participants in this master class will gain a greater understanding of the role of an Intimacy Director through immersion in the work, learning how to begin to incorporate best practices in rehearsal and giving them a solid foundation should they pursue further training in this area.
Topics will include communication of personal boundaries; how to physically and emotionally prepare actors for scenes of intimacy; choreographing simple scenes of intimacy (i.e. "they kiss"); violent intimacy; consent in the theatre workplace; and psychological safety.
Intimacy Directors International is a not-for-profit organization that represents like-minded artists who adhere to the highest standards of artistry and safety. Siobhan Richardson is among IDI's exclusive roster of Recommended Intimacy Directors.
Who should apply? 
This program is aimed at directors or choreographers with some experience staging intimate scenes, as well as instructors who work with actors in post-secondary or other theatre training programs. Movement training and mental health first aid training are assets but not compulsory.
Please note that this is not a formal Intimacy Director certification course, as certification of Intimacy Directors is an emerging and highly individualized process. Artists who reside outside of Alberta will be required to pay an out-of-province fee of $100.
This master class is presented by Theatre Alberta and Banff Centre for Arts and Creativity as part of Theatre Alberta's Workshops by Request: Rocky Mountain Series.
What's Included
When applying, choose between staying in a single or a shared bedroom on the Banff Centre campus for the duration of your program.
Get connected with other artists on campus and focus on your projects in a creative environment while we take care of the day-to-day essentials.
Using a credit-based system to dine on campus, our flexible meal plans allow you to select meals according to your own needs during your stay.
Packages include the Full Flex meal plan, which includes $38 credit per day, equivalent to breakfast, lunch, and dinner in Vistas Dining Room.
Enjoy special artist rates for ticketed performances or complimentary access to events.
Enrich your experience and get to know other artists on campus by taking advantage of the activities and support provided by our Participant Resources team.
Fees & Financial Assistance
Room choices are subject to availability. Room packages are for four nights accommodation.  Prices are reduced with a shorter stay or selecting a lower meal package. Please contact the OoR post-registration for details.
A non-refundable registration fee of $135 will be charged upon registration. Banff Centre reserves the right to cancel a program up to seven days prior to program start date if there is insufficient enrolment. If the program is cancelled, all registrants will receive a full refund of any program fees paid. Banff Centre is not liable for any personal/travel expenses incurred. 
Current Theatre Alberta members who are residents of Alberta can apply for financial assistance to cover 25% to 75% of the tuition fee, to apply please visit: http://www.theatrealberta.com/scholarship-request-wbr/ or contact morgan@theatrealberta.com.
How to Apply
Adjudication
This program is not juried but is intended for  directors or choreographers with some experience staging intimate scenes, as well as those working as instructors with actors in post-secondary or other theatre training programs. Movement training and mental health first aid training are assets but not compulsory. If you have questions about whether this program is right for you, please contact the Office of the Registrar.
Applicants will be notified of their status as soon as adjudication is complete.
All programs, faculty, dates, fees, and offers of financial assistance are subject to change. Program fee is subject to applicable taxes. Non-refundable fees and deposits will be retained upon cancellation. Any other fees are refunded at the discretion of the Banff Centre. The application deadline is 11:59 p.m. Mountain Standard Time.