The Leadership Craft of Connecting
Program Information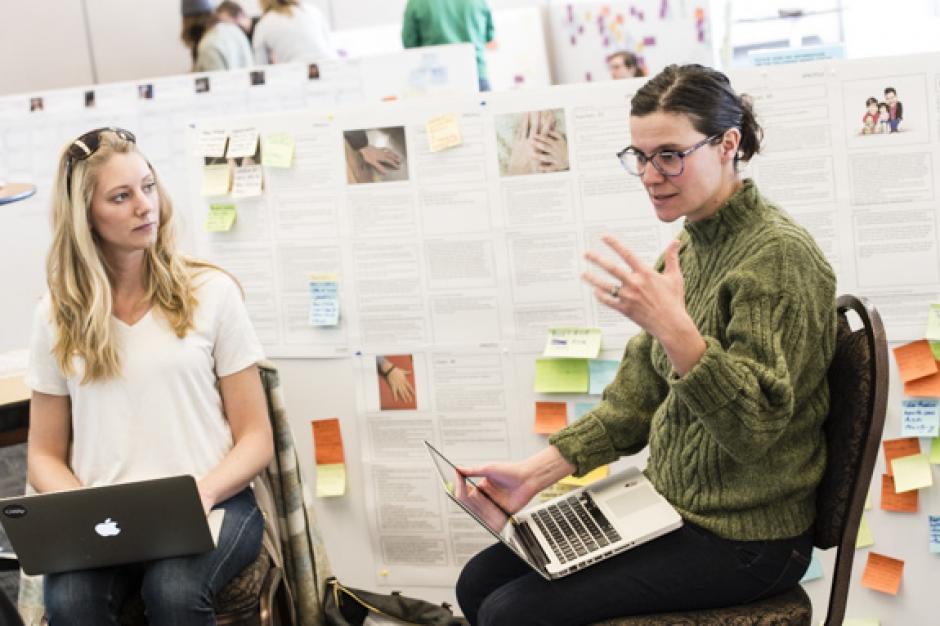 Overview
"He who works with his hands is a labourer. He who works with his hands and his head is a craftsman. He who works with his hands and his head and his heart is an artist." –Francis of Assisi
Connecting is more than communicating; it is the ability to relate to others and feel an affinity for them. Positive interpersonal connections are fundamental to building meaningful relationships, fostering teamwork, and influencing others to take action. Many leaders discover that if they are to achieve their full leadership potential they must overcome their personal limitations in relating to others. With focused, deliberate practice, we can get better at connecting with others.
Focusing on our "craft" can help orient us to a lifelong learning journey, one in which we practice and achieve a level of excellence in using a set of knowledge and skills. In the same way a carpenter learns to use tools and techniques to work wood into something beautiful and functional, a leader can learn to use tools and techniques to work their connections with others into beautiful and functional relationships. Whatever the medium, it is through disciplined practice that we master our craft.
In The Leadership Craft of Connecting, you will develop your craft by recognizing the ways in which you relate to others, applying analytic techniques and practical approaches to assess the quality of your connecting-practices, and discovering ways to strengthen weak connections, create new connections, and deepen existing connections.
What does the program offer?
Expand your understanding of barriers to interpersonal connection and how to overcome them
Develop more complex cognitive models that will allow you to see old or familiar interpersonal dynamics in new ways
Explore how the nature of a place can make particular ways of relating to others in that place possible
Practice techniques for staying fully engaged with your senses and suspending the "need to know"
Experiment with new relationship building approaches that are outside of your comfort zone in a safe space
Identify your particular challenge areas, deliberate practices to address them, and identify measurable outcomes that will enable you to observe your own improvement over time
Who should apply?
This program is ideal for individuals who aspire to gain mastery in their ability to connect with others. It is for those who are willing to do the demanding work of understanding and engaging with their own contributions to difficult interpersonal dynamics, and who wish to be open to the possibilities of greater connections with themselves, others, and the world.
The program is designed for leaders who wish to complement rational-analytic reflective practice skills with aesthetic sensibilities to propel them in their journey towards mastery of their craft. It is open to individuals from across corporate, cultural, community, government, philanthropic, and social innovation sectors.
About Banff Centre Leadership Programs
Banff Centre Leadership programs integrate the power of the arts, the wisdom of Indigenous practice, and the extraordinary beauty of Banff National Park to prepare and empower the next generation of Canadian leaders.
Programs help participants bring creative and reflective approaches to a rapidly changing world, and connect leaders with others who share their commitment to positive change in Canadian Indigenous communities, businesses, non-profit organizations, cultural institutions, and government.
What's Included
All Leadership participants who choose the Accommodation and Meal Package are provided private rooms with ensuite washrooms in one of our two onsite hotels, the Professional Development Centre or Lloyd Hall. Room upgrades may be available upon request at an additional cost.
If you choose the Accommodation and Meal Package, all of your meals from the start to the end of your program are included; most of your meals will be at Vistas Dining Room, but there may be some special dining events scheduled as well. Please also feel free to visit the Maclab Bistro, Le Café, Three Ravens Restaurant and Wine Bar, but note that these outlets are not included in your meal plan, and thus will be at additional cost.
The Sally Borden Fitness and Recreation Centre is located in the lower floor of the Sally Borden Building, and provides all guests with access to our swimming pool, hot tub, steam room, climbing gym, fitness centre, spin studio, and gymnasium. Massage and physiotherapy appointments may also be booked ahead of time.
Fees & Financial Assistance
Additional nights' accommodation may be available; please contact us for details.
The above fees do not include applicable taxes, such as GST, the Alberta Tourism Levy, and the Tourism Improvement Fee as needed.
Group Savings
Enroll four members of your organization or community in a program and your fifth member will receive a free tuition. Special restrictions may apply.
Financial Assistance
Financial Assistance may be available to subsidize some of the costs to attend your program.
Funding opportunities

Call our toll-free number for more details at 1.888.255.6327
How to Apply
All programs, faculty, dates, fees, and offers of financial assistance are subject to change. Program fee is subject to applicable taxes. Non-refundable fees and deposits will be retained upon cancellation. Any other fees are refunded at the discretion of the Banff Centre.