Program Information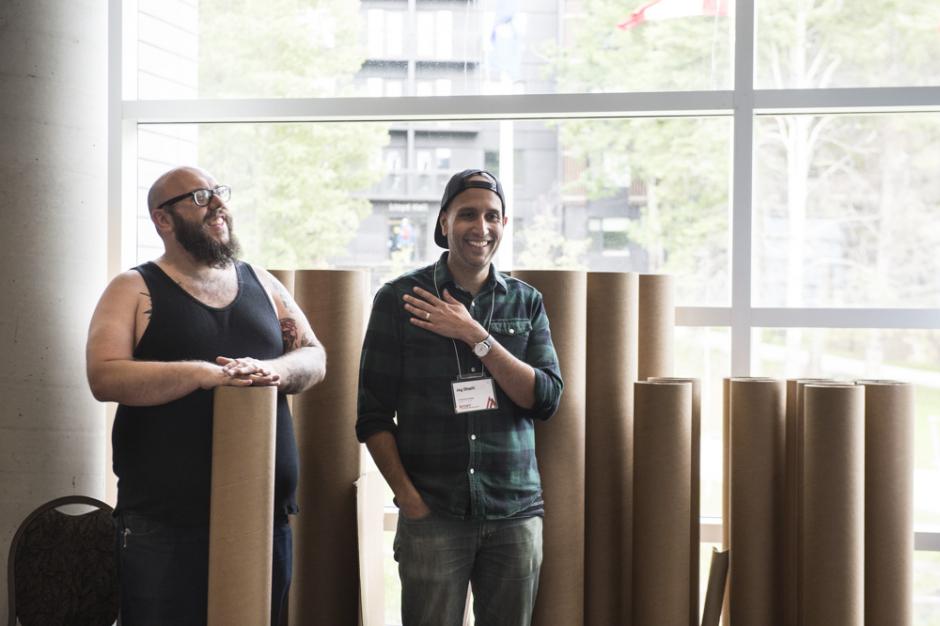 Overview
The pace and complexity of organizational life is increasing. Organizations need leaders who can look at challenges in new ways and move beyond old patterns toward solutions. Design thinking opens opportunities for finding ingenious solutions to complex challenges by delivering new insights and radically expanding on ideas that frame both our understanding of a problem and its possible solutions.
Innovative, leading edge companies such as Apple harness the power of design thinking to set themselves apart from competitors. Leading by Design prepares leaders and high performers to create new ideas, leverage unexpected opportunities, and most importantly, to act quickly to effect change with more lasting results.
Leaders attending this program will learn to leverage the power of design thinking to support their leadership and the goals of their organization. You will gain new skills to inspire innovation and guide you in leading others tasked to deliver on your organization's vision.
What does the program offer?
Identify who you are trying to serve and understand their needs
Build empathy and a context to explain how those you serve act and why they do what they do 
Create and execute on new and unexpected ways to solve your challenges 
Put your ideas into the world faster so you can learn about their strengths and weaknesses 
Increase the overall speed and impact of project initiatives
Create a bias for action in your organization 
Learn by doing – try it, prototype it, and improve it 
Generate new insights and solutions through the use of a new toolkit to help your team think collaboratively and work on projects together
Who should register?
This program is an ideal fit for those who are responsible for a permanent or project-based team that serves internal or external partners within the private, public, or not-for-profit sector.
Please note, our programs are filled on a first come, first served basis. Please register early to secure a confirmation of your spot.
About Banff Centre Leadership Programs
Banff Centre Leadership programs integrate the power of the arts, the wisdom of Indigenous practice, and the extraordinary beauty of Banff National Park to prepare and empower the next generation of leaders.
Programs help participants bring creative and reflective approaches to a rapidly changing world, and connect leaders with others who share their commitment to positive change in Indigenous communities, businesses, non-profit organizations, cultural institutions, and government.
What's Included
All Leadership participants who choose the Accommodation and Meal Package are provided private rooms with ensuite washrooms in one of our two onsite hotels, the Professional Development Centre or Lloyd Hall. Room upgrades may be available upon request at an additional cost.
All of your meals from the start to the end of your program are included; most of your meals will be at Vistas Dining Room, but there may be some special dining events scheduled as well. Please also feel free to visit the Maclab Bistro, Le Café, Three Ravens Restaurant and Wine Bar, but note that these outlets are not included in your meal plan, and thus will be at additional cost.
The Sally Borden Fitness and Recreation Centre is located in the lower floor of the Sally Borden Building, and provides all guests with access to our swimming pool, hot tub, steam room, climbing gym, fitness centre, spin studio, and gymnasium. Massage and physiotherapy appointments may also be booked ahead of time.
Enjoy free parking, wifi, and access to the Walter Phillips Gallery while you are a guest at Banff Centre. Our Participant Resources team is also available to assist you with medical support or event information. See our Events Calendar to learn more about what's going on at Banff Centre while you're onsite.
Fees & Financial Assistance
Additional nights' accommodation are available; please contact us for details.
The above fees do not include applicable taxes, such as GST, the Alberta Tourism Levy, and the Tourism Improvement Fee as needed.
Group Savings
Enroll four members of your organization or community in a program and your fifth member will receive a free tuition. Special restrictions may apply. 
Financial Assistance
Financial Assistance may be available to subsidize some of the costs to attend your program.
Funding opportunities Call our toll-free number for more details at 1.888.255.6327
How to Apply
All programs, faculty, dates, fees, and offers of financial assistance are subject to change. Program fee is subject to applicable taxes. Non-refundable fees and deposits will be retained upon cancellation. Any other fees are refunded at the discretion of the Banff Centre.
Contact us

For more information please contact: