Learn more about Banff Centre's COVID-19 Vaccination Requirements and on-campus measures here.
Please subscribe to our mailing list to keep informed on upcoming programs.
Program Information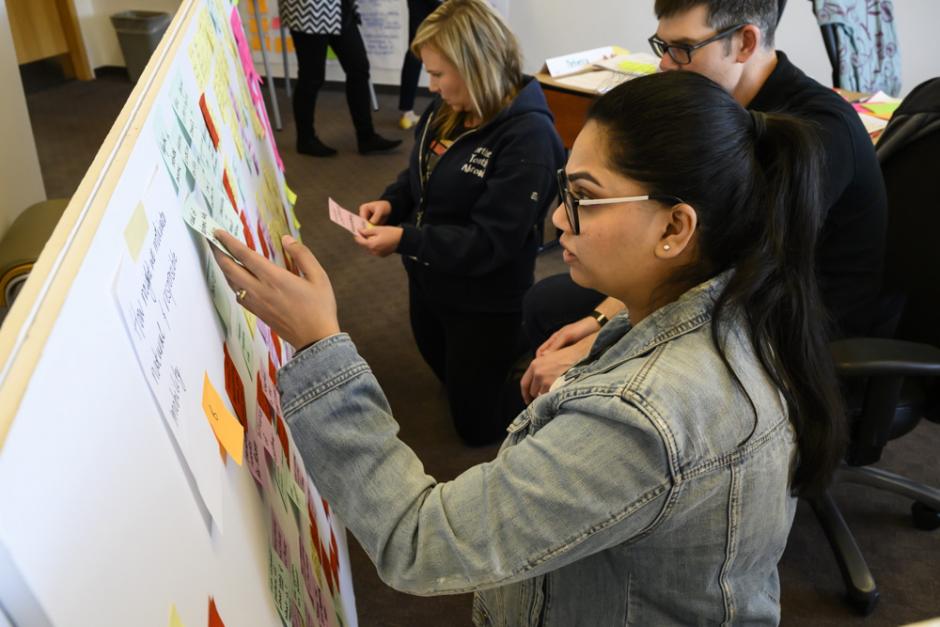 Overview
The challenges we face in our work are increasingly complex, cultural, and dynamic – and they demand courageous, creative responses. To make a real difference, leaders must stretch beyond conventional answers to bring about new solutions that people want to be part of. Leadership opportunities arise from the ability to focus on the possible, the potential, and the promising – rather than on the correct, the complete, or the certain – and from learning to create what's next. 
In this program, experience a design thinking process first-hand to develop the mindsets and methodologies that have sparked many of the world's most engaging experiences, successful initiatives, and entrepreneurial solutions. Develop practices for exploring system-level challenges more deeply and building the confidence to respond in ways that both delight and deliver value to those you serve. 
What does the program offer?
Challenge assumptions and ask better questions to move beyond old patterns and radically expand the set of possible responses
Gain insight into the motivations, aspirations, and behaviours of those you serve, e.g., your stakeholders, customers, or citizens 
Increase your comfort with uncertainty and suspend decision-making while continuing to move forward; test and refine ideas before investing in execution
Apply visual tools to collaborate on shaping ideas
Use techniques that build team relationship for creativity and growth mindsets
Practice an intense, immersive approach to tackling challenges to experience the "flow-state" that comes from letting go of control – sharing ideas before ready, learning by doing, and trusting the creative process 
Create new things that resonate and fit with peoples' lives, and in so doing, provide more meaningful experiences and achieve greater impact 
Practice inclusivity by engaging diverse perspectives in shaping both opportunities and solutions, and allowing the best ideas to emerge from the intelligence of the whole 

 
Who should register?
This program is an ideal fit for those who work in complex environments and want to create new responses to the challenges and opportunities they see. It will resonate with those who serve internal or external clients, partners, constituents, or beneficiaries within the private, public, or not-for-profit sector. 
Leading by Design will be most powerful for those who come to the program with a sense of what can be gained from challenging assumptions. It is not for those who don't want to work intensely and collaboratively with others.  
About Banff Centre Leadership Programs
Banff Centre Leadership programs integrate the power of the arts, the wisdom of Indigenous practice, and the extraordinary beauty of Banff National Park to prepare and empower the next generation of leaders.
Programs help participants bring creative and reflective approaches to a rapidly changing world, and connect leaders with others who share their commitment to positive change in Indigenous communities, businesses, non-profit organizations, cultural institutions, and government.
What's Included
All Leadership participants who choose the Accommodation and Meal Package are provided private rooms with ensuite washrooms in one of our two onsite hotels, the Professional Development Centre or Lloyd Hall. Room upgrades may be available upon request at an additional cost.
All of your meals from the start to the end of your program are included; most of your meals will be at Vistas Dining Room, but there may be some special dining events scheduled as well. Please also feel free to visit the Maclab Bistro, Le Café, Three Ravens Restaurant and Wine Bar, but note that these outlets are not included in your meal plan, and thus will be at additional cost.
The Sally Borden Fitness and Recreation Centre is located in the lower floor of the Sally Borden Building, and provides all guests with access to our swimming pool, hot tub, steam room, climbing gym, fitness centre, spin studio, and gymnasium. Massage and physiotherapy appointments may also be booked ahead of time.
Enjoy free parking, wifi, and access to the Walter Phillips Gallery while you are a guest at Banff Centre. Our Participant Resources team is also available to assist you with medical support or event information. See our Events Calendar to learn more about what's going on at Banff Centre while you're onsite.
Fees & Financial Assistance
Additional nights' accommodation are available; please contact us for details.
The above fees do not include applicable taxes, such as GST, the Alberta Tourism Levy, and the Tourism Improvement Fee as needed.
Group Savings
Enroll four members of your organization or community in a program and your fifth member will receive a free tuition. Special restrictions may apply. 

Financial Assistance
Financial Assistance may be available to subsidize some of the costs to attend your program. We encourage you to apply for funding if your attendance is dependent on financial support. Over two thirds of our program participants receive funding. Canada Council Travel Grants and Canada-Alberta Job Grants (or provincial job grants) are also an option to apply for to support your attendance.
Funding opportunities Call our toll-free number for more details at 1.888.255.6327
How to Apply
All programs, faculty, dates, fees, and offers of financial assistance are subject to change. Program fee is subject to applicable taxes. Non-refundable fees and deposits will be retained upon cancellation. Any other fees are refunded at the discretion of the Banff Centre.
Banff Centre reserves the right to cancel a program up to seven days prior to program start date if there is insufficient enrolment. All fees will be refunded. Please note that Banff Centre is not liable for any personal/travel expenses incurred.
Please note, our programs are filled on a first come, first served basis. Please register early to secure a confirmation on your spot. 
Contact us

For more information please contact: