On-Campus Programs between January and March 2021 will be either canceled or shifted online. Participants who applied to in-person programs will be contacted directly. Programming that had been planned for online delivery will continue as anticipated.
---
To hear about upcoming online programs, subscribe to our mailing list.  We are pleased to roll out our new student system and application experience. If you have any questions or feedback, please contact admissions@banffcentre.ca.
Program Information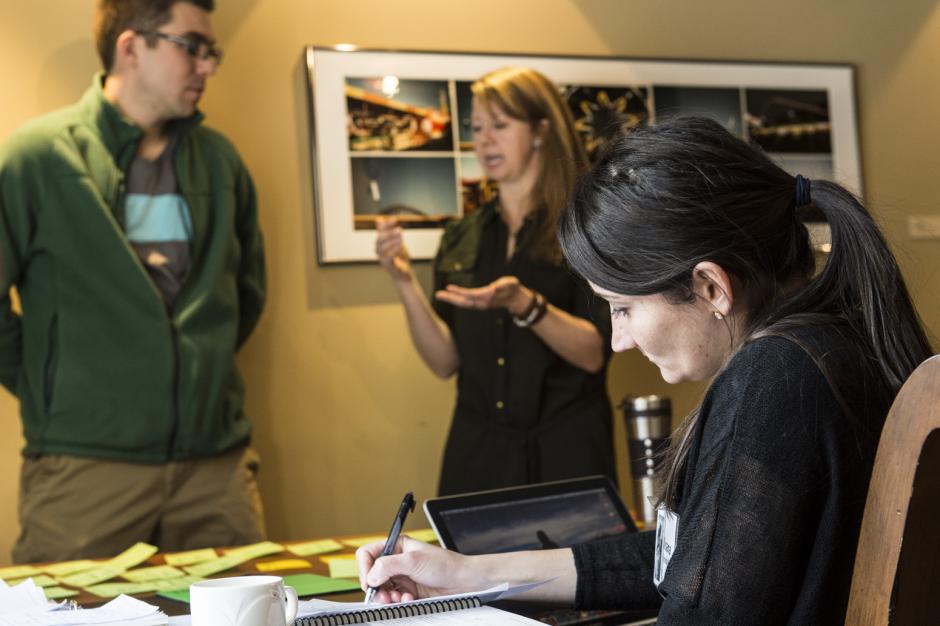 Overview
Leading a successful organization or organizational initiative requires a structured approach in shaping and implementing new business models. As strategic leaders, you face mounting challenges in understanding customers, tackling financial uncertainty, grappling with the speed of change, sourcing talent and navigating new sources of competition.  The need to understand dynamic interrelationships between the integral resources and capabilities of your organization and the ever-changing business environment is greater than ever before. To advance the mission of your organization, you will need to develop an appreciation and an aptitude for decision making under complex conditions, and often, uncertain circumstances.
In this program, you will develop and sharpen the skills you need to create and implement strategies for your organization. By learning to apply business modelling frameworks, and by experiencing rich creative- and simulation-based learning processes, you will develop a masterful perspective of strategic leadership and expand and strengthen decision making skills critical to addressing 21st century challenges. 
What does the program offer?
In this program you will:
Learn to employ the practices and processes of strategic analysis, strategy formulation, and implementation required to address your specific organizational challenge and/or opportunity;
Learn to apply practical tools for understanding your customers more deeply in order to design and deliver better value propositions;
Engage in the critical art of anticipating and adapting to uncertainties;
Understand your organization's unique resources and capabilities as well as the areas that need attention to meet the demands of an uncertain environment;
Critically deepen your own leadership approaches to strategy, and understand how personal values, experiences, and biases in decision making affect strategy formulation and execution.
You will take away from the program:
Enhanced capability for strategic thinking and decision making;
An appreciation of strategy as a continuous living process;
An expanded repertoire of tools for business modelling and strategic analysis;
A lasting relationship network.
Special program features:
An action learning curriculum designed to move your specific organizational challenge or opportunity forward during the program.
A pre-course module comprising self-studying the course materials and completing assignments. 
One-on-one sessions to accelerate learning, insights and progress towards your strategic challenge or opportunity.
Opportunity to share your strategy challenges and to engage in lively debate over the new concepts, practices and ideas with a highly experienced, educated, and diverse peer group.
Hands-on case study to practice new techniques, frameworks, and tools.
Who should register?
You are an experienced mid to senior, or executive level, leader from any private, public, or not-for-profit organization who is preparing or responsible for leading strategy for the organization.
Presented as part of the Peter Lougheed Leadership Program,
a partnership with the University of Alberta.
What's Included
All Lougheed Leadership participants are provided private rooms with ensuite washrooms in one of our two onsite hotels, the Professional Development Centre or Lloyd Hall. Room upgrades may be available upon request at an additional cost.
All of your meals from the start to the end of your program are included; most of your meals will be at Vistas Dining Room, but there may be some special dining events scheduled as well.  Please also feel free to visit the Maclab Bistro, Le Café, Three Ravens Restaurant and Wine Bar, but note that these outlets are not included in your meal plan, and thus will be at additional cost.
Enjoy free parking, wifi, and access to the Walter Philips Gallery while you are a guest at The Banff Centre. Our Community Services team is also available to assist you with medical support or event information; see our Events Calendar to learn more about what's going on at The Banff Centre while you're onsite.
The Sally Borden Fitness and Recreation Centre is located in the lower floor of the Sally Borden Building, and provides all guests with access to our swimming pool, hot tub, steam room, climbing gym, fitness centre, spin studio, and gymnasium. Massage and physiotherapy appointments may also be booked ahead of time.
Fees & Financial Assistance
The above fees do not include applicable taxes, such as GST, the Alberta Tourism Levy, and the Tourism Improvement Fee as needed.
Group Savings
Enroll four members of your organization or community in a program and your fifth member will receive a free tuition. Special restrictions may apply.


Post-Program Coaching
Post-Program Coaching with a certified coach is available for this program for an additional fee.



Financial Assistance
Financial Assistance may be available to subsidize some of the costs to attend your program.
Funding opportunities

Call our toll-free number for more details at 1.888.255.6327
Contact us

For more information please contact: