Applications are now open for Spring/Summer 2024 programs. For Fall 2024 progams onwards you can sign up to the Newsletter to receive an alert when applications open.
Questions please contact the Admissions Office or call 403 762 6180.
Material Transformations
Visual Arts Thematic | In Person
Program Information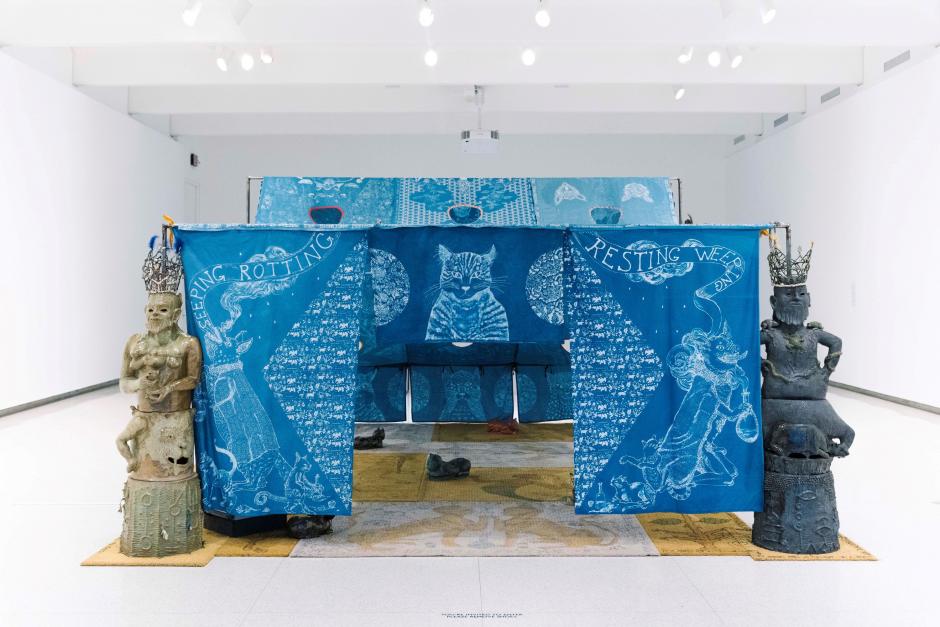 Overview
Material Transformations invites a collective investigation of the radical potential embedded in organic matter. Led by Candice Lin with Mel Y. Chen, Beatriz Cortez, and Kristine Thompson, this residency will think with the histories latent within natural materials used in artistic production, such as the extractive legacies of different insects, minerals, and clay. Open to visual artists working across mediums, the program will also look at the way in which plants have been used as modes of healing or resistance to dominant systems of power, examining links between plants, nature conservation, colonial bioprospecting, and discourses of hygiene and eugenics.
Embracing what Mel Y. Chen has described as "queer inhumanisms," Material Transformations questions what constitutes the human and non-human and will explore connections between "matter and mattering."¹  By utilizing natural materials in a variety of modalities that change over time or offer surprising outcomes based on chance, the residency will reflect on de-centred notions of mastery and authorship, opening up the processes of making to aspects of transformation beyond one's artistic control.
Alongside talks and studio visits with faculty and guest lecturers, the program will also incorporate a series of introductory workshops in various materials-based processes which may include natural ink-making; anthotype photography; lost wax bronze-casting; and soda-fired ceramics. Through these collective experiments in material transfiguration, participants will be invited to expand their knowledge in, and through, materials; expressing new relationships to both entangled histories and potential futures.
¹ This phrase is drawn from Jasbir Puar's essay, "I would rather be a cyborg than a goddess": Intersectionality, Assemblage, and Affective Politics, philoSOPHIA: A Journal of Continental Feminism 2, no. 1 (2012): 56.
What Does the Program Offer
Residencies offer a structured program where visual artists, curators, and other arts professionals come together to create work and discuss pertinent themes. Through peer interaction, discussion groups, studio work, formal lectures, and studio visits from world-renowned visiting faculty, artists and curators, participants gain new ideas and insights that can be applied to creative exploration and professional development of their work.
Who should apply?
This residency is for visual artists with an exhibition/publication record who have completed formal training in visual arts at the post-secondary level, or who have equivalent experience and recognition from their peers. Collaborative groups of no more than two are welcome to apply.
For full details on vaccination requirements, masking, safety protocols, and COVID related policies please visit: www.banffcentre.ca/covid-19-measures   
Fees & Financial Assistance
Application fee: $65 ($35 for applicants who identify as Indigenous).
Individual group members must pay an additional registration fee of $35 on acceptance.
Financial Aid of 100% is available to cover tuition, and 50% is available to offset food and accommodation costs.
Application fees are not refundable.
If you would like to be considered, please complete the Financial Aid section when uploading your supporting materials.
Help fund your experience at Banff Centre. View a compiled list of national and international opportunities here.
Banff Centre will issue official tax receipts for eligible tuition fees and financial assistance and awards as required by the Income Tax Act. You will receive a T2202 (Tuition and Enrolment Certificate) for eligible tuition fees paid and a T4A (Statement of Pension, Retirement, Annuity, and Other Income) for applicable financial assistance and awards.
How to Apply
Collectives: a group leader must complete a single application and upload supporting materials on behalf of the whole group. Visual support materials should be provided for the collective; individual resumes and bios should be provided for each member.
Adjudication
Participants are selected by impartial adjudicators on the basis of their submitted material. In addition to artistic merit, consideration will be given to the likelihood that the artist's work will benefit from the program.  
Please note, application fees are non-refundable and go towards supporting the review of each program application and the adjudication process. All submitted applications are reviewed by a panel of adjudicators, and due to the competitive nature of Banff Centre's programs, we do not provide feedback on applications or guarantee acceptances into programs. All applicants will be notified of their application status via email following adjudication.
All programs, faculty, dates, fees, and offers of financial assistance are subject to change. Program fee is subject to applicable taxes. Non-refundable fees and deposits will be retained upon cancellation. Any other fees are refunded at the discretion of the Banff Centre. The application deadline is 11:59 p.m. Mountain Standard Time.