Applications are now open for Spring/Summer 2024 programs. For Fall 2024 progams onwards you can sign up to the Newsletter to receive an alert when applications open.
The Application and Payment systems will be closed from the 20th December to 3rd January as part of the Institutional Holiday Closure. SlideRoom will remain open for portfolio submissions.
Questions please contact the Admissions Office or call 403 762 6180.
Program Information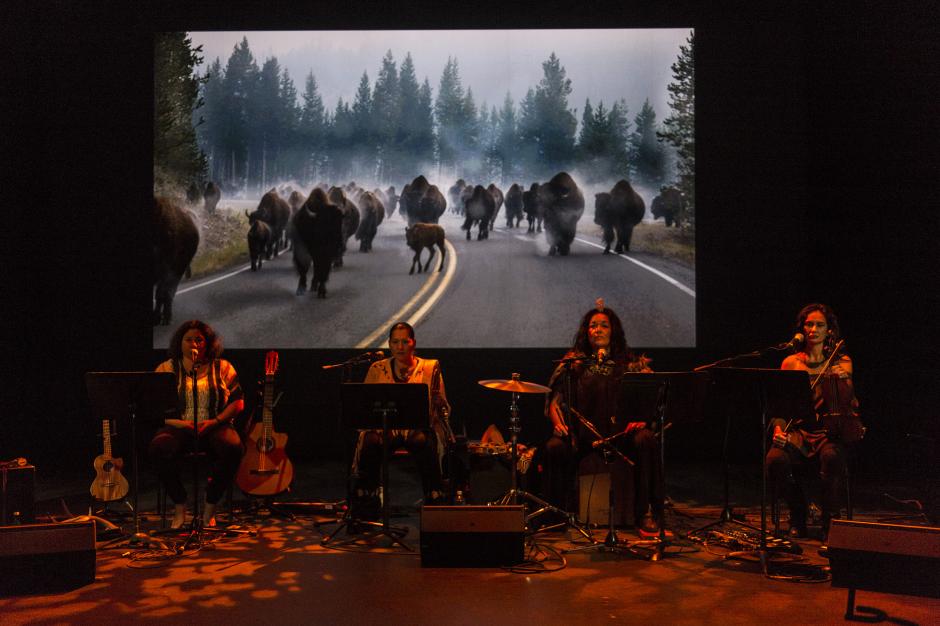 Overview
The world of digital media is evolving at a rapid rate, whether it be through augmented or virtual reality, coding, programming, web applications, gaming, podcasting, vlogging – and the list goes on. Mixed Media Arts 101 seeks to address the growing digital literacy chasm that can reflect socioeconomic trends. The residency will deliver focused, intimate workshops in various knowledge "pods" that explore innovations in digital media.  
The program is an opportunity for global Indigenous artists in all disciplines to access digital literacy training. The aim is to develop digital literacy for artists who have not been able to obtain training across select software, hardware, and technology platforms.
In addition to learnings around the production process, Mixed Media Arts 101 will also foster conversations about the social impacts of this changing landscape, digital racial profiling, cultural appropriation, technological elitism, and more.
What does the program offer?
Artists will work with Banff Centre Media and Production staff and with guest faculty to learn from specialists in the following areas: 
Editing (Media Composer, Adobe Premiere)
Video production (camera work, lighting, shooting outdoors/indoors steadicam, green screen)
Audio Post (protocols, location sound, editing of dialogues, voice overs, etc.)
Audio recording (music recording, simple/extensive)
Animation graphics (plug-ins)
Applicants are encouraged to indicate their preferred knowledge pod(s) during the application process.
Who should apply?
This program is an ideal fit for established Indigenous artists who want to enrich their practice by learning how to use new skills to create or enhance a current body of work. Artists who wish to develop a new creative narrative using new technology are encouraged to apply.
Fees & Financial Assistance
Application fee: $35
*Participants accepted to the program will be eligible for up to 100% scholarship of the program fee (shared room). 

Single rooms are available for the upgrade fee at the cost of the participant. 
The program fee includes a shared room and the Full Flex Meal Plan at Banff Centre. Travel to and from Banff Centre is the responsibility of participants.
If you would like to be considered, please complete the Financial Aid section when uploading your supporting materials.
Help fund your experience at Banff Centre! View a compiled list of national and international opportunities here.
How to Apply
Adjudication
Participants are selected by impartial adjudicators on the basis of their submitted material. In addition to artistic merit, consideration will be given to the likelihood that the artist's work will benefit from the program. 
Based on the requested workshops, offerings may be altered to better suit the cohort needs.
Applicants will be notified of their status as soon as adjudication is complete.
Note:
All programs, faculty, dates, fees, and offers of financial assistance are subject to change. Program fee is subject to applicable taxes. Non-refundable fees and deposits will be retained upon cancellation. Any other fees are refunded at the discretion of the Banff Centre.