On-Campus Programs between January and March 2021 will be either canceled or shifted online. Participants who applied to in-person programs will be contacted directly. Programming that had been planned for online delivery will continue as anticipated.
---
To hear about upcoming online programs, subscribe to our mailing list.  We are pleased to roll out our new student system and application experience. If you have any questions or feedback, please contact admissions@banffcentre.ca.
Please note, this program is now full and we are accepting waitlist applications. For inquiries, contact: Registrar_Theatre@banffcentre.ca.
Program Information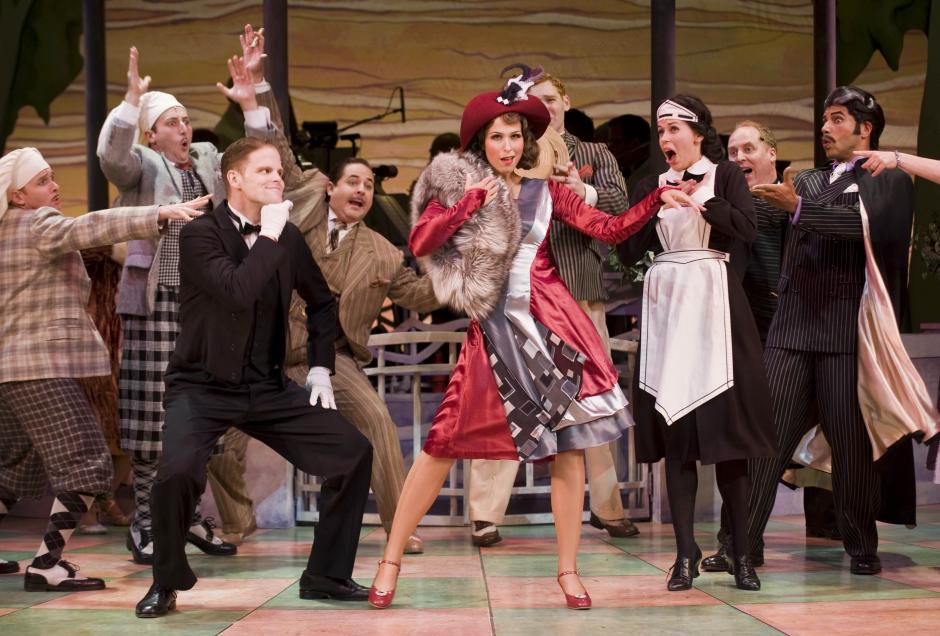 Overview
Theatre Alberta, Alberta Playwrights' Network, and Banff Centre for Arts and Creativity are proud to welcome Bob Martin and Lisa Lambert, creators of the award-winning musical The Drowsy Chaperone, for a master class in Musical Theatre Creation. 
We are in a new golden age of musical theatre. Writers and composers are exploring daring topics, forms, and styles. This three-day workshop will provide playwrights and theatre creators with tools and insights that can be applied to their own writing practice, and an opportunity to learn about Martin and Lambert's' unique and collaborative style of musical theatre creation.
Long-time collaborators Martin and Lambert created The Drowsy Chaperone with writer Don McKellar and composer Greg Morrison. The play opened on Broadway in 2006 and went on to receive multiple Tony and Drama Desk awards, including awards for both book and score. 
What does the program offer?
Participants in Musical Theatre Creation will learn methods and practice skills necessary for creating original work. Topics will include the relationship between book writer and lyricist, the importance of identifying and embracing a personal writing process, and original works versus adaptations (and the challenges that each pose). Participants are asked to bring work-in-progress material to discuss and to receive feedback from the instructors.
Who should apply?
This program is intended for experienced playwrights and theatre creators with a strong interest in musical theatre creation. Individual artists, as well as those working as part of writing teams, are welcome to apply. Songwriting experience is an asset but not a requirement. Please note that this class will not cover musical composition.
Artists residing outside Alberta will be required to pay an out-of-province fee of $100.
This master class is presented by Theatre Alberta, Alberta Paywrights' Network and Banff Centre for Arts and Creativity as part of Theatre Alberta's Workshops by Request: Rocky Mountain Series.
What's Included
When applying, choose between staying in a single or a shared bedroom on the Banff Centre campus for the duration of your program.
Get connected with other artists on campus and focus on your projects in a creative environment while we take care of the day-to-day essentials.
Using a credit-based system to dine on campus, our flexible meal plans allow you to select meals according to your own needs during your stay.
Packages include the Full Flex meal plan, which includes $38 credit per day, equivalent to breakfast, lunch, and dinner in Vistas Dining Room.
Enjoy special artist rates for ticketed performances or complimentary access to events.
Enrich your experience and get to know other artists on campus by taking advantage of the activities and support provided by our Participant Resources team.
Fees & Financial Assistance
*Room Packages listed above include the program fee. The above Room Packages are based on a four-night stay at Banff Centre for Arts and Creavity.
A non-refundable registration fee of $135 will be charged upon registration. Banff Centre reserves the right to cancel a program up to seven days prior to program start date if there is insufficient enrolment. If the program is cancelled, all registrants will receive a full refund of any program fees paid. Banff Centre is not liable for any personal/travel expenses incurred. 
Current Theatre Alberta members who are residents of Alberta can apply for financial assistance to cover 25% to 75% of the tuition fee, to apply please visit: http://www.theatrealberta.com/scholarship-request-wbr/ or contact andy@theatrealberta.com 
How to Apply
Adjudication
This program is not juried but is intended for experienced playwrights and theatre creators with an interest in musical theatre. Participants are expected to have an idea for a new musical they'd like to create, in any stage of development. If you have questions about whether this program is right for you, please contact the Office of the Registrar.
All programs, faculty, dates, fees, and offers of financial assistance are subject to change. Program fee is subject to applicable taxes. Non-refundable fees and deposits will be retained upon cancellation. Any other fees are refunded at the discretion of the Banff Centre. The application deadline is 11:59 p.m. Mountain Standard Time.