New Fundamentals: Leadership for the Creative Ecology
Program Information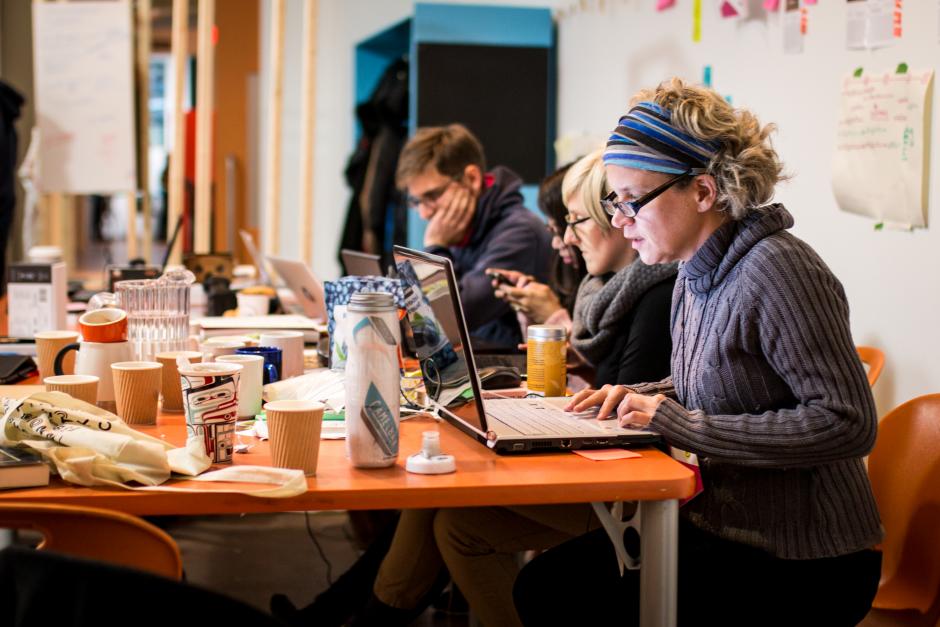 Overview 
The creative sector is going through a period of profound transformation. However, models and approaches to leadership are often slow to respond. New Fundamentals is a program for leaders committed to creating the future of their sector by drawing on the strengths and unique qualities of creative work. Leaders will work with emerging leadership models to develop and shape how creative work will happen in the face of some of the sector's future challenges which include increased connections to other sectors, a shift to digital creation and consumption, greater diversity in audiences and creators, and a lack of a clear path forward. 
The program consists of: 

Residency #1: March 15 - 19, 2016 (hosted in Banff);  
Residency #2: November 6 - 10, 2016 (hosted in Banff);
Online engagement over nine months (in your own work environment). 
Through the program, leaders will advance personal, institutional, and community objectives using models that are aligned with the unique qualities and characteristics of the creative sector.
Based on over a year of engagement with leaders across Canada and almost 80 years of developing creative professionals at The Banff Centre, New Fundamentals is a commitment to building the collective capacity of a critical sector.
New Fundamentals will prepare creative and cultural leaders to build new institutions and renew existing institutions. Renewal will support more and better creative jobs, higher quality and more representative product, and a sector that contributes to societal issues that affect everyone
As a global leader in developing interdisciplinary creative professionals, The Banff Centre is an ideal home to build the capacities necessary for mid-career leaders in the creative and cultural sector to compete and succeed.
Applications will be accepted starting on August 1, 2015. Substantial funding is available to offset the costs of the program. Please refer to the 'Fees & Financial Assistance' section on this page.
The New Fundamentals Program is for a leader who wants to: 
Design and support spaces for ideas to emerge and work to happen;
Develop the skills, networks and vision to reshape institutions to engage, educate, and enrich community while applying entrepreneurial skills to thrive financially;
Work with new architectures of collaboration that use small, interdisciplinary teams and rapid prototyping to accelerate learning and discover opportunities in complex, ambiguous environments;
Tell a story in a way that inspires participation, commitment, involvement and scale;
Integrate new perspective and approaches into how he or she does, thinks about and communicates his or her work.
New Fundamentals participants are committed to new approaches and renewal in the cultural sector and have a specific project or initiative that they are motivated (or mandated) to advance. Ideally, the initiative is ambitious and complex in scope, aims to impact a creative and cultural organizations or a social system, and its success will hinge on the support of multiple stakeholders. 
The program spans business models and is intended for leaders in the creative sector. The program will benefits professional working in fields such as: advertising, architecture, design, fashion, film, galleries, museums, music, performing arts, publishing, research and development, software, toys and games, TV and radio, visual and digital art, and video games . 
What are the program outcomes? 
The desired outcomes of the New Fundamentals program can be understood as: 
Meaningful Projects: Projects and enterprises that generate meaningful impacts in advancing cultural and creative goals; 
Capacity and Training: Increased capacity by program participants to support future collaboration and change efforts; 
Stronger Enterprises: Increased impact of investments made to support creative and cultural activities; 
New Approaches: Successes will be seen and adopted by others, creating broader changes in the system; 
New Stories: Broadcast of stories and successes through The Banff Centre and other broadcast channels. 
New Fundamentals will equip participants to make a meaningful difference for their organization, their community and themselves. 
What does the program offer? 
In this program, there will be a focus on: 
Scenarios: Scenarios allow the cohort to examine research and cases across sectors in order to step outside the conventional wisdom about how and why new models emerge. 
Creation: You will learn techniques to facilitate effective co-creation through problem-oriented and interdisciplinary approaches that support revolutionary solutions to complex and intractable issues. 
Networking: Networking is much more than exchanging business cards. Tapping into the collaborative potential across communities will be a core activity of the program.
Action: Learn through experimentation and performance with real projects and making meaningful progress to share with your workplace. 
Guided Field Work: System actors will act as guides and allies to help participants understand the broader trends and connect with users to generate valuable insights to move forward.
Deep Listening: You will learn the core characteristics of Deep Listening in organizational contexts (reflection on practice, listening to the stories that are told and being alert to the stories are not being told and investing in building relationships, networks and communities). 
Social, economic and cultural institutions are struggling to adapt to the rapid pace of change and increasing complexity of society. The design of the program is driven by four key forces that are shaping the creative ecology:
Interdependencies: Current challenges do not reside within existing boundaries or domains. Leaders in creative organizations have to balance commercial objectives with non-commercial artistic, social and personal priorities. Simultaneously, they need to support mixed-economy business models while building strong connections inside and outside the sector. 
Digitization: The shift to digital capture and dissemination is challenging existing institutional logics, business models and creative processes. Leaders need to strategically and continuously manage organizational boundaries. Digital disintermediates creative activity. 
Diversity of Interests: We live in a world defined by multiple conceptions of the 'beautiful life'. Compromise or relying on existing power dynamics is unlikely to provide effective solutions. A sector tasked with creating meaning must find leadership approaches that support a plurality of voices. 
Lack of Authentic Models: Too often, leadership and management models have been imposed from outside. Approaches that derived organically within the sector are described as 'wrong' or invalid by outside experts. Leadership needs to draw on the strengths of the sector and the unique activities that define good work. Learning from corporate, entrepreneurial or, other best practices is fine, but assumptions that underpin these approaches must be critically considered. 
National Development Supporter of the Design Phase of the Program: 
 Great-West Life, London Life and Canada Life
What's Included
All Lougheed Leadership participants are provided private rooms with ensuite washrooms in one of our two onsite hotels, the Professional Development Centre or Lloyd Hall. Room upgrades may be available upon request at an additional cost.
All of your meals from the start to the end of your program are included; most of your meals will be at Vistas Dining Room, but there may be some special dining events scheduled as well.  Please also feel free to visit the Maclab Bistro, Le Café, Three Ravens Restaurant and Wine Bar, but note that these outlets are not included in your meal plan, and thus will be at additional cost.
Enrich your experience and get to know other artists on campus by taking advantage of the activities and support provided by our Participant Resources team.
The Sally Borden Fitness and Recreation Centre is located in the lower floor of the Sally Borden Building, and provides all guests with access to our swimming pool, hot tub, steam room, climbing gym, fitness centre, spin studio, and gymnasium. Massage and physiotherapy appointments may also be booked ahead of time.
Fees & Financial Assistance
The above fees do not include applicable taxes, such as GST, the Alberta Tourism Levy, and the Tourism Improvement Fee as needed. 
*Significant financial support is available for this program* 
We understand the challenges in the cultural sector, our goal is to remove financial barriers for all participants where necessary. Please call us to discuss your funding needs: 1-888-255-6327. We also encourage applicants to explore external avenues of support.

The above fee include accommodation and meal package at The Banff Centre for the workshop portions (March 15 - 19, 2016 and November 6 - 10, 2016 in Banff). Travel to and from Banff, AB is the responsibility of each participant. 
Contact the Registrar

For questions on preparing your application, please contact the Office of the Registrar: