Open Space: Opera in the 21st Century
Opera singers, directors, conductors, pianists and administrators
Program Information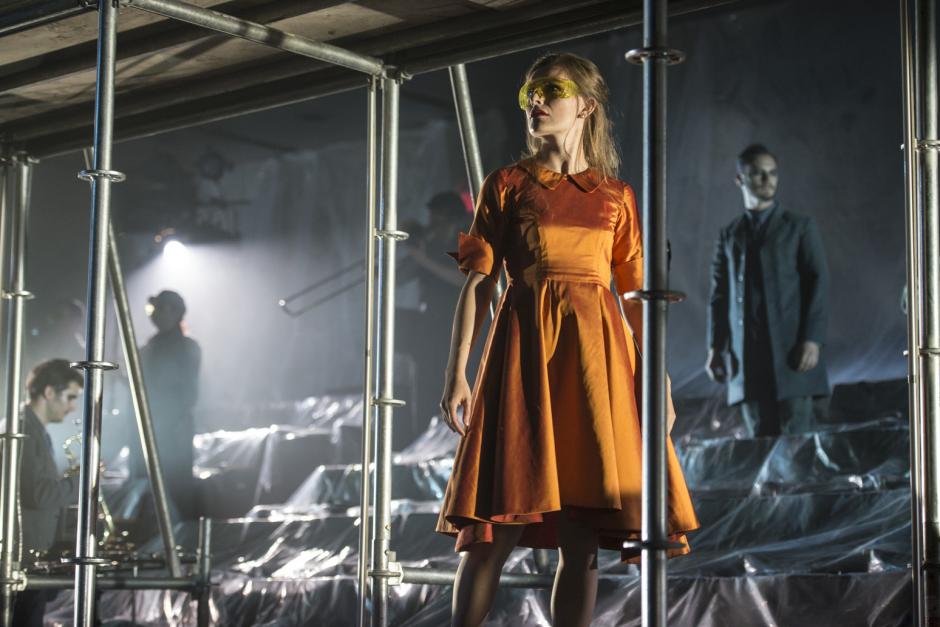 Overview
Open Space is a one-of-a-kind performance-based collaborative training experience for emerging opera professionals that truly challenges the conventions of opera performance, production, and design. The focus of Open Space is to impart the skills of tomorrow to the young opera professionals of today. Open to singers, musicians, dancers, administrators, conductors and stage directors, this is truly a unique opportunity to work with diverse artists in a multi-disciplinary program. The stellar faculty is comprised of Against the Grain artists and other internationally recognized professionals from a variety of backgrounds and disciplines. The program features the unique opportunity for participants to meet and work with Alexander Neef, general director of the Canadian Opera Company, during concentrated career development sessions.
What does the program offer?
The program will accept singers, an assistant répétiteur, an assistant stage director, an assistant conductor and an opera administrator, for a 5-week intensive residency devoted to practical skill extension and development, while participating in rehearsals and performances of a new production of Canadian Claude Vivier's Chamber Opera, Kopernikus directed by program director, Joel Ivany. In addition, the program will feature a semi-staged chamber music program featuring great vocal works from the 20th and 21st century.
The role of the opera administrator will be focused on leadership development, company structure and artist management by working with Banff Centre staff and program faculty, participants and practicums.
Banff Centre's artists will participate in informal conversations, rehearsals, hikes, public performances, and more. All programs include cross-disciplinary collaborations with other Banff Centre artists and programs to influence the development and interpretation of new work. Programming will create rich collaborative relationships and stimulate intense experiences in music-making.
Each week will balance rehearsals, regular performance opportunities in the community, and collaborative skill exchange between faculty and artists.
Productions: Kopernikus - Claude Vivier (1948-1983)
In this 'mystic tale' the central character Agni – named after a Hindu deity – calls on historical and mythical figures: Lewis Carroll, Merlin, a witch, the Queen of the Night, a blind prophet, an old monk, Tristan, Isolde, Mozart, the Lord of the Waters, Copernicus and his mother. 
Is Agni merely dreaming that they are present? Are they no more than figments of her imagination? Or are they memories of the human archetypes that accompanied her during her ritual initiation?  Kopernikus was written by arguably Canada's greatest composer Claude Vivier and will explore themes of loss, longing and reconciliation.
Building on the three years of staged chamber music, Open Space goes even further breaking down the traditional concert format.  We will be enhancing standard chamber music and artsong through stage direction, lighting, costuming and room arrangement.
Who should apply?
Artists who have completed their post-secondary training and who are keen to explore opera and vocal repertoire in a different way. The program offers space for 14 singers, 1 assistant répétiteur, 1 assistant director, 1 assistant conductor and 1 opera administrator.
Partners:
Fees & Financial Assistance
Application fee: $65

*Financial Aid up to 100% of the program fee may be available
If you would like to be considered, please complete the Financial Aid section when uploading your supporting materials to SlideRoom. 
Help fund your experience at Banff Centre! View a compiled list of national and international opportunities here.
How to Apply
Audition Tour
While applicants can submit their application material online, live auditions are equally offered in the following Canadian cities: Montreal, Toronto, Calgary, and Vancouver. Auditions will be held between February 7th and 17th, 2017. Audition slots fill up quickly; do not wait until the last minute to apply!
Audition requirements
Singers must prepare two different arias.  One must be from an opera and one must be from a contemporary composer (born after 1940).  Each audition will be allotted 10 minutes.
Assistant Répétiteurs must prepare one solo piano piece of a dramatic nature, no longer than six minutes, and one vocal selection from a contemporary opera (composer born after 1940).
You must bring two copies of the music with you to the audition. These will be returned to you at the conclusion of your audition. Note: Singers must provide their own accompanist. The audition team may not request all of your prepared pieces.
Assistant Directors, Assistant Conductors and Opera Administrators: please be prepared for a 10 minute interview
You must be available between the hours of 1 PM and 6 PM on the audition day.  You will be contacted with your audition time. 
Please note that all auditions will be filmed and recordings sent to the relevant adjudicators for review.
Confirmed Audition Schedule
Canadian Cities
Vancouver - February 7, 2017
Calgary - February 12, 2017
Toronto - February 14 and 15, 2017
Montreal - February 17, 2017
Adjudication
Participants are selected by impartial adjudicators on the basis of their submitted material. In addition to artistic merit, consideration will be given to the likelihood that the artist's work will benefit from the program.
Applicants will be notified of their status as soon as adjudication is complete.
Note:
All programs, faculty, dates, fees, and offers of financial assistance are subject to change. Program fee is subject to applicable taxes. Non-refundable fees and deposits will be retained upon cancellation. Any other fees are refunded at the discretion of the Banff Centre. The application deadline is 11:59 p.m. Mountain Standard Time.