Program Notice
Online programs coming soon.
We will be offering 14 programs online from September to December 2020, featuring two programs per discipline in Literary Arts, Visual Arts, Music, Performing Arts, Indigenous Arts, and Indigenous Leadership. Details about these programs, including information about applications and admissions, will be available soon.
If you would like to be among the first to know about or new programs, please subscribe to our newsletter. In the meantime, you can browse a sampling of previous programs to learn more about our offerings.
Banff Centre's facilities and spaces remain closed due to the COVID-19 pandemic; we look forward to reopening as soon as it is safe to do so.  If you have any questions about specific programs, please contact registrars_office@banffcentre.ca.
Opera in the 21st Century - Stage Management Training
Program Information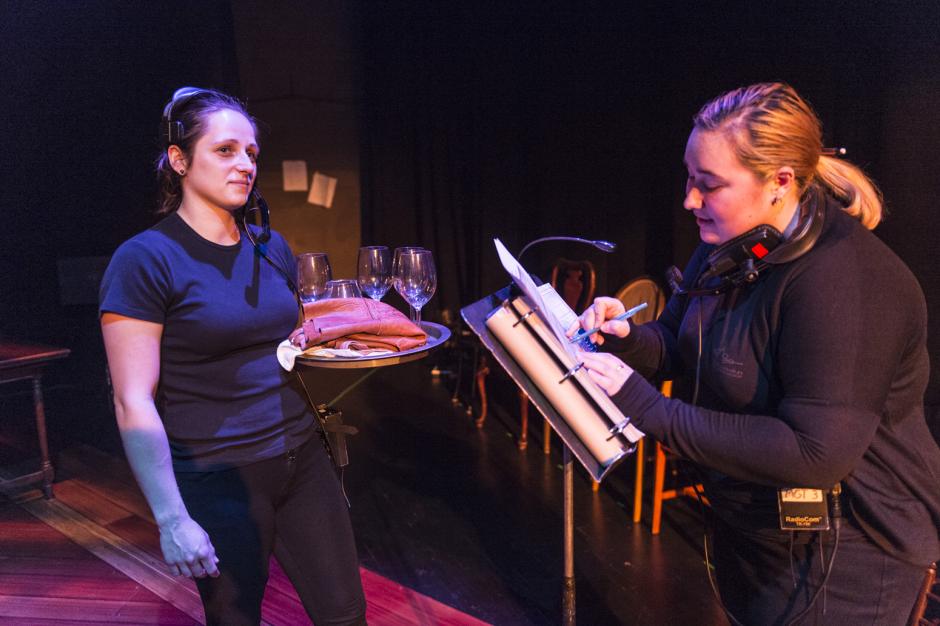 Program Overview
This program caters to emerging and early career stage managers interested in opera and new works. Under the mentorship of Kate Porter, participants will be trained in the essentials required to stage manage opera. Participants will study techniques for stage managing large-scale traditional operas and gain practical experience in the process of developing new opera works. 
Special consideration will be given to emerging and early career stage managers who wish to develop opera stage management skills.
What does the program offer?
Participants will enrich their knowledge in theory and practical applications. Training will include the study of opera scheduling, examination of professional opera stage management archival paperwork, and score preparation and notation. Hands-on participation will vary according to the nature of the Creators Lab, but will include the workshop of a new opera. Other practical opportunities may include stage managing chamber concerts, scheduling, and various other responsibilities related to stage management. 
Participants will be working alongside a stellar faculty comprised of internationally recognized opera professionals, including Opera in the 21st Century's Artistic Director Joel Ivany, as well as the other emerging artist participants.
Who should apply?
Ideal candidates are aspiring professionals with a passion for opera and looking to gain experience in stage management. Candidates from historically underrepresented groups are especially encouraged to apply.
What's Included
Your program fee includes a shared bedroom on the Banff Centre campus for the duration of your program.
Single rooms may be available upon request for an additional fee. Please contact the Office of the Registrar. 
Get connected with other artists on campus and focus on your projects in a creative environment while we take care of the day-to-day essentials.
Using a credit-based system to dine on campus, our flexible meal plans allow you to select meals according to your own needs during your stay.
The Full Flex meal plan includes $41 credit per day, equivalent to breakfast, lunch and dinner in Vistas Dining Room.
Enjoy special artist rates for ticketed performances or complimentary access to events.
Enrich your experience and get to know other artists on campus by taking advantage of the activities and support provided by our Participant Resources team.
Fees & Financial Assistance
Application fee: $65
*Financial Aid up to 100% of the program fee may be available.
Single rooms may be available upon request for an additional fee. Please contact the Office of the Registrar. 
If you would like to be considered, please complete the Financial Aid section when uploading your supporting materials to SlideRoom.
Help fund your experience at Banff Centre! View a compiled list of national and international opportunities here.
How to Apply
Adjudication
Participants are selected by impartial adjudicators on the basis of their submitted material. Finalists will be contacted for a short interview with Faculty, Kate Porter. 
Applicants will be notified of their status as soon as adjudication is complete.
All programs, faculty, dates, fees, and offers of financial assistance are subject to change. Program fee is subject to applicable taxes. Non-refundable fees and deposits will be retained upon cancellation. Any other fees are refunded at the discretion of the Banff Centre. The application deadline is 11:59 p.m. Mountain Standard Time.