Opera in the 21st Century: Singers, directors, conductors
Supported by the David Spencer Endowment Encouragement Fund
Program Information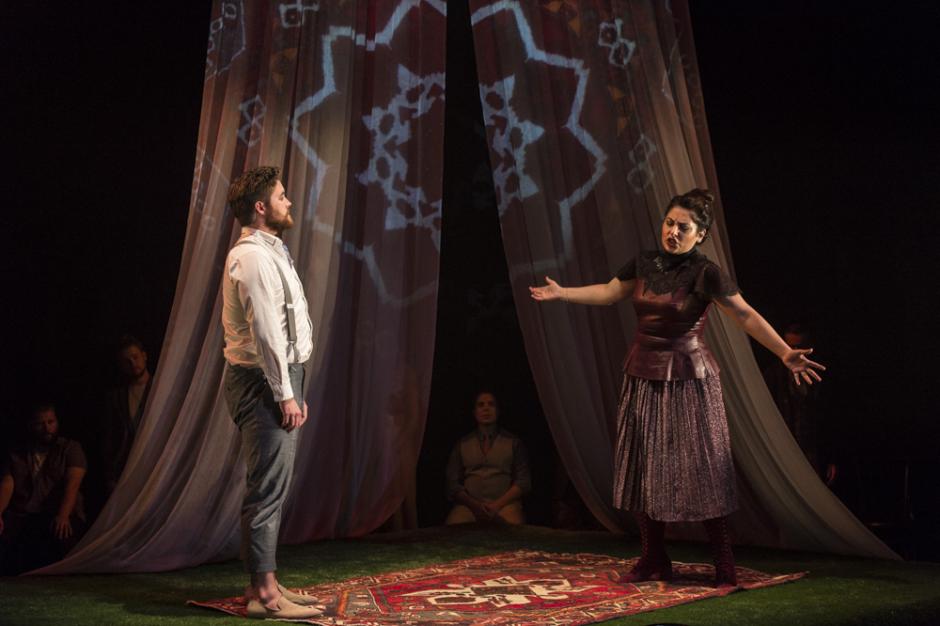 Overview
Opera in the 21st Century is a performance-based, collaborative training experience for emerging opera professionals that truly challenges the conventions of opera performance, production, and design. 
The residency's focus is to develop young opera professionals with the skills and experience to take them to the next level of their careers and beyond. The multi-disciplinary program offers a unique opportunity to work with diverse artists. It is open to singers, instrumentalists, conductors, and stage directors.
What does the program offer?
Opera in the 21st Century is a five-week intensive residency devoted to practical skill extension and development. Singers will participate in rehearsals and performances of No One's Safe (a Mozart Murder Mystery), composed and arranged by Canadian composer Nicole Lizée with stage direction by Joel Ivany. Singers can also participate in a workshop of the new chamber opera Silent Light written by composer Paola Prestini and Canadian librettist Royce Vavrek. In addition, singers will sing in chamber music concerts during the first two weeks of the residency (Opera Pub, community concerts, and others).
The program will also introduce participants to new technologies available to enhance production.
The stellar faculty, led by Joel Ivany, is comprised of Against the Grain artists and other internationally recognized professionals from a variety of backgrounds and disciplines. Nicole Lizée will join the program as Composer-in-Residence, and participants will also work with featured artists-in-residence.
Opera in the 21st Century features the unique opportunity for participants to meet and work with Alexander Neef, General Director of the Canadian Opera Company, during concentrated career development sessions.
Who should apply?
We invite applications from post-secondary students and emerging artists, already at an advanced level of accomplishment and with a well-documented record of artistic exploration. Artists from historically underrepresented groups are especially encouraged to apply. 
The program offers space for 14 singers, two pianists/répétiteurs, two directors, and one conductor.
Partners:
Fees & Financial Assistance
Application fee: $65

*Financial Aid up to 100% of the program fee may be available.
Single rooms may be available on request.
How to Apply
Audition Tour
You must either attend a live audition, 15 minutes maximum, and / or submit a digital video recording(s); details above. Live auditions are offered in the following cities: Montreal, Toronto, Calgary, Vancouver, and New York City. Auditions will be held in October-November 2018. Audition slots fill up quickly; do not wait until the last minute to apply!
Audition requirements: All auditions are 15 minutes maximum. Please bring two copies of your resume. 
Singers: prepare five arias representing diverse languages. At least one must be in English and at least one must be composed in or after 1970. Note: Singers must provide their own accompanist. 
Directors: be prepared for a 15-minute interview.
Conductors: be prepared for a 15-minute interview. Please submit two examples of conducting (performance or rehearsal) filmed within the last twelve months. Please submit one work of yoru choosing performed on yoru primary instrument. 
Audition Schedule
New York City: October 18
Toronto:  October 23-34
Calgary: October 26 
Vancouver: October 27 
Montreal: November 9 (TBC)
Adjudication
Participants are selected by impartial adjudicators on the basis of their submitted material. In addition to artistic merit, consideration will be given to the likelihood that the artist's work will benefit from the program.
Applicants will be notified of their status as soon as adjudication is complete.
Note:
All programs, faculty, dates, fees, and offers of financial assistance are subject to change. Program fee is subject to applicable taxes. Non-refundable fees and deposits will be retained upon cancellation. Any other fees are refunded at the discretion of the Banff Centre. The application deadline is 11:59 p.m. Mountain Standard Time.