On Tuesday May 11 at 4pm MST to Wednesday May 12 at 12noon MST we are performing scheduled maintenance on our student and application system .
You will not be able to start the application process or submit an application during this time, however you will be able to continue with 3 of your application process.: Upload your Materials.
The Student Portal will also be down during this time.
We thank you for your patience. If you have questions, please contact Admissions@banffcentre.ca
To hear about upcoming online programs, subscribe to our mailing list.  We are pleased to roll out our new student system and application experience. If you have any questions or feedback, please contact admissions@banffcentre.ca.
The Paddy Crean International Workshop 2018
Program Information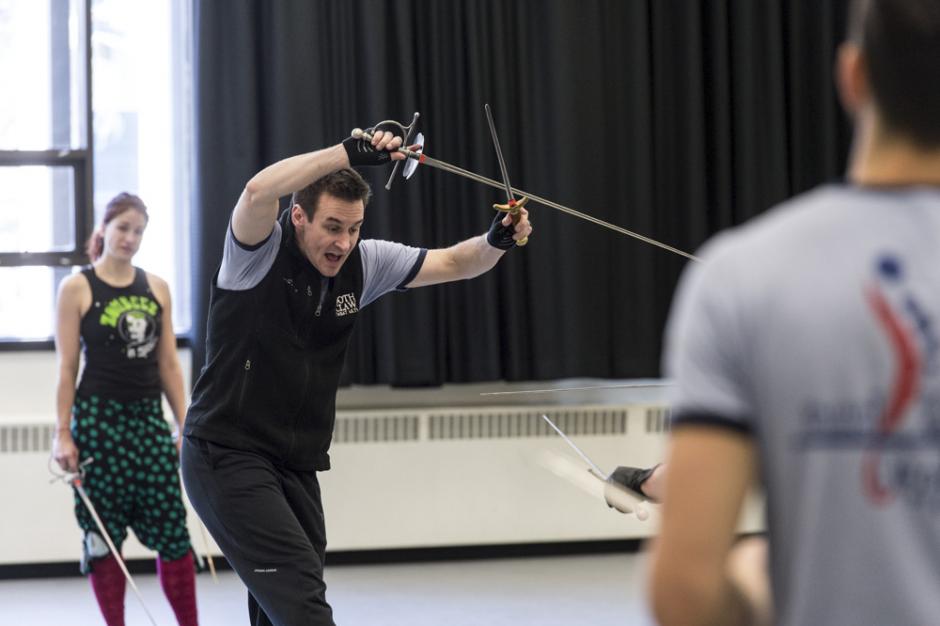 Overview
Hosted by the International Order of the Sword and the Pen (IOSP), this program will explore techniques, processes, theories, and practices as applied to combat for stage, screen, and the martial arts (contemporary and historical). The Paddy Crean International Workshop is IOSP's flagship event, held every two years, where people from around the world gather to share ideas and learn from local and international communities in the spirit of open-mindedness, magnanimity, and curiosity. This year marks the workshop's 20th year at Banff Centre.
This workshop's theme, The Road Ahead, is about looking forward. During the 2016 workshop we reflected on the mentors who helped us build this art form. As we turn to the future, this year we will focus on gender equality and cultural diversity in our industry. This workshop will ask: "Where is this organization and art form going?" We invite you to experience discussions, stage combat, live action, and historical martial arts through this lens as we shape our next steps.
What does the program offer?
Learn from faculty in the following areas of combative and movement arts:
1.    Stage combat and fight direction for live performance
2.    Stunts, combat action, and fights for recorded performance (including motion capture)
3.    HEMA and Western martial arts
4.    Modern martial arts (e.g. but not limited to tactical combat and Eastern martial arts)
5.    Voice and movement for performance (e.g. but not limited to intimacy direction, laban, and biomechanics)
Faculty will share their views on where their discipline is heading, as well as ideas, techniques, and concepts in their respective art form.
 
Who is it for?
Anyone who has at least a passing interest in physical action on film or stage is welcome to apply. The program is designed for beginners and experts to work in tandem, resulting in a mutually beneficial learning experience. 
This workshop is ideal for people of any skill level who are interested in acting, directing, performing stunts, stage combat, practical application of combat techniques, historical and modern martial arts, and any kind of physical theatre.
What's Included
When applying, choose between staying in a single or a shared bedroom on the Banff Centre campus for the duration of your program.
Get connected with other artists on campus and focus on your projects in a creative environment while we take care of the day-to-day essentials.
Using a credit-based system to dine on campus, our flexible meal plans allow you to select meals according to your own needs during your stay.
The Full Flex meal plan includes $38 credit per day, equivalent to breakfast, lunch, and dinner in Vistas Dining Room.
Enrich your experience and get to know other artists on campus by taking advantage of the activities and support provided by our Participant Resources team.
Fees & Financial Assistance
Registration fee: $35
The registration fee and a non-refundable deposit of $200 CDN are payable when you register to secure your place in the workshop.
Workshop Fee Payment Deadline and Cancellation Policy
You must pay the full workshop fee by one month before the start of the program. Banff Centre reserves the right to cancel your place if full payment has not been received by the deadline.
If a participant cancels after paying the full workshop fee, the following cancellation policy will be followed:
•    Before December 15, 2018: Registration fee, deposit, and 50% of workshop fee  is retained.
•    December 16, 2018 or later: Registration fee, deposit, and 100% of workshop fee  is retained.