Applications are now open for Spring/Summer 2024 programs. For Fall 2024 progams onwards you can sign up to the Newsletter to receive an alert when applications open.
Questions please contact the Admissions Office or call 403 762 6180.
Plastic - Online 2021
Visual Arts Thematic Online 2021
Program Information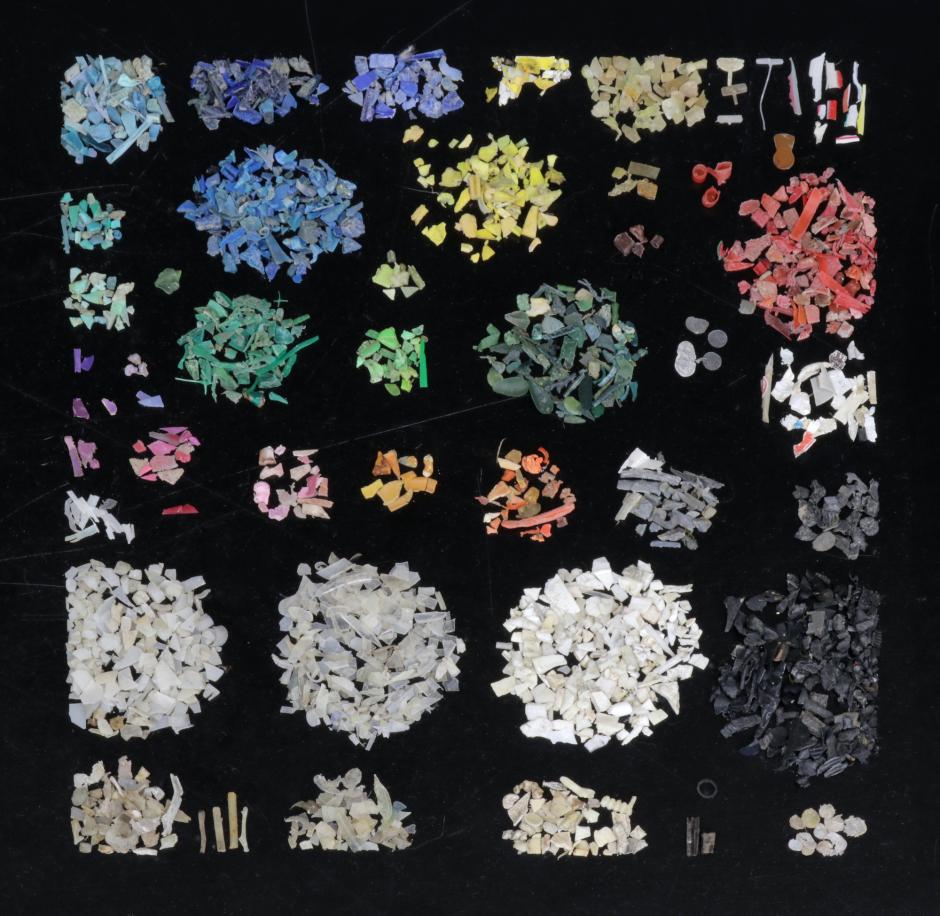 Overview
Plastic is everywhere, and is increasingly an object of environmental concern. However, it also provides the basis of our contemporary infrastructures including buildings, clothing, and communications networks. Despite the necessary campaigns for the elimination of single-use plastics, it is a material that cannot be easily dismissed. Plastic is one of the most intimate manifestations of our connections with oil, as it is used in everything from baby bottles to sex toys. It is also one of the foremost materials used in the production of contemporary art, from molds to vinyl to paints.  
This residency explores how we might reconfigure our relations to plastic, seeing it as a material of potential connection, of resilience, of queer productivity without denying its immediate and devastating environmental consequences. What might happen if we thought of plastic as an incredibly valuable material, rather than as immanently expendable? We invite makers and thinkers to reimagine their relations with this now fundamental material, to explore processes of recycling and reconstituting, and to pay attention to the uneven materialities of plastic and its affordances as an artistic material.
What does the program offer?
This online program will provide a discursive forum for visual artists, curators, and other cultural producers to explore plastic in relation to their work, communities, geographic locations, and current societal conversations. Participants will form an online community of peers; share work with each other and continue work already in progress; partake in online studio visits; participate in conversations, presentations, and workshops; and engage with faculty and each other to develop ideas, insights, and connections that can be applied to the theoretical and practical development of their practice.  Please see the Itinerary section for an approximation of the program schedule. 
What length of residency is available?
This program requires a dedicated commitment over a period of 3 weeks with the understanding that absence from weekly synchronous activities will be minimal and cannot be made up. 
Who should apply?
This residency is open to visual artists, curators, and academics. Applicants should have completed formal training in visual arts or a field related to this program at the post-secondary level, and should demonstrate a history of exhibitions, publications, and projects. Collectives of no more than two people are welcome to apply.
This program is supported by the Gail and Stephen A. Jarislowsky Outstanding Artist Program.
Itinerary
Week July 12-16
Mon morning – Introductions – 10am MST 
Mon afternoon – Lecture by Kelly Jazvac – 1pm MST 
Tues – Artist talks 10am – 12pm MST (15 mins each)
Wednesday – Lecture by Lan Tauzon - 10am MST (Time TBC)
2-4pm MST – Participant drop-in time (no faculty required)
Thurs – Lan Tauzon - 7 studio visits (40 mins with 10 min break) 
Friday morning – Lan Tauzon - 3 studio visits (40 mins with 10 min break) 
Friday afternoon – Workshop with Lan Tauzon, 1-3pm (Time TBC)
Week July 19-23
Monday: 
Group check-in: 10am MST
Lecture by Christina Battle - 1-3pm MST (Date / Time TBC)
Wednesday: 2-4pm – Participant drop-in time (no faculty required) 
Friday: Talk with Synthetic Collective, time TBD
Week July 26-30 
Monday: 
Group check-in: 10am MST 
Lecture by Heather Davis – 1pm MST 
Tuesday 
2-4pm – Participant drop-in time (no faculty required) 
Wednesday and Thursday: Heather Davis studio visits
Friday: Round-up // final thoughts //
Note - Due to the condensed nature of the program, pre-work may be required (readings, and presentation preparation).
What's Included
Group seminars and workshops with faculty.
Online lectures and conversations with faculty
Fees & Financial Assistance
Application fee: $25.00 for each individual or collective. Collectives must pay an additional $25 registration fee for additional members on acceptance. 
Financial Aid of 100% of the tuition fee is available for this program for all accepted applicants.
How to Apply
Collectives: a group leader must complete a single application and upload supporting materials on behalf of the whole group. Visual support materials should be provided for the collective; individual resumes and bios should be provided for each member.
Adjudication
Participants are selected by impartial adjudicators on the basis of their submitted material. In addition to artistic merit, consideration will be given to the likelihood that the applicant's work will benefit from the program.  
Applicants will be notified of their status as soon as adjudication is complete. Note: All programs, faculty, dates, fees, and offers of financial assistance are subject to change. Program fee is subject to applicable taxes. Non-refundable fees and deposits will be retained upon cancellation. Any other fees are refunded at the discretion of the Banff Centre. The application deadline is 11:59 p.m. Mountain Standard Time.