Power and Balance in DisArts
Creative relationship building across difference
Program Information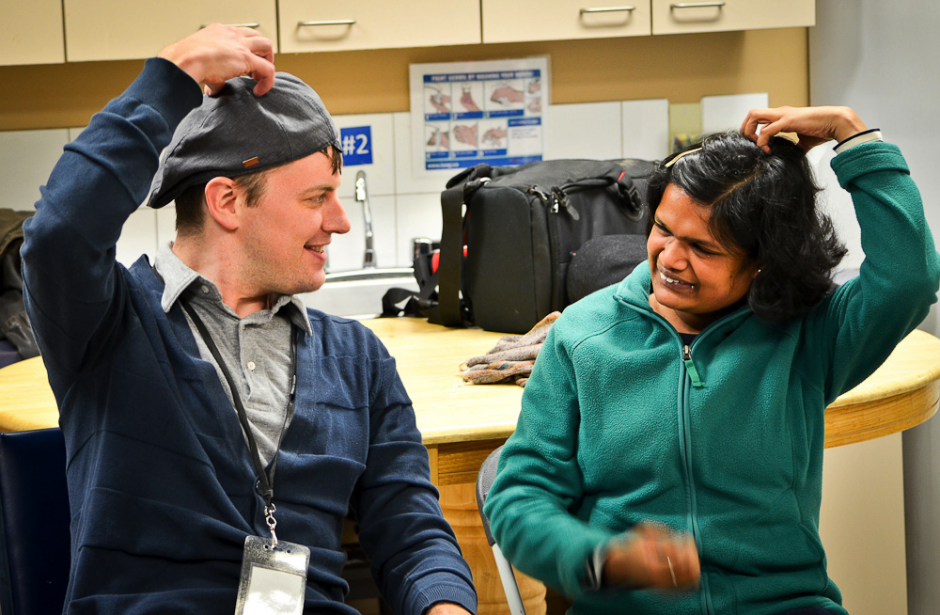 Overview
When artists work on community-engaged projects, each collaborator brings different skills to the table. Theatre practitioners and community members bring a range of experience and training to the work. This presents like a formula for equitable exchange – but is it?
Participants will create a piece that will practically and constructively address questions such as:
How is leadership defined in community-engaged work? 
How is authorship expressed? 
How does considering equitable exchanges inform our future collaborative processes?
 An interactive disability-centred workshop about creating theatre and performance.
What does the workshop offer?
Attendees will learn how to harness the energy of all participants for the creation of truly inspired and engaged DisArts collaborative work.

Who should apply?
This workshop is for theatre and performing artists who identify as disabled and those who do not, as well as community arts facilitators. 
Part of Theatre Alberta's Workshops by Request: Rocky Mountain Series
What's Included
Your program fee includes a single bedroom on the Banff Centre campus for the duration of your program.
Get connected with other artists on campus and focus on your projects in a creative environment while we take care of the day-to-day essentials.
Using a credit-based system to dine on campus, our flexible meal plans allow you to select meals according to your own needs during your stay.
The Full Flex meal plan includes $38 credit per day, equivalent to breakfast, lunch and dinner in Vistas Dining Room.
Enrich your experience and get to know other artists on campus by taking advantage of the activities and support provided by our Participant Resources team.
Enjoy special artist rates for ticketed performances or complimentary access to events.
Fees & Financial Assistance
A non-refundable registration fee of $135 will be charged upon registration.  Banff Centre reserves the right to cancel a program up to 7 days prior to program start date if there is insufficient enrolment. If the program is cancelled all registrants will receive a full refund of any program fees paid. Banff Centre is not liable for any personal/travel expenses incurred. 
*subject to availability. If you are interested in staying at the Banff Centre on the night of February 12, please contact the Office of the Registrar for details and availability. Please note that the shared room option is sold-out.
Current Theatre Alberta members who are residents of Alberta can apply for financial assistance to cover 25-75% of the tuition fee. Visit http://www.theatrealberta.com/rocky2016/ for details on how to apply for financial aid. 
Help fund your experience at Banff Centre! View a compiled list of national and international opportunities here.
How to Apply
For assistance, please contact the Office of the Registrar at 403.762.6180 or 1.800.565.9989 and selection option 6.
While this program is not adjudicated, we request support materials to support program planning and design.
Accessibility for Students with Limited Mobility / Physical Disabilities

Banff Centre is located on the side of a mountain. Our site does present challenges to people with limited mobility. There is ramp access to most buildings (and all buildings this class plans to use). Wheelchair or scooter access routes are shown on the campus map. Wheelchair accessible bedrooms are available. Please inform us of your specific needs and questions during the registration process so that we can fully accommodate your participation.
Other Accessibility Information
Please use Step 2 of the registration form to inform us of any special accommodations you require to facilitate your participation and comfort, this includes accommodation needs, transportation between sites, and in workshop requirements.  Please let us know if you will be travelling with any aides, personal equipment / technology, service animals, and any other items you will be requiring. If you have any questions or concerns please contact the Office of the Registrar at 403.762.6180 or 1.800.565.9989 and choose selection option 6. 
Note: All programs, faculty, dates, fees, and offers of financial assistance are subject to change. Program fee is subject to applicable taxes. Non-refundable fees and deposits will be retained upon cancellation. Any other fees are refunded at the discretion of Banff Centre for Arts and Creativity.