Performing Arts - Theatre
Program Information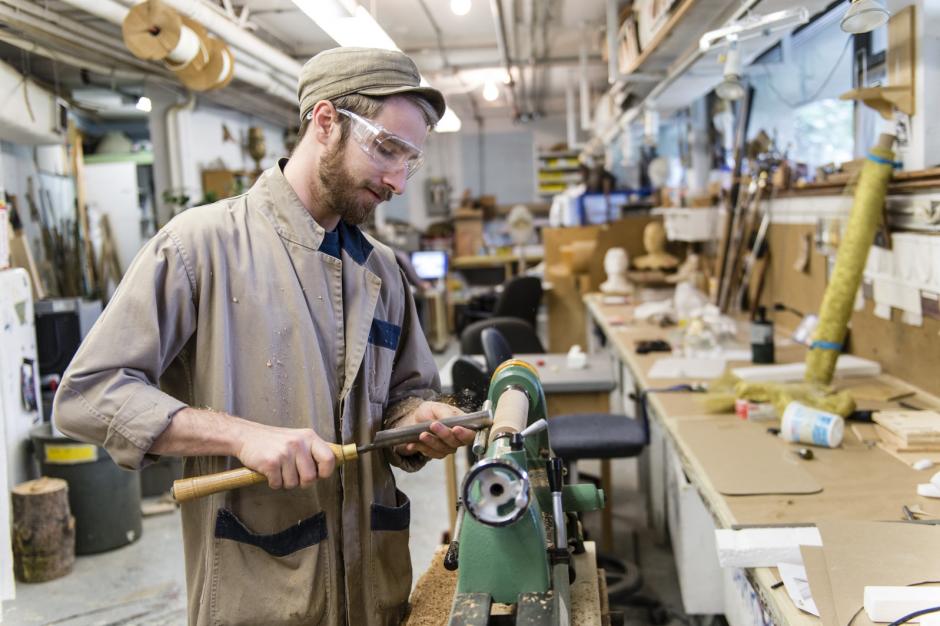 Overview
Practicum participants will examine their core skills and develop those needed by a props builder in today's theatre world. Through collaborative and individual instruction, assignments, and presentations, this program covers a wide variety of techniques.
Specific course content is determined by Banff Centre performance programming, for which participants will take an active part in the creation of props, from design through rehearsals to opening.
What does the program offer?
The core skills of a props artisan are developed based on the needs of each participant. Woodwork, wood turning, the use of various plastics, sewing, painting, sculpting, drawing, and hand and power tool use are covered,  along with materials and techniques used in contemporary practice. 
Additional workshops are often offered in upholstery techniques, materials relevant to theatrical use, sculpting with various materials, and moulding and casting using silicone and urethane rubbers/resins. 
Props practicums are encouraged to engage in workshops hosted by other departments. In the past, millinery, prosthetic makeup, scenic paint, welding, ladder and lift training, life drawing practice, and rope work have been offered as skills of value to props artisans.
Who should apply?
Ideal applicants will have some training and apprenticeship experience as well as an interest in pursuing a career as a props builder.
Applicants should be captivated by creating, not as a solo artist but as part of a collegial group of talented coworkers, and fashioning the supporting elements to a performed piece. Applicants must be able to facilitate a designer's vision and accommodate the changes inherent in the rehearsal process.
What's Included
You are eligible for Banff Centre housing (based on availability). You are responsible for your own room and board costs. Current rates for Banff Centre accommodation are $8.06 / day (shared) or $16.12 / day (single) and will be deducted from the living allowance.
As space is extremely limited, Banff Centre housing is available for practicum participants only. 
You will receive a living allowance of $61 per day.
Note that financial assistance and stipend awards are considered taxable income for Revenue Canada.  
Enjoy special artist rates for ticketed performances or complimentary access to events.
Enrich your experience and get to know other artists on campus by taking advantage of the activities and support provided by our Participant Resources team.
Fees & Financial Assistance
Application fee: $65
*The weekly program fee is covered 100% by financial assistance.
You will also receive a daily living allowance while part of the program (see What's Included for more information).
How to Apply
Start dates for this program may be flexible. Please note your availability in your personal statement. 
Adjudication
Participants are selected by impartial adjudicators on the basis of their submitted material. In addition to technical merit, consideration will be given to the likelihood that the technician's career will benefit from the program. 
Applicants will be notified of their status as soon as adjudication is complete.
Eligibility
International applicants: Government of Canada international visitor visa regulations limit participation to no longer than six months.
All programs, faculty, dates, fees, and offers of financial assistance are subject to change. Program fee is subject to applicable taxes. Non-refundable fees and deposits will be retained upon cancellation. Any other fees are refunded at the discretion of the Banff Centre. The application deadline is 11:59 p.m. Mountain Standard Time.