Performing Arts - Theatre
Program Information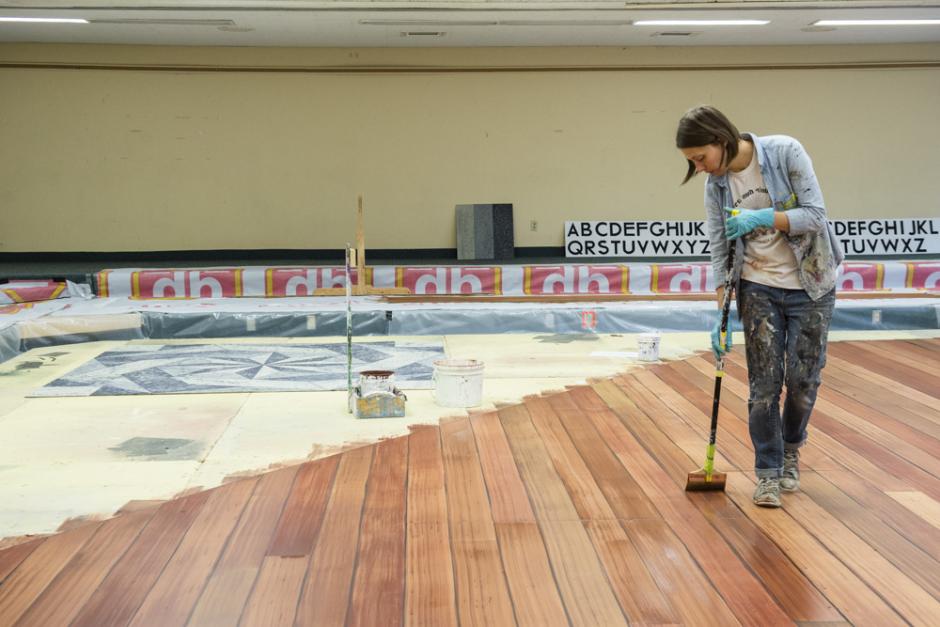 Overview
Under the direction and mentorship of Banff Centre's head scenic artist, practicum participants will learn classic and modern scenic art ideas, processes, tools, and techniques. 
Participants will interpret designer information and translate it into high quality finished surfaces as required for each production, in communication and collaboration with other Banff Centre departments. 
The techniques, styles, materials, and finishes explored will vary due to the nature of the designs. Practicums will also be responsible in part for the organization and maintenance of the Paint department's tools, materials, and spaces (office, workshop, and studio). 
What does the program offer?
Practicums will gain the confidence, knowledge, and practical skills required to work as professional scenic artists. Training may include techniques for coating and painting a variety of hard, soft, and three-dimensional scenery. 
The program may delve into colour matching, texture and pattern reproduction, lettering, layout, distressing, specialty paint tools use, and custom tool creation. We will prioritize health and safety as well as skills for managing scenic art spaces, resources, and timelines.
Work and learning will be well documented and participants will contribute to their portfolios. There is also often flexibility to focus on a practicum's particular topics of interest outside of production based work.
Who should apply?
Ideal applicants will have completed technical theatre or fine art training that included hands-on scenic art practice, or have equivalent work experience. They should have an enthusiasm for scenic art and a curiosity to learn. Demonstrated painting ability, good hand-eye coordination, attention to detail, stamina, excellent colour perception, flexibility, and a positive attitude are all desired attributes.
Accepted applicants must provide steel toed boots, paint appropriate work clothes, and prescription eye wear that will fit under safety goggles (if required). Participants are welcome to bring their own personal tools if desired. 
What's Included
You are eligible for Banff Centre housing (based on availability). You are responsible for your own room and board costs. Current rates for Banff Centre accommodation are $8.06 / day (shared) or $16.12 / day (single) and will be deducted from the living allowance.
As space is extremely limited, Banff Centre housing is available for practicum participants only. 
You will receive a living allowance of $61 per day.
Note that financial assistance and stipend awards are considered taxable income for Revenue Canada.  
Enjoy special artist rates for ticketed performances or complimentary access to events.
Enrich your experience and get to know other artists on campus by taking advantage of the activities and support provided by our Participant Resources team.
Fees & Financial Assistance
Application fee: $65
*The weekly program fee is covered 100% by financial assistance.
You will also receive a daily living allowance while part of the program (see What's Included for more information).
How to Apply
Start dates for this program may be flexible. Please note your availability in your personal statement. 
Adjudication
Participants are selected by impartial adjudicators on the basis of their submitted material. In addition to technical merit, consideration will be given to the likelihood that the technician's career will benefit from the program.
Applicants will be notified of their status as soon as adjudication is complete.
Eligibility
International applicants: Government of Canada international visitor visa regulations limit participation to no longer than six months.
All programs, faculty, dates, fees, and offers of financial assistance are subject to change. Program fee is subject to applicable taxes. Non-refundable fees and deposits will be retained upon cancellation. Any other fees are refunded at the discretion of the Banff Centre. The application deadline is 11:59 p.m. Mountain Standard Time.