Scenic Production Shops Practicum
Program Information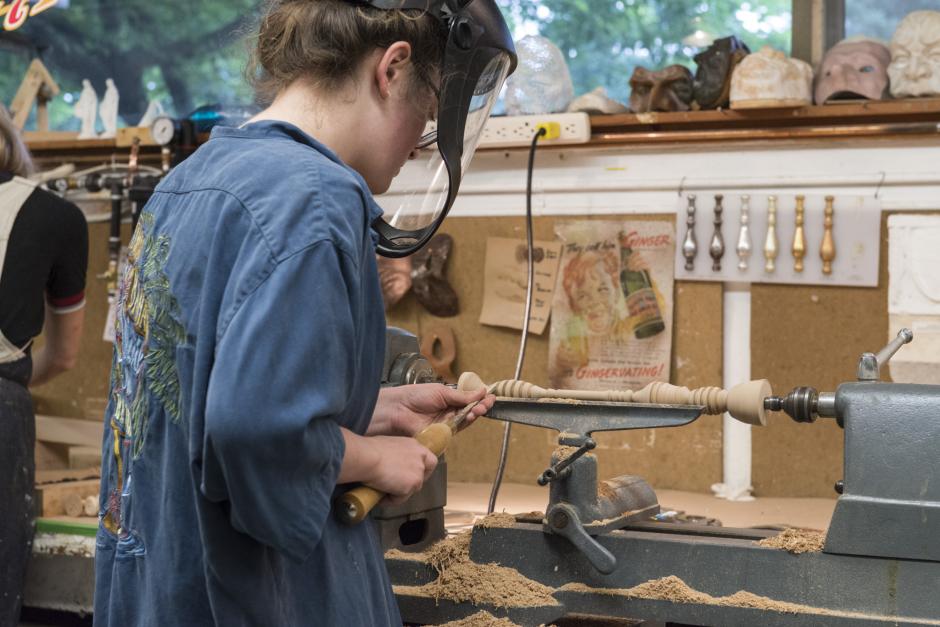 Overview
Expand and enhance your technical skills in projects supported by Banff Centre's Performing Arts production facilities, through the Production Shops Practicum.
In this program, you will develop scenic production techniques through practical experience with carpentry, painting, props building, and shop management and operation.
You will receive mentorship and feedback from the Scenic Shops Facilitator, and assist in the delivery of Performing Arts residency programs and events. You will also learn maintenance and safe operation of equipment, and provide assistance to the Scenic Shops Facilitator in support of artists in residence utilizing the carpentry, welding, paint, and props facilities.
What does the program offer?
Learning opportunities will arise through workshops, demonstrations, instruction, and projects that arise through support for program content. You will determine individual learning objectives and goals in consultation with a mentor at the beginning of the program. 
You will experience hands-on learning in support of projects in Performing Arts residency programs. You will also receive mentorship to strengthen your technical and artistic knowledge, as well as communication, critical thinking, teamwork, leadership and problem-solving skills.
The regular course of study for the Scenic Production Shops Practicum is 8:30 a.m. to 5:30 p.m., Monday to Friday. You will have the opportunity to spend one weekday focused on independent study, while the other four weekdays are dedicated to supporting the Scenic Shops Facilitator, artists in residence, and regular departmental projects.
Who should apply?
Are you looking to develop your skills and capabilities, with an interest in specializing in carpentry, painting, or properties building in a supervisory capacity? We are seeking applicants with formal theatre technical training from an accredited institution, or equivalent work experience with a passionate interest in the performing arts industry. Applicants will be able to demonstrate strong organizational aptitude, flexibility, lift up to 50 lbs, and have an interest in live performance technologies.
Applicants should be able to work with construction materials, including wood, metal, paints, and solvents without any adverse reaction. Basic safety equipment will be provided. Participants will be required to provide their own CSA approved steel toed footwear, appropriate shop clothes (no holes, tears, or fraying), and eye protection (if prescription eyewear is required).
Applicants from diverse backgrounds are encouraged to apply, with a special invitation to individuals of Indigenous descent.
 
What's Included
You are eligible for Banff Centre housing (based on availability). You are responsible for your own room and board costs. Current rates for Banff Centre accommodation are $8.06 / day (shared) or $16.12 / day (single) and will be deducted from the living allowance.
As space is extremely limited, Banff Centre housing is available for practicum participants only. 
You will receive a living allowance of $61 per day.
Note that financial assistance and stipend awards are considered taxable income for Revenue Canada.  
Enjoy special artist rates for ticketed performances or complimentary access to events.
Enrich your experience and get to know other artists on campus by taking advantage of the activities and support provided by our Participant Resources team.
Fees & Financial Assistance
Application fee: $65
*The weekly program fee is covered 100% by financial assistance.
Successful applicants will receive a daily living allowance while part of the program. Practicums are responsible for their own room and board costs but are eligible for subsidized Banff Centre housing based on availability (see What's Included for more information).
How to Apply
Start dates for this program may be flexible. Please note your availability in your personal statement. 
Adjudication
Participants are selected by impartial adjudicators on the basis of their submitted material. In addition to technical merit, consideration will be given to the likelihood that the technician's career will benefit from the program.
Applicants will be notified of their status as soon as adjudication is complete.
Eligibility
International applicants: Government of Canada international visitor visa regulations limit participation to no longer than six months.
All programs, faculty, dates, fees, and offers of financial assistance are subject to change. Program fee is subject to applicable taxes. Non-refundable fees and deposits will be retained upon cancellation. Any other fees are refunded at the discretion of the Banff Centre. The application deadline is 11:59 p.m. Mountain Standard Time.