Program Information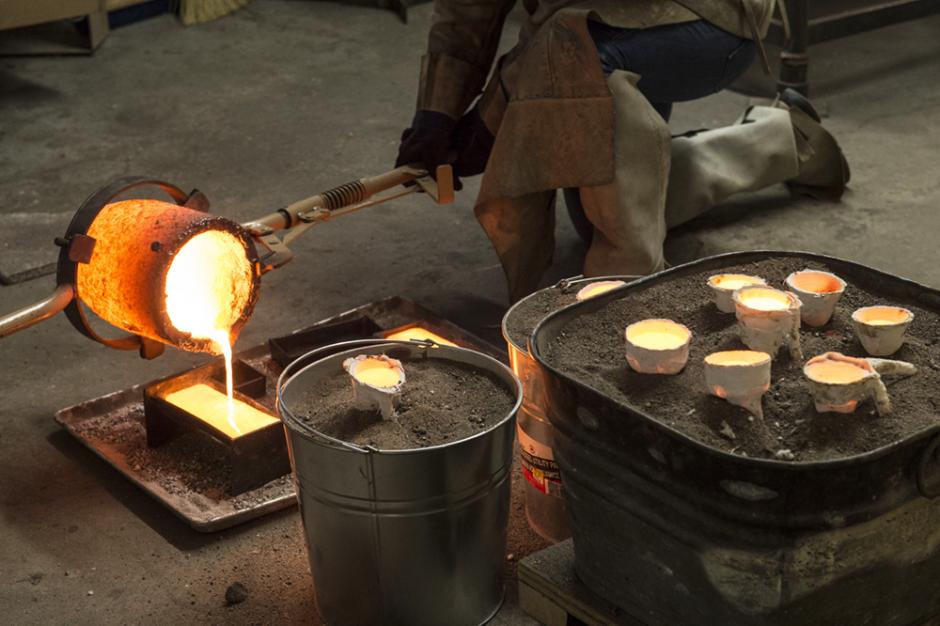 Overview
Studio Practicum programs are opportunities that expand and enhance participants' technical and conceptual skills, and increase knowledge in the various mediums supported by the Visual Arts areas. The Sculpture Practicum  program offers practical experience in the areas of tool maintenance and safety, woodworking with hand tools and heavy equipment (table saw, band saw, planer, jointer, miter saw), metal working and metal casting (bronze and aluminum), and training in sculpture studio operation for support of artistic practice. 
Practicum participants will receive regular mentorship and feedback from Studio Facilitators and staff in support of their professional development. Under the guidance of the Sculpture Facilitator, this practicum program will assist staff in the delivery of Visual Arts residency programs and events, learn maintenance and safe operation of the sculpture studio facilities, and provide assistance to artists-in-residence working in this area.
What does the program offer?
Practicum programs offer a dynamic combination of learning opportunities through workshops, demonstrations, and presentations; contact with professional staff, visiting artists, and faculty; and collaboration with facilitators in Visual Arts and other Banff Centre arts programs. Learning objectives are agreed in consultation with mentors at the start the program. Although the primary focus of this Practicum is sculpture, learning opportunities may also be available in other Visual Arts disciplines.
Learning opportunities are primarily practical, hands-on experiences arising from the participant's support of the Visual Arts residency programs. This provides participants the opportunity to improve their technical and artistic knowledge, decision-making and problem-solving skills, communication, and teamwork. In addition to the everyday responsibilities, participants will have dedicated time to realize their individual learning objectives in consultation with their mentor.
Who should apply?
This program is ideal for recent graduates of studio-based programs with an emphasis on sculpture (undergraduate or graduate), wishing to gain professional experience in an institutional context. Candidates for the Sculpture Studio Practicum program must possess a solid foundation in various woodworking techniques including an intermediate level of experience in at least two of the following areas: use of heavy woodworking equipment, foundry techniques, metal fabrication (welding, cutting, etc.); digital fabrication, or mold making (plaster, rubber). As Visual Arts is a multi-disciplinary facility, it is an asset if candidates have foundational skills in another studio area (ceramics, photography, printmaking, and digital media).
Artists from diverse backgrounds are encouraged to apply.
What's Included
You are eligible for Banff Centre housing (based on availability). You are responsible for your own room and board costs. Current rates for Banff Centre accommodation are $8.06 / day (shared) or $16.12 / day (single) and will be deducted from your living allowance. 
As space is extremely limited, Banff Centre housing is available for practicum participants only. 
You will receive a living allowance of $427 per week.
Note that financial assistance and stipend awards are considered taxable income for Revenue Canada.  
Enjoy special artist rates for ticketed performances or complimentary access to events.
Enrich your experience and get to know other artists on campus by taking advantage of the activities and support provided by our Participant Resources team.
Fees & Financial Assistance
Application fee: $65
*The weekly program fee is covered 100% by financial assistance from Banff Centre.
You will also receive a weekly living allowance while part of the program (see What's Included for more information).
How to Apply
Adjudication
Participants are selected by impartial adjudicators on the basis of their submitted material. In addition to artistic merit, consideration will be given to the likelihood that the artist's work will benefit from the program. 
Applicants will be notified of their status as soon as adjudication is complete, approximately eight to 10 weeks following the application deadline.
Eligibility
As this program exceeds six months in length, enrolment is limited to Canadian citizens and permanent residents of Canada. This is due to changes made by the Government of Canada to international student visa regulations, effective June 1, 2014. 
All programs, faculty, dates, fees, and offers of financial assistance are subject to change. Program fee is subject to applicable taxes. Non-refundable fees and deposits will be retained upon cancellation. Any other fees are refunded at the discretion of the Banff Centre. The application deadline is 11:59 p.m. Mountain Standard Time.