Applications are now open for Spring/Summer 2024 programs. For Fall 2024 progams onwards you can sign up to the Newsletter to receive an alert when applications open.
The Application and Payment systems will be closed from the 20th December to 3rd January as part of the Institutional Holiday Closure. SlideRoom will remain open for portfolio submissions.
Questions please contact the Admissions Office or call 403 762 6180.
Sculpture Studio Practicum
Program Information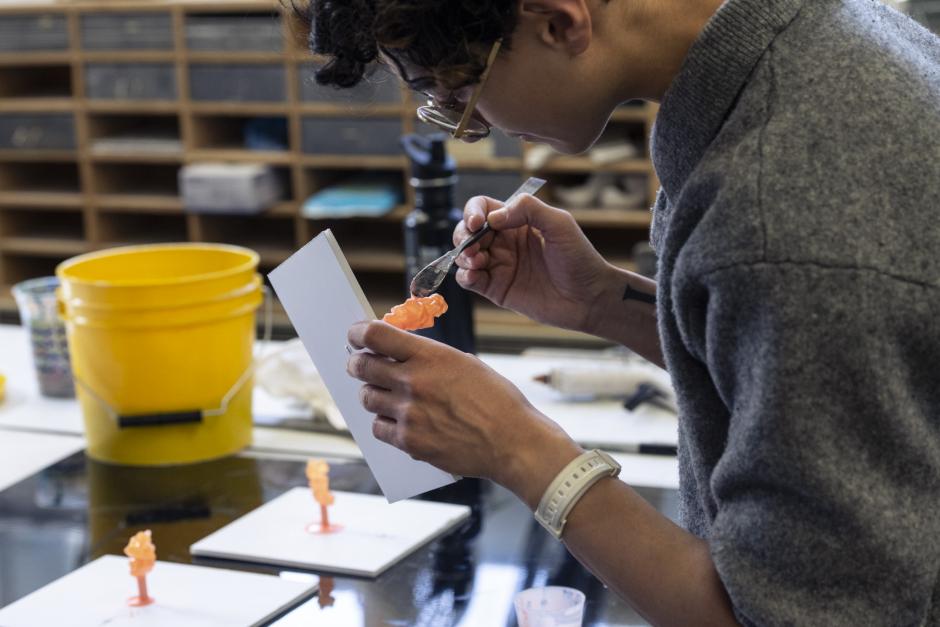 Overview
Studio Practicum programs provide an opportunity for participants to expand and enhance their technical skills in mediums supported by Banff Centre's Visual Arts production facilities.
This program offers practical experience in the areas of tool maintenance and safety, woodworking with hand tools and heavy equipment (table saw, band saw, planer, jointer, miter saw), metal working and metal casting (bronze and aluminum), and training in sculpture studio operation for support of artistic practice.
Sculpture Studio Practicum participants will receive mentorship and feedback from the Sculpture Facilitator, and assist in the delivery of Visual Arts residency programs and events. Participants learn maintenance and safe operation of equipment, and provide assistance to the Sculpture Facilitator, in support of artists in residence utilizing the sculpture facilities.
What does the program offer?
Learning opportunities will arise through workshops, demonstrations, and instruction in studio training. Individual learning objectives and goals are determined in consultation with a mentor at the beginning of the program. Sculpture is the principal focus of this program, however supplementary learning opportunities may be offered in other Visual Arts disciplines throughout the program.
Practicum participants will experience hands-on learning in support of artist projects in Visual Arts residency programs. Participants will receive mentorship to strengthen their technical and artistic knowledge, communication, critical thinking, teamwork, leadership, and problem-solving skills.
The regular course of study for the Sculpture Studio Practicum is 9 a.m. to 5:30 p.m., Monday to Friday. Participants have the opportunity to spend one weekday focused on independent study, while the other four weekdays are dedicated to supporting the Sculpture Facilitator, artists in residence, and regular departmental projects.  
Who should apply?
This program is suited for recent graduates of studio-based programs with an emphasis on sculpture. The programs offer experience within a professional organization for those seeking careers as studio technicians, production assistants, or those in pursuit of graduate studies. Applicants must exhibit foundational skills in various sculptural processes through their portfolio submissions.
Artists from diverse backgrounds are encouraged to apply, with a special invitation to individuals of Indigenous descent.
Eligibility
As this program exceeds six months in length, enrollment is limited to Canadian citizens and permanent residents of Canada. This is due to changes made by the Government of Canada to international student visa regulations, effective June 1, 2014. 
What's Included
You are eligible for Banff Centre housing (based on availability). You are responsible for your own room and board costs. Current rates for Banff Centre accommodation are $8.06 / day (shared) or $16.12 / day (single) and will be deducted from your living allowance. 
As space is extremely limited, Banff Centre housing is available for practicum participants only. 
You will receive a living allowance of $61 per day.
Note that financial assistance and stipend awards are considered taxable income for Revenue Canada.  
Enjoy special artist rates for ticketed performances or complimentary access to events.
Enrich your experience and get to know other artists on campus by taking advantage of the activities and support provided by our Participant Resources team.
Fees & Financial Assistance
Application fee: $65
Indigenous applicants: $35
*The Tuition fee is covered 100% by financial assistance from Banff Centre.
Successful applicants will receive a daily living allowance while part of the program. Practicums are responsible for their own room and board costs but are eligible for subsidized Banff Centre housing based on availability (see What's Included for more information).
How to Apply
Adjudication
Participants are short-listed on the basis of their application materials and the likelihood that their artistic practice will benefit from the program. 
Shortlisted applicants will be interviewed, and all applicants will be notified of their status approximately eight to 10 weeks following the application deadline.
All programs, faculty, dates, fees, and offers of financial assistance are subject to change. Program fee is subject to applicable taxes. Non-refundable fees and deposits will be retained upon cancellation. Any other fees are refunded at the discretion of the Banff Centre. The application deadline is 11:59 p.m. Mountain Standard Time.