Banff Centre completed an upgrade of the application system 21st September. If you notice any issues please contact the Admissions Office or call 403 762 6180.
We will be launching applications for Spring 2024 programs in November. You can sign up to the Newsletter to receive an alert when applications open.
Soft Power
Visual Arts Fall Thematic - This program is supported by the Gail and Stephen A. Jarislowsky Outstanding Artist Program
Program Information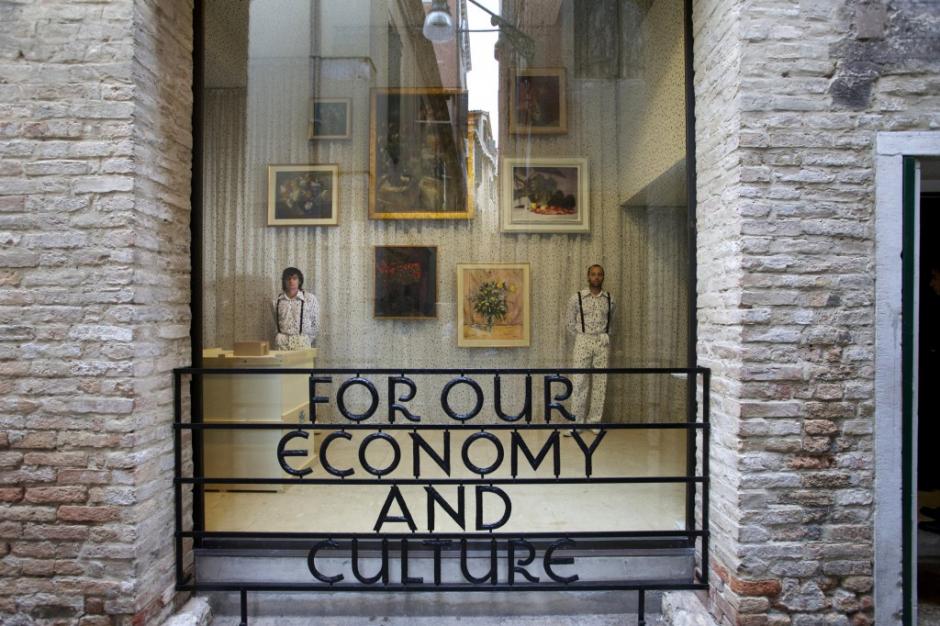 Overview
The Soft Power program will explore the connections between art, nation states, systems of measurement and data, and propaganda. Together we will examine how visual culture, contemporary art, and architecture are employed in the construction of national identity, economic systems, and ideas of collectivity and exclusivity. Conversely, art can shed light on the subversive processes of myth making, staged narratives, double-speak, and economic rhetoric. Decoding these mechanisms of soft power can reveal the invisible forces designed to direct collective behavior, and also ways in which they can be resisted . 
What Does the Program Offer?
This online program will provide a discursive forum for visual artists to explore ideas and examples of Soft Power in relation to their work, communities, geographic locations, and current societal conversations. Participants will form an online community of peers; share previous work with each other and continue works already in progress, partake in online studio visits, participate in conversations and presentations, and engage with faculty and each other to develop ideas, insights, and connections that can be applied to the theoretical exploration of their practice.  Please see the Itinerary section for an approximation of the program schedule.  
What Length of Residency is Available?
This program requires a dedicated commitment over a period of 3 weeks with the understanding that absence from weekly synchronous activities will be minimal. Alternative program dates cannot be considered.
Who Should Apply?
This residency is open to visual artists. Applicants should have completed formal training in visual arts or a field related to this program at the post-secondary level, and should demonstrate a history of exhibitions, publications, and projects. Collectives of no more than two people are welcome to apply.
Itinerary
Synchronous online activities will be scheduled between 8 am and 5 pm MST, Monday through Friday.  
Expect to spend 6 hours per week in synchronous activities spread across 2-3 days.
Plan to spend as many hours as you need working individually at home during the week and on the weekend.
A typical schedule is as follows: Residency group meetings will be held on Monday mornings, presentations and discussions on Tuesdays, and individual 1 hour consults with faculty scheduled throughout the rest of the week. Exact meeting times will be determined.
Online platforms to be used will include Zoom, Slack and Vimeo.
Due to the condensed nature of the program, pre-work may be required (readings, and presentation preparation).
What's Included
Stipend of $750 to support your work
Opportunities to Showcase Your Work
Fees & Financial Assistance
Application fee: $25 for individuals or collectives. Collectives must pay an additional $25 registration fee for additional members on acceptance.
*Financial Aid of 100% of the tuition fee is available for this program for all accepted applicants.

* A Stipend of $750 is available to support the work of accepted applicants.
How to Apply
Participants  are selected by impartial adjudicators on the basis of their submitted material. In addition to artistic merit, consideration will be given to the likelihood that the artist's work will benefit from the program.  
Applicants will be notified of their status as soon as adjudication is complete.
All programs, faculty, dates, fees, and offers of financial assistance are subject to change. Program fee is subject to applicable taxes. Non-refundable fees and deposits will be retained upon cancellation. Any other fees are refunded at the discretion of the Banff Centre. The application deadline is 11:59 p.m. Mountain Standard Time.