Program Notice
Maintenance Notice: Nov 30 – Dec 1. 
We are performing scheduled maintenance on our student and application system from Monday, November 30 at 9 pm MST - Tuesday, December 1 at 10 am MST. 
You will not be able to start the application process or submit an application during this time, however, you will be able to continue with Steps 2 and 3 of your application process.
We thank you for your patience. If you have questions, please contact admissions@banffcentre.ca.
---
COVID-19 Notice
Banff Centre is currently planning and delivering select programs online and in person. To hear about upcoming programs, subscribe to our mailing list. 
See our COVID-19 measures for in person programs, and learn how Banff Centre is thoughtfully and purposefully moving through the COVID-19 pandemic.
We are also pleased to roll out our new student system and application experience. If you have any questions or feedback, please contact admissions@banffcentre.ca.
Sound Workshop - Line Arrays, Subwoofer Techniques, and Advanced Filters
Program Information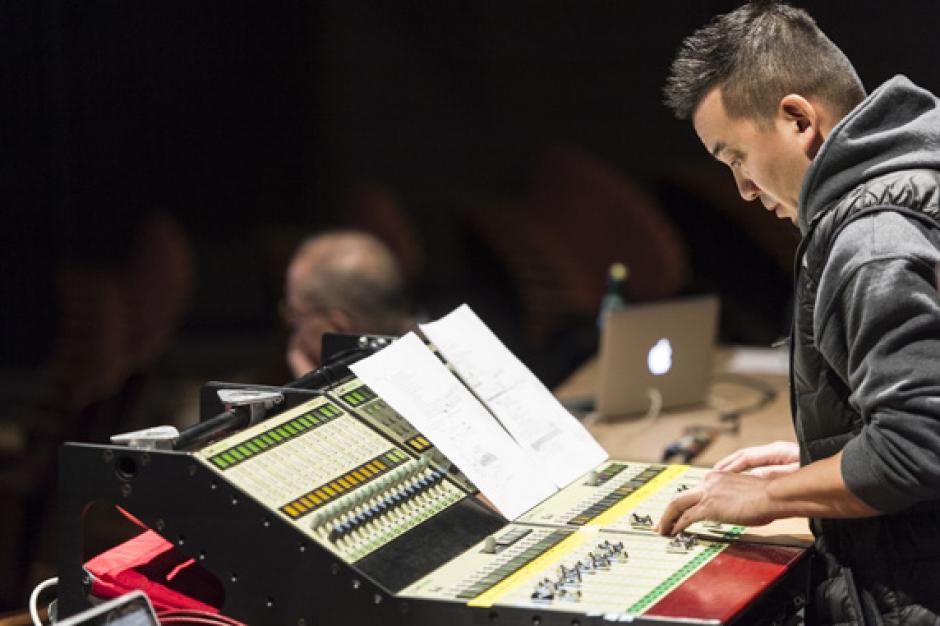 Program Overview
This three-day workshop will cover topics such as line arrays, all pass filters, and various subwoofer techniques.
What does the program offer?
Level two of this two-level workshop (see: Calibration & Design Techniques) provides participants insight into designing and aligning line arrays and subwoofers. Participants will have the opportunity to learn from faculty Merlijn Van Veen, one of the few people in the world who specializes in this area. This is a rare opportunity to attend a workshop given by Merlijn in North America.
This workshop focuses on the "power tools" such as line arrays and advanced subwoofer techniques i.e. cardioid configurations and subwoofer arrays. Advanced signal processing such as beam-steering with all-pass filters and more will be explored to put the proverbial "icing on the cake."
Who should apply?
Audio professionals in A/V, sound design, as well as live sound for theatre and venues
University faculty teaching audio in theatre and/or entertainment programs
Students studying audio in theatre and entertainment programs
IATSE members and permittees specializing in audio
What's Included
When applying, choose between staying in an economy single or a shared bedroom on the Banff Centre campus for the duration of your program.For more information on campus accommodations, please click here.
Get connected with other artists on campus and focus on your projects in a creative environment while we take care of the day-to-day essentials.
Using a credit-based system to dine on campus, our flexible meal plans allow you to select meals according to your own needs during your stay.
The Full Flex meal plan includes $38 credit per day, equivalent to breakfast, lunch and dinner in Vistas Dining Room.
Enjoy special artist rates for ticketed performances or complimentary access to events.
Enrich your experience and get to know other artists on campus by taking advantage of the activities and support provided by our Participant Resources team.
Fees & Financial Assistance
A non-refundable registration fee of $135 will be charged upon registration.  Banff Centre reserves the right to cancel a program up to 7 days prior to program start date if there is insufficient enrollment. If the program is cancelled all registrants will receive a full refund of any program fees paid. Banff Centre is not liable for any personal/travel expenses incurred. 
CITT members are eligible for a 10% discount on workshop tuition only. Please provide your CITT member number in the comment section of the online application to receive the discount.
How to Apply
All programs, faculty, dates, fees, and offers of financial assistance are subject to change. Program fee is subject to applicable taxes. Non-refundable fees and deposits will be retained upon cancellation. Any other fees are refunded at the discretion of the Banff Centre. The application deadline is 11:59 p.m. Mountain Standard Time.